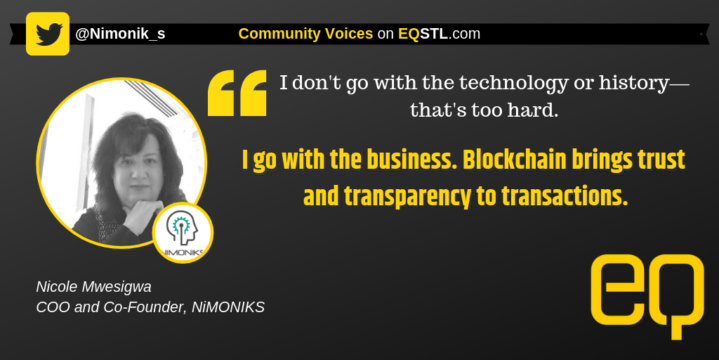 NiMONiKS Develops InsureTech on Blockchain to Cover Micro Finance Market
5
Min
Read

-
Visitors
Nicole Mwesigwa is co-founder and COO of NiMONiKS, a startup delivering InsureTech and blockchain solutions, headquartered in Wildwood, MO. Co-founded with Hari Srinivasan, her company will launch its second blockchain-based product, "iCover", a B2B micro-insurance platform, later this quarter.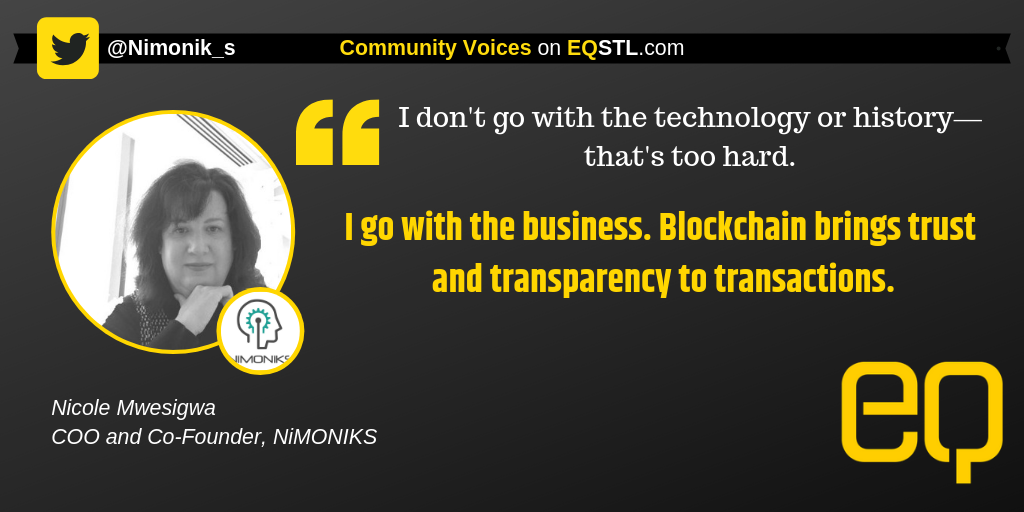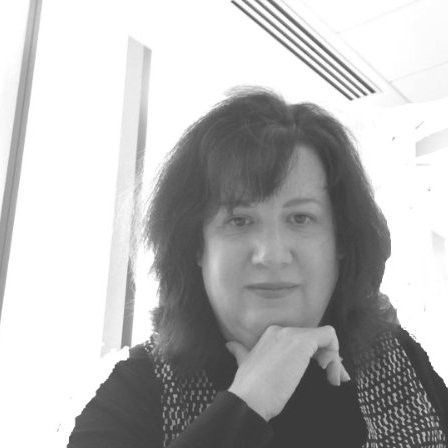 Micro Finance
Mwesigwa worked for a decade in corporate finance, then took a career hiatus to join the Peace Corps. In the landlocked African country of Lesotho, she developed an understanding of the growing financial needs of the Basotho, natives of Lesotho. "I did micro-finance and business development there for several years," Mwesigwa said.
After the Peace Corps, and after struggling to find corporate finance work back in Chicago in the early 2000s, Mwesigwa found herself back in the corporate insurance world in St. Louis where she met her co-founders. "I decided to start NiMONiKS because I realized that after several years in the corporate world, my DNA is really entrepreneurial," Mwesigwa said.
The team worked on the NiMONiKS idea for most of last year and launched an MVP of a blockchain based approach in October 2018.
Blockchain
Although it's been around for more than ten years as a technology, blockchain is still emerging in mainstream technology. The finance and insurance industries were early adopters, however, so Mwesigwa not only understands it, but also knows the best way to explain its value to the uninitiated.
"I don't go with the technology or history–that's too hard. I go with the business. Blockchain brings trust and transparency to transactions. Through different types of protocols and encryption, it eliminates the middleman without sacrificing security," Mwesigwa said.
"With insurance, for example, the middleman might be a reinsurance entity. With academic credentials, they might be the administrator in the office looking up transcripts to give to an employer or educational institution," Mwesigwa said. Blockchain reduces a step that often takes weeks or months–to seconds.
iCover
NiMONiKs completed the iCover prototype in October 2018 and will launch the MVP sometime in Q1 2019. It's a B2B product for microinsurance providers and warranty delivery companies. NiMONiKs is looking for investors in iCover.
Micro products are evolving to meet consumer needs, whether that consumer earns a little or a lot. MiMONiks is seizing on that opportunity, and coverage providers are beginning to recognize the phenomenon.
"In Nigeria where public transport is the norm, people purchase passenger coverage to pay for medical expenses that arise from trip-related accidents. In the U.S., micro-on-demand products are being created as a result of the sharing economy," Mwesigwa said. "Affordable, accessible, relevant coverage is what micro-insurance is all about."
InsureTech
Microinsurance has very low premiums and is targeted to people to with incomes as low as $1 to $4 a day to protect them from specific risks. The target market is in Asia and Africa.
"We wanted to develop a platform that companies can use to set up their products and launch them quickly without having to invest in the technology and without having to have their own IT shops. Depending on the size of the company, it can take anywhere from three months to 12 months to get a product launched internally," Mwesigwa said.
NiMONiKS' value proposition is that on top of offering a high-security blockchain solution, they believe they can launch a product quicker than most companies can on their own. By charging a low product set up fee, and charging transaction fees, they grow together with their clients. If a particular product fails, their client isn't out a lot of money. If the product is wildly successful, NiMONiKS benefits as well.
"We see a tremendous global opportunity for iCover, both for traditional micro-insurance as well as for warranty delivery, " Mwesigwa said.
EDUCRYPT
iCover is NiMONiks second blockchain based product. Last year, they launched EDUCRYPT, in two schools in Chennai, India, which functioned as an MVP of their blockchain solution.
Using blockchain, EDUCRYPT helps eliminate fake degrees by making digitized authentic credentials a reality. It shortens the wait for academic credential and employment background checks from weeks and months to seconds. In addition, it results in transparency in academic records of teachers, students and schools as well as grades, aptitude, and potential career direction.
This product is sold to schools as B2B software and is expected to serve a growing pipeline of six additional schools and three universities in the next three months. However reaching students directly is part of the EDUCRYPT growth strategy.
"Right now we are selling EDUCRYPT in the developing world to the equivalent of middle schools, high schools and colleges in the US. The schools are our entry point, but the students are customers as well," Mwesigwa said. "It will help them decide what types of classes to take and help drive career decisions once they graduate."
Student Incubated EdTech
Interestingly, the EDUCRYPT product originated from student feedback, Mwesigwa told EQ, "our domain expertise is really insurance, but we developed a partnership with Space Kidz India through Hari, and they were the impetus behind the EDUCRYPT."
Space Kidz India is an organization dedicated to creating International experiential learning for students in the field of Science, Technology, Art and Culture. When the students came up with the idea for EDUCRYPT, NiMONiks worked with 16-22 year old students and helped take it to market.
"We taught them how to develop a product from beginning to end, how to craft a product road map, and how to look beyond just the immediate value proposition. And how to market and how to sell," Mwesigwa said.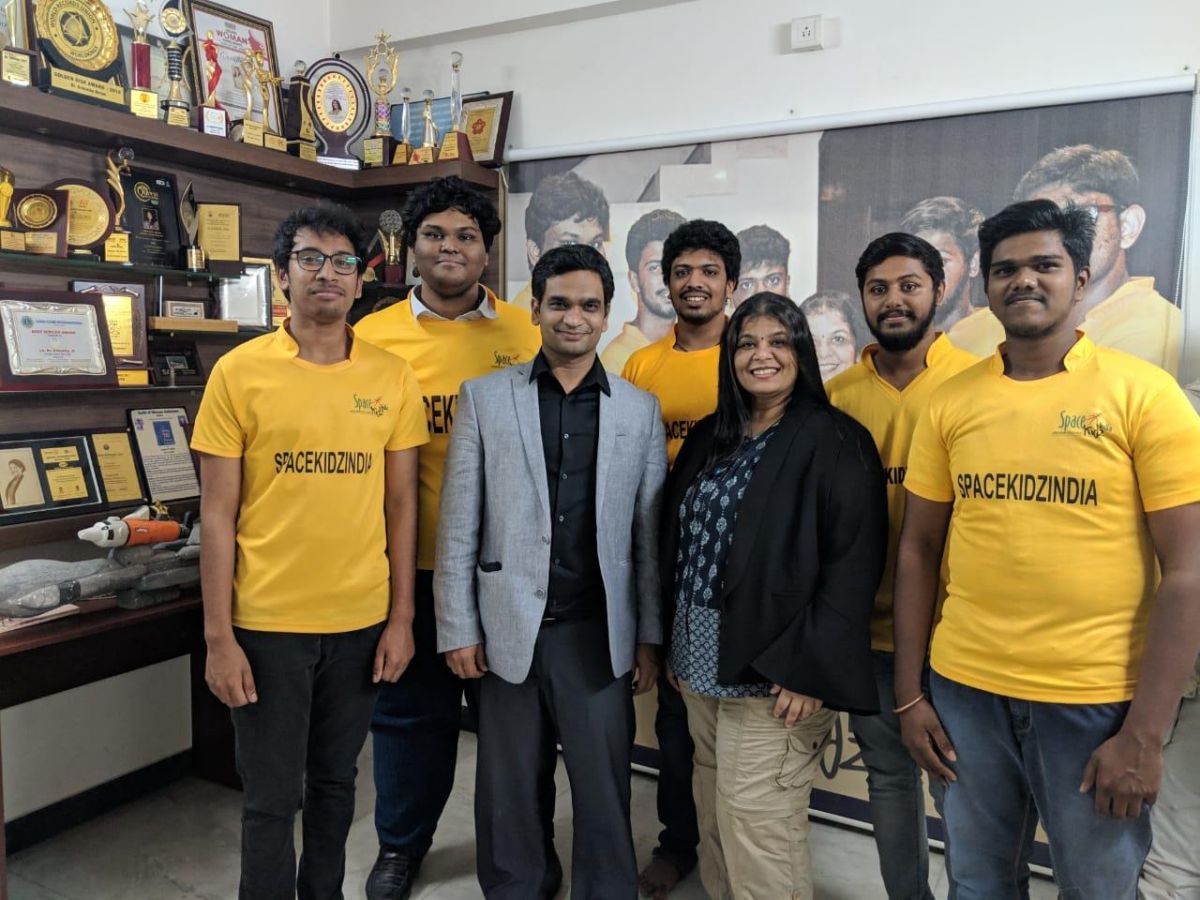 Some of the participants in the project at Space Kidz are now junior partners for at NiMONiKS, and will reap the profits of the product when it succeeds.
"We are looking at Space Kidz as an incubator, not just for talent, but for ideas and for product development. Some of them are working on some really interesting hardware options, like robotics. It's almost like a makerspace," Mwesigwa explained.
What's next for NiMONiKS?
Selling in the United States is a clear goal of NiMONiKS, although the products will need to be customized for the very different market here. Mwesigwa is encouraged, however, by the traction EDUCRYPT is getting in India.
"We're growing it out into one school after another there. When it's ready, we'll expand it to the US, but with a slightly different value proposition because there are different problems to solve here, " Mwesigwa said.
iCover is at an earlier stage. "We are looking for investors and a beta client. It would be great if that first client would be the investor," Mwesigwa said.