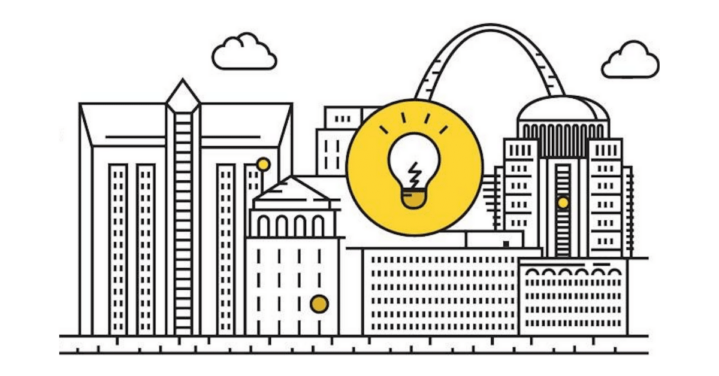 St. Louis Startup Ecosystem Map
< 1
Min
Read

-
Visitors
The Ultimate List of Startups in St. Louis.
It Takes A City To Raise A Startup
From organizations focused on building tech talent to some of the best accelerator programs in the country, St. Louis' startup community continues to evolve and grow at a rapid pace.
Why St. Louis?
St. Louis is enjoying a renaissance of entrepreneurship. From a proud heritage of innovation to a thriving startup scene, to available capital, to a supportive ecosystem, the St. Louis region is a place where big ideas can grow.
Upstart City
From household names like Square, Riot Games and Answers.com, to newer ventures like Summersalt, Noonlight and Varsity Tutors, the St. Louis region is exploding with new companies and new ideas. These new companies are innovating in plant and life science, financial services, information technology and advanced manufacturing.
With a rich history of entrepreneurial success, St. Louis has been the launching ground for many of America's biggest and best companies. Today, a savvy new group of startups is aiming to take their brands global and become drivers of a new St. Louis economy.
With equal parts talent and drive, these entrepreneurs say it's the environment in St. Louis that helps them succeed quickly. The regional startup ecosystem combines multiple innovation hubs, top-tier entrepreneur support organizations and highly skilled mentors ready and willing to lend advice.
A Thriving Startup Community
There's a lot of buzz about the innovative culture and entrepreneurial ecosystem in St. Louis. Business incubators provide dense collision points and serve to connect entrepreneurs in new ways. It's all built on the robust spirit of innovation that is ingrained in the history of St. Louis.
An Incredible Business Ecosystem
St. Louis has a robust ecosystem that enables entrepreneurs to launch and grow their vision. The capital efficiency of the market means founders spend less on real estate and talent, which gives their business longer runways.
An Abundance Of Resources
There's nothing easy about starting your own company. Which makes the extensive range of private funds and public support in the St. Louis region an asset.
The region has the perfect mix for a growing startup hub: premiere educational institutions, top cultural amenities, strong mentors, competitive cost-of-living and affordable real estate. Plus, venture capital, angel investors, high-profile startup accelerators and public funds are all readily available to startup founders.
Combine that with the region's innovation districts, which play a leading role in fields such as plant and life science, financial services, information technology, aviation and renewable energy.
Not Just A Startup Renaissance
St. Louis is home to a remarkable number of innovative companies, elite education institutions, and resources designed to nurture and grow big ideas. Meet the founders who relocated their business to St. Louis and make it theirs too.
A Re-invention Of Civic Life
This city is pioneering new approaches to any issue you might want to solve in the 21st century.
The entrepreneurial renaissance that is reshaping the city is the result of the efforts of an unprecedented two-decade-long regional coalition composed of economic development, business, civic, entrepreneurial, political, and venture capital leaders who are united in transforming St. Louis region into a global epicenter of innovation.
There is no better time to start a company, and there's no better place to start it than in St. Louis.
St Louis Startups
Type:organization
array (
  0 => 3929,
)
locations id:3929
cohorts id:false
industry id:false


org_funds_raised_amount: 
org_funds_raised_amount_test:	gt
org_annual_revenue_amount:	
org_annual_revenue_amount_test:	gt
org_number_of_employees:	
org_number_of_employees_test:	gt
org_looking_for_funding: false
org_order_by_value: name
org_order_sort: ASC
post_order_by_value: date
post_order_sort: DESCnumber_of_results: 300style: standard