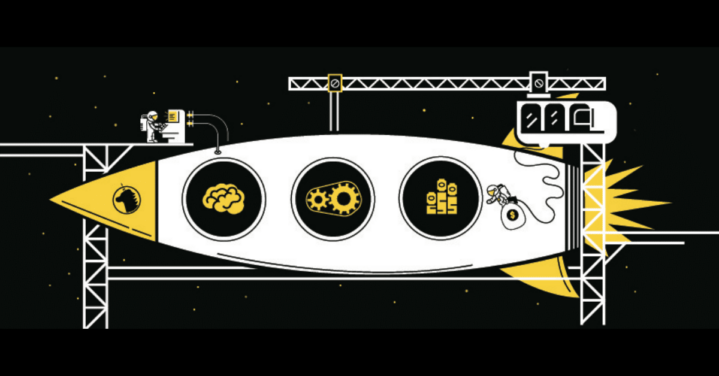 Startup Accelerators in St. Louis
< 1
Min
Read

-
Visitors
Your guide to all the startup accelerator programs, business incubators, and pitch competitions, that help entrepreneurs build successful companies in St. Louis.
BioTech Startup Accelerator
BioGenerator is the investment arm of BioSTL, which—you may have guessed—is dedicated to supporting the medical and plant sciences in St. Louis. They focus on early-stage companies (Pre-Seed, Seed, Series A) with strong management, a strong understanding of the market, and deep sector experience. Competence is king! For companies that fit their plant and life science markets, expect expert advising on a wide range of matters, as well as access to the BioGenerator Labs—co-working wet labs with over 50 companies.
You should apply if… you're an early stage, cutting-edge bioscience company.
In their own words:
"BioGenerator is an evergreen investor that creates, grows, and funds innovative companies and talented entrepreneurs in the St. Louis region. We position companies to navigate the unique challenges of early-stage bioscience company development."
Cohort companies you might recognize:
MediBeacon; BacterioScan; Galera Therapeutics; Arch Oncology; VaxNewMo;
Tech Startup Accelerator
Capital Innovators has consistently been ranked one of the country's top accelerators with good reason—they've raised over $300 million dollars for 111 companies. With a focus on tech and consumer product companies, they provide $50,000 in seed funding, mentorships from a huge range of experts, access to their global network of startups, and introductions to investors at the end of the 12-week program. They aren't particularly strict about what stage a company is at or what field it pertains to—they're looking for companies trying to solve a problem with a meaningful solution, and the ability to turn a profit.
You should apply if… you're a relatively early stage tech company with a large market and potential to scale rapidly.
In their own words:
"Capital Innovators provides innovation consulting, entrepreneurial-based programs, and acts as a liaison between corporations, universities, and startups to catalyze investment into early-stage businesses."
Cohort companies you might recognize:
LockerDome; Tunespeak; Hatchbuck; Sunstation USA;
PetTech Startup Accelerator
Pets are just the best, right? We agree. If you've got an innovative pet care startup, you can compete in Purina's annual Pet Care Innovation Prize competition. The winning company gets up to $20,000 in cash, plus mentorship/support, and the potential of partnering with Nestle Purina. The five finalists will each receive $10,000 and take part in their accelerator boot camp put on by Purina and select venture capital firms. Even better: the boot camp concludes with a trip to the world's larger pet care industry trade show and the chance to pitch to top execs.
You should apply if… you're an innovative pet care company.
In their own words:
"Launched in 2016, the Pet Care Innovation Prize is a competition to support and connect innovative early stage companies that have products and/or services already in market. The PCIP is powered by a global leader in pet care: Nestlé Purina PetCare."
Cohort companies you might recognize:
FinTech Startup Accelerator
SixThirty focuses on FinTech startups with a working product who are ready to take a big step up to the next level and start selling to enterprise companies. SixThirty's 8-week program covers four main areas: funding, mentoring, connecting, and workshopping. They'll invest up to $250,000, line up mentors who will get 'in the trenches' to help develop business models and development, connect you to all the financial institutions you could want, and receiving hands-on training to refine and better their product.
You should apply if… you're in the FinTech sector, have a working product, and are ready to head to the big show.
In their own words:
"The companies selected to take part in the business development program receive hands-on training, mentoring, and networking opportunities with the top financial services companies in the region. SixThirty portfolio companies represent the most innovative and promising FinTech ideas from around the world."
Cohort companies you might recognize:
Assembly Payments; Fluent; Gremlin Social;
Cybersecurity Startup Accelerator
SixThirty CYBER is a spinoff of the original SixThirty program, specifically focused on cybersecurity technologies with a working product. Similar to the original program, companies will be given funding (up to $200,000), mentors, and connections. Your company will meet with the rest of the cohort twice a week, which will then splinter off into meetings with your lead mentor. The program also includes a number of perks, such as discounted legal and accounting services, office space in T-REX, and more.
You should apply if… you're a cybersecurity company looking for the mentorship and connections to get you to the next level.
In their own words:
"SixThirty CYBER provides startups with up to $200K in funding, focused mentorship, and rapid connectivity to the top US financial, healthcare, and federal agency CISOs and execs."
Cohort companies you might recognize:
eSports Startup Accelerator
One of the more unique accelerators in St. Louis is the 12-week program from Stadia Ventures, which focuses on established sports and esports startups. Almost more importantly than an investment of up to $100,000, Stadia connects your startup with mentors and networks you can only dream of. Seriously, go look at their site's list of mentors and advisors—you'll see names from Nike, Rawlings, the Blues, Cardinals, and more.
You should apply if… you're an established sports startup with traction looking for strong connections.
In their own words:
"We create an ecosystem for sports and esports innovation growth by leveraging our team's core strengths: education, investment, network, and industry expertise."
Cohort companies you might recognize:
Senaptec, EZ Waves, Upgraded, Winning Identity
AgTech Startup Accelerator
You might gather from the name that The Yield Lab focuses on startups looking to sustainably revolutionize agrifood systems by investing in early-stage companies globally. Their North American accelerator, based in St. Louis, invests up to $100,000, with over $2.5m invested to date. They also have The Yield Lab Institute, which focuses on connecting and educating agrifood stakeholders globally to better communicate the needs of the industry.
You should apply if… you're an early stage agrifood company with big ideas and strong management.
In their own words:
"At The Yield Lab, we've made it our mission to enable entrepreneurs to sustainably revolutionize agrifood systems. We do this by investing in and accelerating high-impact early-stage companies all around the world."
Cohort companies you might recognize:
Energy Startup Accelerator
The Ameren Accelerator is a partnership between Ameren energy, UMSL Accelerate, and Capital Innovators, designed to take five to seven energy technology companies through a 12-week program. Whether you're working on renewables, AI, cybersecurity, or improving the nation's electric grid, you'll benefit from the benefits, office space, wide spectrum of mentors, $100,000 in funding, and direct engagement with a utility that serves over 3.3 million people.
You should apply if… your business is dedicated to developing new energy technologies.
In their own words:
"We are looking for the best and brightest entrepreneurs to develop game-changing technologies to solve tomorrow's energy needs."
Cohort companies you might recognize:
Applied Particle Technology; WIFIPLUG; Rebate Bus; SensrTRX;
News Stories from Startup Accelerators in St. Louis
Type:post
locations id:3929
cohorts id:false
industry id:4019


org_funds_raised_amount: 
org_funds_raised_amount_test:	gt
org_annual_revenue_amount:	
org_annual_revenue_amount_test:	gt
org_number_of_employees:	
org_number_of_employees_test:	gt
org_looking_for_funding: false
org_order_by_value: name
org_order_sort: ASC
post_order_by_value: date
post_order_sort: DESCnumber_of_results: 5style: simple
List of every Startup Accelerator in St. Louis
Type:organization
locations id:3929
cohorts id:false
industry id:4019


org_funds_raised_amount: 
org_funds_raised_amount_test:	gt
org_annual_revenue_amount:	
org_annual_revenue_amount_test:	gt
org_number_of_employees:	
org_number_of_employees_test:	gt
org_looking_for_funding: false
org_order_by_value: name
org_order_sort: ASC
post_order_by_value: date
post_order_sort: ASCnumber_of_results: 10style: simple