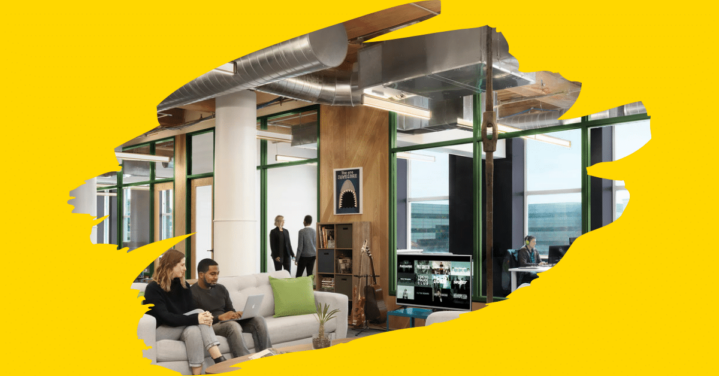 Coworking Spaces in St. Louis
< 1
Min
Read

-
Visitors
Co-working involves more than desk space: it's a whole new way of working. Unlike in a typical office environment, your "co-workers" don't usually work for the same employer. It's more about sharing space, amenities and an office culture of "GSD" - getting sh*t done.
If you've been hacking away at your new company from home or a neighborhood coffee shop, coworking could be an option that helps you avoid isolation and take your idea to the next level. And if you're new to the concept of "co-working," you'll love EQ's guide to coworking spaces in St. Louis.
Looking to rent affordable office space? The city offers many shared office spaces for single desk tenants or small private offices for rent at inexpensive rates. And if you need more than a laptop to get your job, you can find podcast studios and more in our guide to makerspaces in St. Louis.
Downtown
---
Spark St. Louis
6 Cardinal Way, Suite 900, St. Louis, MO 63118
The newest coworking space to join our St. Louis entrepreneurial ecosystem, the Spark St. Louis coworking community pairs a distinctively modern space (including a Zen area with hanging gardens… and chairs!) with a wide range of options with growing companies in mind.
This coworking space offers 30,000 square feet of open shared workspace, dedicated desks, and private offices with incredible views of Busch Stadium, the Arch, and the city. Led by an all-female team, who are committed to building a robust business referral network throughout the community, many of Spark's memberships are month-to-month giving entrepreneurs the ability to have a professional environment for their company without stressing about long-term leases.
Who's it for?
Sports fans, urbanites, and downtown dwellers. Located in the PwC Pennant Building in downtown St. Louis, Spark STL is ideal for entrepreneurs looking to work hard, play hard, and pursue an innovative city life where you can live, work, and watch the Cardinals play, all within one district.
Amenities
From mailbox-only memberships and dedicated coworking to private offices and custom built office suites, Spark STL can level up your office space in sync with your changing business needs.
TechArtista
401 Pine St, St. Louis, MO 63102
TechArtista's downtown office space (formerly Covo) is what working downtown should feel like. They converted the iconic Mississippi Valley Trust bank (built in 1896) into a stunning coworking space. Covo, the San Francisco-based coworking company filled the space with warm communal tables, a beautiful bar called Trust, and plenty of private meeting rooms and offices that will make you proud to work there. St. Louis coworking brand, Tech Artista, recently acquired the space.
Who's it for?
The downtown entrepreneur who really wants to work in a communal, laid back space that's covered in inspiration.
Amenities
Besides having a freakin' full cocktail bar, they offer free signage, a nap room, happy hour, more.
STL Fusion
555 Washington Ave, Suite 310, St. Louis, MO 63101
If you want to work downtown but have the kind of luxury vibe you can find at some of the locations closer to the county line, you probably should be at STL Fusion. The contemporary space provides a great deal of flexibility, making it convenient for you to change offices or areas as your needs require.
Who's it for?
The business owner who wants to be in the heart of downtown, but in a luxurious, more intimate office space.
Amenities
Daily breakfast, snacks, and beverages, a weekly happy hour, and free signage for all members.
T-REX
911 Washington Ave, St. Louis, MO 63101
T-REX is the starting ground for a number of St. Louis startups due in part to their connection to Arch Grants, but also because of their ample space and relatively low costs. The eight-floor downtown office tower that T-REX resides in has been going under a Google-esque renovation over the last few years, leading to lots of office spaces that show off the building's original framework and take advantage of the large windows. The fifth-floor communal area is a great place to meet other entrepreneurs, attend a workshop, or just nosh on some complimentary food and drink.
Who's it for?
Newcomers to the startup scene looking for a reasonable place to start—with plenty of room to grow.
Amenities
Tea, coffee, lots of conference rooms and coworking spaces, plus super fast internet.
Filament
1518 Washington Ave #100, St. Louis, MO 63103
Filament isn't about coworking so much as it's about working together better with your team. This unique business is all about designing, facilitating, and hosting meetings—forget renting a hotel meeting room. Filament's team makes it all easy; you'll meet with them to define the 'why?' of your meeting, design the agenda, pick the methodology and creative exercises, and they'll take care of the logistics of it. Not only that, but their in-house artists will capture the biggest takeaways from the day and give you a cool, packaged deliverable.
Who's it for?
Whether you have 10 employees or 50 employees, better, more productive meetings are key to success—and Filament is the key to making that happen.
Amenities
Everything you could want in the meeting of your dreams—food and beverages, a customized meeting plan and room design, in-house artists, and a nicely packaged deliverable of the meeting's results.
Midtown
---
Brennan's Work & Leisure
3015 Locust St, St. Louis, MO 63103
Totally digging the vibe of The BHIVE but it's all filled up? Or maybe parking in the CWE just isn't appealing to you? Brennan's new spot in Midtown, Work & Leisure, should be at the top of your radar. It's still got those same Mad Men-esque vibes, but with ample office options, ranging from shared workspaces to private offices—it's more than 6,000 square feet in total, which includes work and event spaces.
Who's it for?
The entrepreneur who wants to be in a workspace that's as cool as what they're doing.
Amenities
Aside from being the venue of every event you want to go to in St. Louis, it's also home to a bar, cafe, and restaurant.
CORTEX
---
Innovation Hall
4220 Duncan Ave #101, St. Louis, MO 63110
We can pretty much call the whole CORTEX district "innovation row", at this point. Innovation Hall is a part of Venture Cafe, and while it is by definition "not" a coworking space, the lounge area offers a free, public workspace during the week. The private rooms do come at a cost, however. The space's main purpose is to host events in the Innovation Hall (get it?), which is designed to bring people together to listen, learn, and discuss.
Who's it for?
People who want to be surrounded by innovators…but don't want to pay a fee.
Amenities
Once again, it's not really a coworking space, but there is free wifi, and there are two restaurants on site.
CIC St. Louis
CIC@4240, 4240 Duncan Ave, St. Louis, MO 63110
CIC@4220, 4220 Duncan Ave, St. Louis, MO 63110
CIC started in Cambridge, MA, home to some no-name universities, in 1999 (haha, we're joking, think Harvard and MIT). Their first expansion outside of Massachusetts was CIC St. Louis in 2014, landing them directly in the Cortex district. Since then, they've expanded to three separate offices in the area, and they've brought the innovative Venture Cafe to 4240 Duncan. CIC's focus is the tech and bioscience fields, and with over 150 businesses in their St. Louis offices alone, collaborations between companies couldn't be easier.
Who's it for?
If you're part of a bio/tech firm and you haven't dreamed about working in CIC, you're not thinking clearly.
Amenities
Where do we start? Private offices, concierge services, fully stocked kitchens, use of CIC's coworking spaces abroad (hello, Rotterdam!), a gym, and a lab full of things we don't understand.
CIC@CET
20 S. Sarah St, St. Louis, MO 63108
The Center for Emerging Technologies (CET) has been helping early-stage, high-growth companies both nationally and locally since the late '90s, making it one of the oldest innovation centers in town. The space provides everything you could want—mentorships, business support, workshops, seminars, and more. In 2014, they became affiliated with CIC, leading to a newly renovated 88,000 square foot space that includes wet and dry labs, production facilities, and office spaces.
Who's it for?
If you're a tech company—especially biotech—looking for a massive, well-connected support network, get in there ASAP.
Amenities
See CIC's amenities above, then add even more labs.
Central West End
---
The BHIVE
4661 Maryland Ave, St. Louis, MO 63108
There are different feelings workspaces have: some are rugged and bootstrappy, some feel like an extension of a university. And then there's The BHIVE. Straight up, The BHIVE is just cool. During the day, you can find yourself in one of their three private offices, or you can pony up to a seat in the conference room or upstairs bar area. Working late? That's not the worst thing in the world when half the space becomes Brennan's iconic bar.
Who's it for?
Do you want to pretend you're in Mad Men? This is the spot to do it.
Amenities
Aside from making you feel better about yourself, you'll have access to private offices, free drinks, food and drink credit at Brennan's, and first dibs on private dinners.
Spaces
4625 Lindell Blvd, St. Louis, MO 63108
Spaces is the first of the larger coworking chains to open in St. Louis (think WeWork), located in a very swanky renovated office in the CWE, right next to Yellowbelly. We don't want to pick favorites or rank spaces, but if you're looking for that big city, modern feel, this is probably the place for you. Every detail feels high end and fancy AF. Spaces' experience in the field has helped them create a package for everyone—only want the space for five days a month? They got you. Want a full-time office? They got you too.
Who's it for?
The entrepreneur who wants a great location, an amazing—and flexible—space, and access to their offices all around the country.
Amenities
Local business discounts, feeling like you're about to start the next (non-evil) Facebook, bikes, and rumor is they're getting a barista.
TechArtista
4818 Washington Blvd, St. Louis, MO 63108
As you might gather from the name, TechArtista is more than just a tech hub—it's a haven for all sorts of creative types. Of course, it has all the things you'd expect: an area for drop-ins, private offices, etc., but it also has art and murals all over the place, plus actual art studios with artists-in-residence. It just feels like an inspiring, collaborative space you want to work in.
Who's it for?
Creative types who want to be surrounded by more creative types in a great area of town.
Amenities
Coffee from Blueprint, a gym, beer from 4 Hands, and monthly lunches from Seoul Taco. Plus ART!
South City
---
Nebula
3407 S. Jefferson Ave, St. Louis, MO 63118
Nebula opened its doors in 2010, making it one of St. Louis' first coworking spaces. It's seen its fair share of innovative companies, and what's particularly nice about it is that it isn't just tech companies. If you look at their current member list, you'll see everything from social media consultants to CPAs and game developers. Nebula owns two buildings next to each other with options ranging from drop-in space to literally having a commercial storefront shop right on Cherokee.
Who's it for?
Nebula truly feels like a homey, collaborative space—almost like someone's home that just happens to be full of smart, driven people.
Amenities
There are over 25,000 square feet of space that includes lounges, kitchenettes, and private rooms. Also, it's across the street from Byrd & Barrel.
NexCore
2631 Gravois Ave, St. Louis, MO 63118
NexCore was built by entrepreneurs on the premise that a coworking space means more than working in the same room as other companies—it means working together. Similar to Nebula, the space is used by a wide range of businesses. More than anything, NexCore's founders want to create a community and give young businesses the tools they need to succeed, including classes, coaching, and workshops.
Who's it for?
Small businesses that are looking for a more hands-on and collaborative coworking experience.
Amenities
A decked out kitchen, on-site fitness center and laundry, podcast and photography studios, and a patio that's perfect for the summer (when it's not 100℉ outside).
Clayton
---
Rise Collaborative Workspace
8820 Ladue Rd #203, St. Louis, MO 63130
Located in the Clayton-Ladue corridor, this 6,000 square foot workspace was created to help develop a "dynamic and carefully curated community of women." RISE has a true sense of community, which is perfect for women looking to have space outside of the home to work or companies looking to connect with other companies. There are 11 private offices, lots of windows, and 3,000 square feet of coworking space.
Who's it for?
Women who are looking to connect and build a community with other female entrepreneurs.
Amenities
Kaldi's coffee, free snacks, lots of window light, and an amazing location.
ThriveCo
222 S Meramec Ave, Suite 202, St. Louis, MO 63105
Downtown Clayton has long been a key business hub in St. Louis, so it's only logical it's becoming home to new coworking spaces. ThriveCo offers your typical coworking area, plus totally customizable offices starting at surprisingly low rates. ThriveCo's founders are working to create a diverse and inclusive culture, complete with all of the support and services a young company needs, including help with funding.
Who's it for?
Anyone looking to work in a contemporary space smack dab in the middle of town.
Amenities
A whole slew of concierge services (ranging from business coaching to accounting); perks at local businesses—including discounts on childcare, gym memberships, and more; plus all the modern tech you expect.
St. Louis County
---
Maplework
7305 Marietta Ave, Maplewood, MO 63143
What's great about Maplewood is that you're surrounded not just by some of the best local businesses in town, but some with a national presence—like the founders of Maplework, Moosylvania. For those who don't know, Moosylvania is one of the most innovative and successful ad agencies in town. Maplework is sleek, modern, and relatively small, helping to build the community many entrepreneurs crave. Choose from workstations, communal conference tables, or drop some dough on a private office.
Who's it for?
Any entrepreneur looking for a central spot—or any creative types who want to be inspired by the Moosylvania team.
Amenities
Bragging about working in a brand new space in Maplewood, free parking, a commercial kitchen, and lots of coffee.
Medici MediaSpace
2065 Walton Road, St. Louis, Missouri 63114
When founders Josh Levey and Brian Lunt combined forces—and their shared knowledge of investing, banking, and media production—they created a unique coworking space in Overland called Medici MediaSpace. The goal was to create a space not just for startups, but for any business looking for a community to strategize, learn from, and grow with. What really makes it stand out is their decked out media studio.
Who's it for?
Any startup that wants access to a decked out media studio, obvz.
Amenities
Concierge services to help solve your business' weak points, plus a full media studio for audio, video, and more.
Helix Center
1100 Corporate Square Drive, Creve Coeur, MO 63123
With close affiliations include the Donald Danforth Plant Science Center, the largest independent plant science research institute in the world, and the BioResearch & Development Growth (BRDG) Park, new science-based businesses can thrive at Helix Center Biotech Incubator. The global headquarters of Bayer (formerly Monsanto) anchors this dynamic intersection of research and innovation while the 39 North innovation district hosts numerous commercial networking opportunities and events.
Who's it for?
Bioscience, technology and plant and life sciences startups just starting out.
Amenities
Affordable, high-quality office and wet/dry lab space are just the beginning. You'll also have the benefit of mentoring, regular business development training seminars, legal services and access to well-funded investment networks, including angel investors and venture funds through the St. Louis Economic Development Partnership (SLEDP)
Innovative Technology Enterprises (ITE)
4633 World Parkway Circle, Berkeley, MO 63134
ITE is an incubator and coworking space located at UMSL in North County. Aside from your normal ol' office space, ITE's unique attribute is that it offers wet labs. That's right, you can develop your SBIR preliminary data there! We have no idea what that means, but it sounds important. Lab options range from having a dedicated 21-foot bench and cube to having your own dedicated lab and office built to your specifications. If you win a Nobel Prize, make sure to give EQ a shout out.
Who's it for?
Businesspeople who know what wet labs and SBIR preliminary data are.
Amenities
Get all the benefits of being part of a university—connect with their professors and graduates, take advantage of their training rooms and event spaces, and you get to use one of five wet labs.
STL VentureWorks Wellston
6439 Plymouth Avenue, Wellston, MO 63133
STL Venture Works-Wellston is a small business incubator located in Wellston, nestled between St. Louis City and University City. Affordable, high-quality space is just the beginning. Be part of STL Venture Works-Wellston and take advantage of every opportunity to build momentum for any venture. Join a team that can put businesses on the fast track with on-site support, fresh insights, connection to capital, networking and customized mentoring.
Who's it for?
Early stage companies.
Amenities
It features office and warehouse space and is unique for its location adjacent to public transportation, an early childcare center and workforce training.
St. Charles and Other Counties
---
OPO Startups
119 S. Main St, St. Charles, MO 63301
OPO converted the St. Charles Post Office—their Old Post Office, GET IT?—into one of St. Louis' premier coworking spaces back in 2015. Like many of the other county-based coworking spaces, you'll find it to be a true mix of businesses, not just straight digital. There are research companies, creative brands, and even a brewery in there.
Who's it for?
The county entrepreneur who doesn't want to drive for over an hour every day.
Amenities
Superfast internet, coffee and snacks, free workshops and training sessions, and a wellness center.
Hive44
1710-1730 Fenpark Drive, Fenton, MO 63026
Hive44 may not have the sex appeal of some of the other coworking spaces around town, but its large footprint and wide range of pricing/workstation options make a good choice for young businesses in the Fenton area. The space feels more like a '90s warehouse than a WeWork, so it's probably best that you take a tour before making any decisions.
Who's it for?
Entrepreneurs in the South County area (especially if you have a tight budget).
Amenities
Free coffee, free admission to Hive44 events, and all the office accessories you could want.
Exit 11 Workspace
1351 S. Jefferson St, Ste. 120, Washington, MO 63090
Exit 11's goal is to provide a workspace for people who need to get out of the home or corporate office. The Coffee House cafe is open to the public if you want to take it for a spin, and if you dig the vibe, you can plunk down in a private office in the back. The feeling is homey and laid back, with a wide range of businesses making use of the space.
Who's it for?
The businessperson who lives/works in Washington, MO—let's be real, you don't have a lot of other options.
Amenities
All you can drink coffee and tea. Being out of your house.
News Stories From Coworking Spaces in STL
Type:post
array (
  0 => 3929,
)
array (
  0 => 4018,
)
locations id:false
cohorts id:false
industry id:false


org_funds_raised_amount: 
org_funds_raised_amount_test:	gt
org_annual_revenue_amount:	
org_annual_revenue_amount_test:	gt
org_number_of_employees:	
org_number_of_employees_test:	gt
org_looking_for_funding: false
org_order_by_value: name
org_order_sort: ASC
post_order_by_value: date
post_order_sort: DESCnumber_of_results: 5style: simple
List of every Co-working Space in St. Louis
Type:organization
locations id:3929
cohorts id:false
industry id:4018


org_funds_raised_amount: 
org_funds_raised_amount_test:	gt
org_annual_revenue_amount:	
org_annual_revenue_amount_test:	gt
org_number_of_employees:	
org_number_of_employees_test:	gt
org_looking_for_funding: false
org_order_by_value: name
org_order_sort: ASC
post_order_by_value: date
post_order_sort: ASCnumber_of_results: 32style: standard