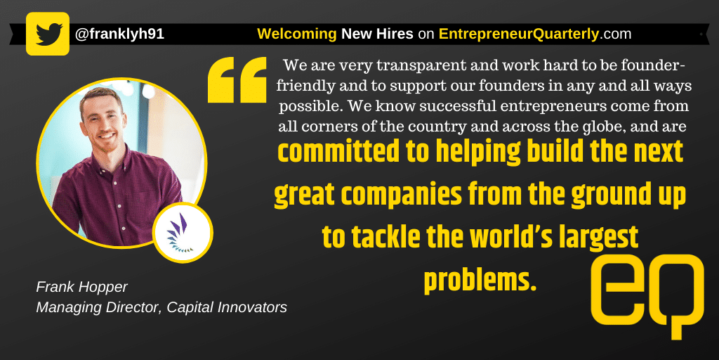 Staff Get Promoted as St. Louis Startup Accelerator Programs Expand
2
Min
Read

-
Visitors
Startup accelerator and venture management firm Capital Innovators has announced the appointment of Brett Luing to the team as the new Program Director. Meanwhile, as former Program Director, Frank Hopper has been promoted to Managing Director.
The management team caught up with EQ over email, and explained that these changes come as the Capital Innovators portfolio keeps growing at pace; "Frank is moving up to manage them while bringing on Brett to backfill some of Frank's accelerator responsibilities." Since Hopper has been with Capital Innovators for several years he has strong relationships with the portfolio companies already as well as with the other CI partners, such as MTC, NGA and Ameren.
New Managing Director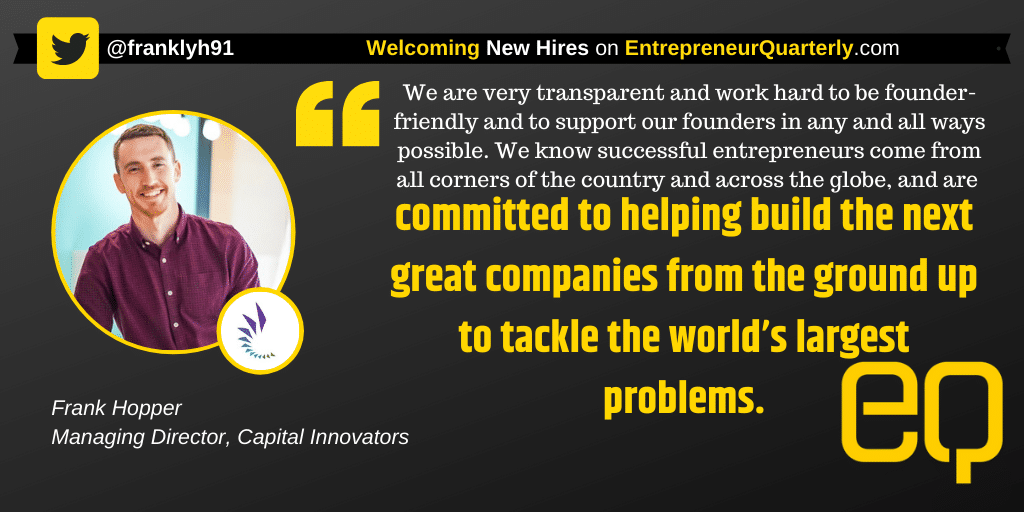 As the Managing Director, Hopper will oversee internal operations for the firm and the Capital Innovators team as they execute their world-renowned accelerator program and the NGA Accelerator, as well as manage the Capital Innovators portfolio. Hopper will be responsible for deal sourcing and due diligence for accelerator stage companies all the way up to Series A stage companies.
"As Capital Innovators has grown and changed with demands of the market and our portfolio, it just makes sense to move Frank into this role," said Judy Sindecuse, CEO and Founder of Capital Innovators. "We now have over 140 companies in the portfolio and during his tenure as Program Director, Frank has gotten to know most of them, so he is uniquely positioned to continue to help them grow."
New Program Director
Brett Luing joins the team after a successful internship with Capital Innovators last summer. Drawing from his previous experience as an analyst at Alumni Ventures Group, Luing brings a seasoned perspective to sourcing transformational companies to add to the Capital Innovators portfolio.
Luing's involvement in the startup ecosystem stretches beyond investing to the operational side where he spent his undergraduate years working with a startup studio based in New York, NY, an accelerator program in Madison, WI, and early-stage founders at an incubator in Paris. Luing will work with mentors and community partners to advance early-stage companies participating in Capital Innovators accelerators, as well as oversee seed stage deal sourcing and the application process.
"Since his internship, Brett has stayed committed to growing in the venture capital field and continued to show initiative and grit that is a huge part of the culture at Capital Innovators. We are confident he will make an excellent addition to the team," said Hopper, explaining the company culture to EQ.
"We are very transparent and work hard to be founder-friendly and to support our founders in any and all ways possible. We know successful entrepreneurs come from all corners of the country and across the globe, and are committed to helping build the next great companies from the ground up to tackle the world's largest problems."