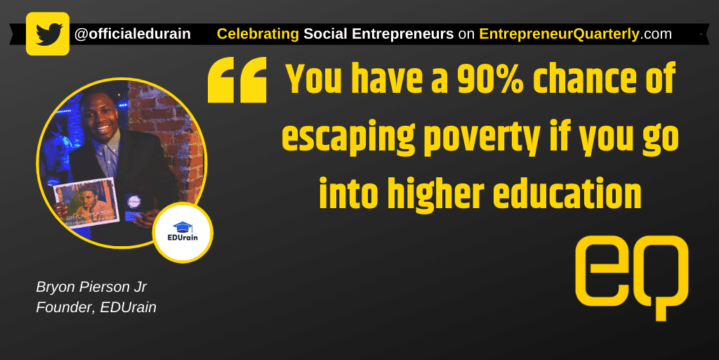 One Man's Quest to Redefine How Higher Education Works
4
Min
Read

-
Visitors
The people behind both EQ and EDUrain have been buddies for a few years now, but Editor-in-Chief, Jonathan Allen can't lie that he teased Bryon for a time, affectionately calling him "The most annoying founder in St. Louis," out of both friendship and honest frustration. But at EQ, we're eating our words now as founder Bryon Pierson is on to something transformative for many ordinary people and his EdTech-meets-FinTech, EDUrain is gaining traction.
If ever you need to be cheered up and inspired, just talk to Bryon Pierson. He's the founder and CEO of EDUrain and on a mission to empower students in their quest for higher education.
Bryon ran away from home at 15, won a court case for his independence, and then put himself through college. He's now an expert in the whole further education financial process.
Bryon advocates for under-represented groups in the college application process, and lectures on LGBT identity development. EQ spoke to him about some of the challenges he's faced. Read on to find out why he believes EDUrain will redefine how higher education works.
A Different Kind of Drag Race
Accessing funds to get to college has long been a subject close to Bryon's heart. Here's proof: he once worked on a video game that connected drag performers, and local LGBT bars to make money. And the college connection?
The idea was that it would support drag queens who struggled to make their profession economically viable and also help raise funds for scholarships for kids to go to college.
Next up, was an idea that was spawned from one of his own college assignments. This was to rank colleges by the success they had in enrolling and retaining LGBT students.
Accessing Financial Support
Bryon likes to take the lead in building organizations. It's something he feels very comfortable with. Sure, he's had his fair share of knock-backs but his continual persistence is paying off.
Step forward one of his newest ventures.
"EDUrain is a higher education, financial support platform that gives students unprecedented access to governmental aid, scholarships and off campus housing, all on one platform," Bryon explains.
"We help students build credit while they're in college. The financial aid system in America is ridiculously complex, and is not set up for minority, low income, first generation and middle class families to navigate without accumulating huge amounts of debt."
In nutshell, Bryon and his team are helping students work the system to make monumental changes in their lives.
Overcoming the Fear of Debt
The fear around the financial burden of college can prevent young people from pursuing higher education.
Many young people, Bryon says, don't know how to access potential funds and are also caught up in jobs whilst trying to support their families. It's often not until they reach their mid-20s that they have a rethink and put college back on their radar.
Bryon claims there are billions of dollars in financial aid for students that go unclaimed every year. Had he been more knowledgeable at the time, he may have been able to stop himself building up $50k worth of debt after putting himself through college.
How EDUrain Can Help
"You have a 90% chance of escaping poverty if you go into higher education," Bryon claims.
What he advocates is giving students from more challenging backgrounds the support they need whilst they're at college.
This is a role, he says, that EDUrain can take on. It will match a profile that a student creates with potential sources of 'free' financial aid that will pay education fees and can help with accommodation costs.
EDUrain can then partner up with a bank so that students get better use from financial aid they've already been promised.
For example, an aid package may not be available until the Fall, but students may need financial assistance before then in order to sort out accommodation or extra training.
EDUrain can act as a guarantor so that the bank releases the cash sooner. The money is then paid directly to a landlord or leasing agency rather than the student. Small regular payments are also made to the bank which can help students build up valuable credit.
Finding Opportunities Along the Way
Whilst building up EDUrain, Bryon has also managed to secure tech training for himself as well as a role with a national college access organization looking at data related to student enrollment and retention.
He's thrilled about this validation that he's an expert in his field. It's enabled him to move on from his struggle to achieve a better education to a place where he can use his experience to help others who may find themselves in a similar situation to the one he was once in.
Be Persistent and Never Give Up
His advice to other would-be young entrepreneurs is to do plenty of research and become an expert in the field you wish to pursue.
Practically speaking, Bryon says, if you're trying to figure out how to make an idea work, ask people questions, call decision makers and get to the heart of what's going on. He has first hand experience of this.
An encounter with a US Senator whilst he was a student about increasing grants for low income families laid the foundations for his own journey with EDUrain.
"That one conversation got me thinking about how I could help students get a loan and build credit, without losing them in the financial process," He says. That meeting, he claims, ultimately led him being able to build his off campus housing software.
Don't Let Others Bring You Down
Bryon is definitely someone who is not going to let people put him down. "People said to me when I was building EDUrain, 'Oh you're not smart enough, you're not from Harvard or Stanford. What makes you think you'd be able to do that?'"
His response? "The fact that I show up here every day, and I get to hear you say that." He's determined not to be swayed by people who say that what he's trying to do is commendable but ultimately unachievable.
The Last Word Goes to Bryon
"EDUrain is going to redefine how higher education works," Bryon says. It might be foolish to dismiss his claim. As Steve Jobs said, "The people who are crazy enough to think they can change the world are the ones who do."