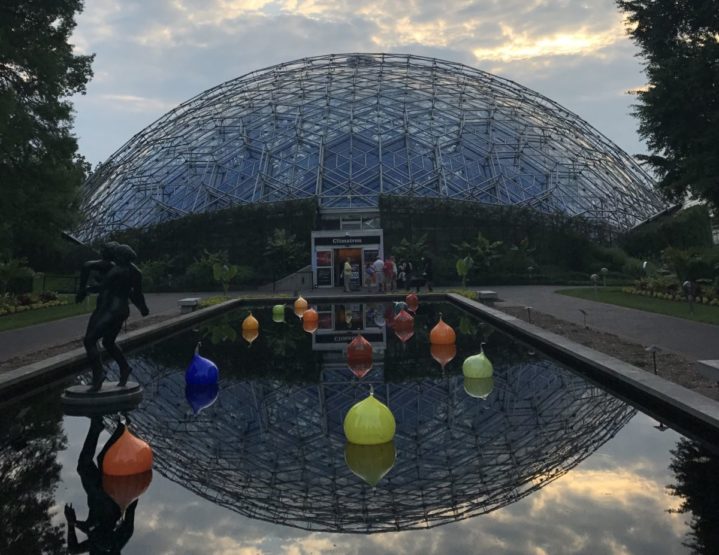 Why Culture Should Eclipse Technology In St Louis
5
Min
Read

-
Visitors
On Saturday (19th August) from 7pm, international art and tech event series, Art Hack Day, will display an art installation at Cortex that represents the results of a 48-hour marathon hackathon of 40 emerging artists from St. Louis and around the world.
"St Louis is the new Berlin." That was the opening gambit from Art Hack Day Eclipse co-organizer, Jon Phillips. "But the difference between St. Louis and Berlin, is that we have Fortune 500 companies here."
His point was well taken. Today, Berlin is one of the tech capitals of Europe, and that status is qualified by financial investment. More than $3.3 billion has been invested in 'Silicon Allee' startups (That's "Avenue," in German) over the last two years. But, if you ever have the chance to visit Berlin, you'll also discover a radical and vibrant art scene that characterizes the city even more powerfully than the numbers.
The brains behind St. Louis' Art Hack Day Eclipse event argue that these two powerful identities (or competing narratives of art and tech), would symbolize a boomtown city in modern times is to be expected.
Artists-In-Residence
"Bringing artists into tech is not some misunderstood fringe activity," Phillips continued. "Boeing and Autodesk have artists-in-residence programs and there's campuses such as Xerox Park and ATT Bell Labs."
Art Hack Day Co-Organizer and Curator, Barry Threw, explained to EQ, "It's funny, but the 'History of Art' is really the 'History of Technological Development.' In music, that trend particularly stands out. Before the Harpsichord and the Piano, you couldn't have dynamics in your music (i.e. loud and quiet sounds), so you couldn't have chamber music and now we wouldn't have Bach. All these little innovations lead to significant cultural changes.
So, you can't have technology without art. And you can't have technology without culture. If you want to bring innovation to a city on all fronts, you have to focus on every level. Technological development is cultural development. It takes just as much investment into culture, as it does in nice places to work."
Primordial Fire
Their comments echo comments made by Square Co-Founder and LaunchCode Founder, Jim McKelvey, in a press release regarding Art Hack Day Eclipse, "Technology and culture are intertwined. As committed as I am to teaching coding skills in St. Louis, the first educational center I launched was an art studio. Creativity in all forms improves our world."
And that creative spark is exactly what the St. Louis Art Hack Eclipse team hope to ignite over their weekend hackathon. They're bringing together skills from a diverse range of disciplines from fast prototyping programmers, entrepreneurs, and engineers to emerging artists, established artists, video game designers, and media theorists.
The 40-strong team of Art Hackers have no idea what the end result of the creative hackathon will be. But there are likely to be a dozen projects in various stages of completion, from fully operational to simply fragments of a larger idea. Yet that's intentional, and that's the exciting part.
"Exciting thing about it is a lot of it happens in the moment, so you're bearing witness to the creative process. The entire exhibition is created from the ground up, and that's the connection between art and entrepreneurship the hackathon represents. You have to make something truly new. Amazing what happens when you get people in the same room. Often they don't know each other and don't even realize they're a community because it has never been organized before."
Emerging From The Void
The 40 Art Hackers convening on St Louis for the marathon hackathon, "really represent separate modes of mind," says Threw. "With technical development, you can often get down in the weeds a little, and get stuck in the mindset of fixing bugs. Whereas the artistic process is often about making connections across different disciplines. The creative process can help everyone focus on the big picture of what applications these technologies can have or reflect on how they're currently used."
Some of the local participating artists at Art Hack Day Eclipse will include:
Global street and stencil artist Peat "Eyez" Wollaeger, whose large scale signature EYEZ can be seen around St. Louis;
Self-taught indie game developer, TJ Hughes, is known in national gaming circles for design and 3D artwork;
Zlatko Cosic, a filmmaker and video artist with sociopolitical commentary often used for projections and audio-visual experiences;
Paul Guzzardo a designer based in St. Louis and Buenos Aires, whose work includes launching the first networked club in the 1990s and using new media to map the devolving state of the American public sphere;
Robin Rath Co-founder and CEO of Pixel Press, a St Louis startup that builds educational toys and games;
And local indie video game studio based in a St Louis, Happy Badger Studio.
The video from tech publication, Polygon, discusses an example of an indie 'game-without-goals' created by St. Louisan art hacker, T.J. Hughes.

Creative Crucible
If you're wondering what might emerge from the the Art Hack Day Eclipse St.Louis, my best advice is to look at the sum of creative inputs. Here are the ingredients for the serendipitous collisions that's being engineered in a sort of 48-hour cultural reactor.
The catalysts combined are inspired and motivated by St Louis' own historical and cultural development. We're going to see local emerging programmers, developers and artists creatively colliding with established artists from all around the world. The timing and conditions of the experiment take place on a weekend that represents a unique cosmological moment in space and time, where the Sun and Moon literally seems to collide into the Eclipse.
That alone takes on a primordial significance, but add some reactants to that, such as unchecked climate change, foreign policy as a tweet, political grandstanding and populist gravitation to extremes, or the sum of all fears – the prospect of another clash, in a week that comes after Charlottesville – and what could burn off in this creative crucible starts to boggle the mind.
To imagine what work might emerge and how those themes might converge, you need only look at the best and wackiest pieces from Art Hack Day in Berlin.
That art scene was borne out of soul searching as the city emerged from economic depression and its people reckoned with a patchwork history of Nazism, the Stazi, and the fall of Communism. And the most successful Art Hack installation, spoke directly to those creative inputs and re-imagined Berlin's experiences under the Stazi (the secret police that remained in Berlin after WWII), in a modern context of what it's like to be monitored under the NSA.
The art hack installation, "Prism, The Beacon Frame," was so effective in illustrating and parodying the modern capabilities of spying on mobile phones to the public, that the NSA almost shut it down. The video belows shows a disco-ball like projection of the data that automatically gets shared when you connect to wifi.
PRISM, The Beacon Frame from Danja Vasiliev on Vimeo.
Spaceship Earth
Eclipsed by the success of Silicon Allee, that the provenance of Berlin may almost be forgotten now, serves as an important indicator to St. Louis that the city contains the creative fission material, within it, to transform into something else.
Berlin's success story inspires other cities to embrace some introjection of the past (meaning, the unconscious adoption of the ideas or attitudes of others) to aspire to higher financial projections. In that sense, the Art Hack Day Eclipse team also want to gently remind St. Louis of past visionaries who once called the city home and presence them once again.
For instance, the grandfather of media theory who was recently honored as a technological prophet in a Google Doodle, Marshall McLuhan calls St Louis home.
McLuhan is famous for coining the phrase "the medium is the message" and popularizing the term "global village," but three other lesser known quotations from him, suggest he probably would have throughly approved of an Art Hack day in St Louis.
Firstly, to convey an idea, as he said, "Art is anything you can get away with," and, secondly, as a way to critique technological determinism, "First we build the tools, then they build us." Thirdly, the honoring of an almost primitive urge to collective action under the auspice of an eclipse, would not be lost on McLuhan. "There are no passengers on spaceship earth. We are all crew."
I suspect too that Buckminster Fuller, author of "Operating Manual for Spaceship Earth," and the inventor of the geodesic dome (e.g. the Climatron at the Missouri Botanical Gardens), would have shared these values with McLuhan and loved to join the Art Hackers exploring the bigger picture.
"I live on Earth at present, and I don't know what I am. I know that I am not a category. I am not a thing — a noun. I seem to be a verb, an evolutionary process – an integral function of the universe."
Be Part Of The Spark
When you collide all the potential energy of all these people together, from the past and present, it's hard not to be moved by the intellectual capital that St Louis could symbolize in the future. One of my favorite quotes from Rilke, a German poet, captures this idea when he says, "The future enters into us, in order to transform itself in us, long before it happens."
Tyler Mathews, Executive Director of Venture Cafe St. Louis, agrees. "St. Louis is a raw and unique place where the culture and future is being redefined. We're starting to see company exits, the city begin to cluster and attract high-quality students from Computer Science to Master's of Fine Arts. St. Louis is the ultimate venue for software developers and artists to be creative and have a high quality of living."
I cannot wait to join Art Hack Day Eclipse to get a glimpse of this unfolding. I hope you can join the Art Hack Day too – REGISTER HERE – today, 7pm at Cortex!