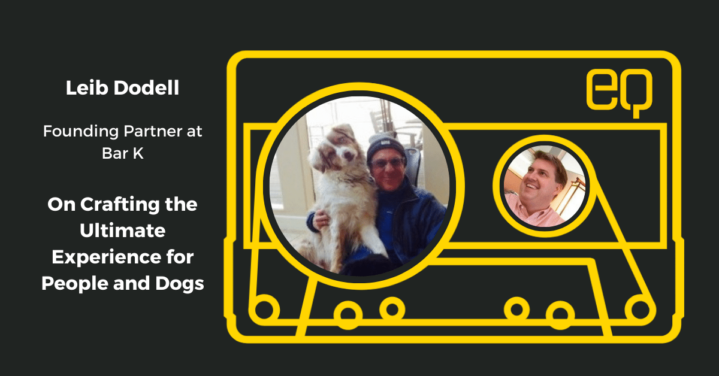 KC Founder on Craft Beers in Bars for Dogs
4
Min
Read

-
Visitors
Making communities pet friendly is a hot topic as more and more of us have fur babies and want to include them in our daily lives away from the home. Leib Dodell and the Bar K team are on a roll in meeting this need.
Already Wildly successful in KC they opened in The Grove in St. Louis in 2021. 
Dan Reus spoke to Leib in 2021 and found out how he increased revenue during the COVID crisis. Read on to get the lowdown on how he was able to prove the concept of his business to investors.
A Problem That Needed Solving
Leib was an attorney and also very much a dog person. He always felt there was more to life than going to the office, something that may well have struck a chord with him when he realized there were very few dog-friendly places to go.
When it came to public parks, he noticed how limited the experience was. There was nowhere to get a drink or bite to eat, no place to work on your laptop, no WiFi, and yet the parks were packed.
About five years ago, aged 50, he took it upon himself to work full-time on creating a safe space for people and dogs to congregate together in a thoughtfully designed space. 
Getting Finance
Leib admits he wouldn't have been able to get the funds he needed for his startup without using what he'd accumulated during his long career.
He went to the bank and secured a decent sized SBA loan because he had assets to put up as collateral. "Don't rule out banks, the SBA is there for a reason," Leib says.
He also did a classic friends and family seed equity round with a professional business plan and pitch deck. In the end he was able to raise about $650,000 in equity investment at the outset.
Pet K was also able to recruit a very well known strategic pet industry company to come in as an investor. That raised its profile, gave it credibility and has helped build the momentum for expansion.
The COVID Effect
Bar K's revenue is actually up post COVID, impressive considering it's part of the hospitality industry.
Leib puts this down to being able to offer a unique outdoor experience where people can spread out over two acres, feel very safe, and still have a happy, social encounter.
"We're incredibly lucky to have a business model that allows us to thrive in this kind of environment," he says. "We have the luxury of being in exactly the right industry at exactly the right time."
Revenue Sources
Bar K is membership driven. It already boasts a database of over 80,000 dogs which hold the potential for new, valuable revenue opportunities.
Leib sees scope to scale horizontally by introducing new geographical markets. His goal is to have ten outlets within 5 years.
Often overlooked, he says, is the idea of vertical expansion. "We have huge volumes of people coming into our space who spend an average of two and a half hours there," he explains. "We have the opportunity to offer them other products and services."
Adding value is key, he says. "Right now 70% of our revenue is from food and beverage with Another 20% coming from membership sales. We want to become more dependent on other products and services such as grooming, daycare, boarding, and dog training."
Turning a Concept Into Reality
"You really need to experience Bar K in order to really appreciate it," Leib says. In Kansas City he's already had hundreds of thousands of people and dogs visit the two acre space.
He spent a lot of time working with experts, dog trainers, veterinarians and behaviorists. The result is what Leib calls a joyful space which dogs feed off. Pets relax and so do their owners, he says.
Every detail of the space has been carefully engineered. There are no corners where a dog can feel trapped for example. What about dog fights? Leib says there are almost none. 
Cutting Through the Red Tape
Combining a pet facility with a café isn't straightforward. For a start, it isn't legal to have a dog on an outdoor patio where food is served, even on a leash, Leib explained.
His background in law and insurance helped him negotiate with the authorities in Kansas City so that Bar K and the services it provided were totally above board.
Bar K has over 100 employees who work the two bars as well as a host of other facilities, including a stage for music performances during which dogs can run around and meet the artists. There's also a grooming salon and a separate space for dog adoption events. 
Forging Local Partnerships
"We're able to build this sense of community," Leib says. For example, Bar K's doggy jungle gym was designed internally but built by Westlake Ace Hardware.
The structure adds to the whole Bar K experience making the marketing of Westlake within the project feel more meaningful.
"We've barely scratched the surface with these kinds of marketing partnerships," Leib says.
Advice for Wannabe Entrepreneurs
"Be very clear about 'what your why is ?' That means understanding what problem you are solving as an entrepreneur," Leib says. He also advises focusing all your resources and effort on one project rather than having several 'hopefuls' on the go.