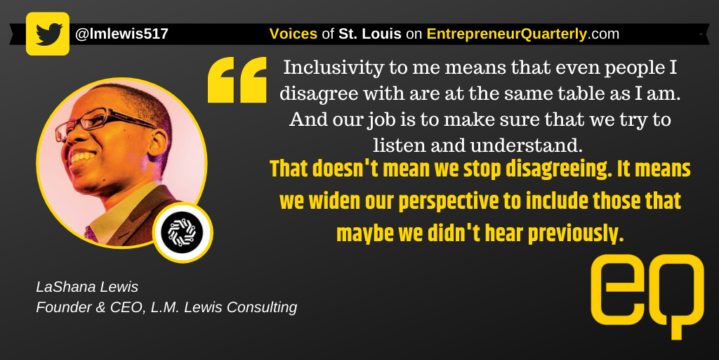 What Inclusivity Means to DEI consultant LaShana Lewis
6
Min
Read

-
Visitors
After leading the St. Louis Equity in Entrepreneurship Collective through a challenging year, we caught up with LaShana to get her take on how she feels the region's commitment to equity and inclusion in the St. Louis startup ecosystem is progressing .
Ever since I read her contributed articles on EQ, LaShana Lewis is someone I reach out to consistently and often to sanity check my frustrations with the state of DEI programs in St. Louis. LaShana not only always puts me right, but she also helps me to "go there" in terms of expressing intuitive but unexamined philosophical positions, so that I can find exactly the right language to say what I want to say, without re-iterating and unconsciously re-creating the same oppressive lines of inquiry that pervade discourses around diversity, equity and inclusion.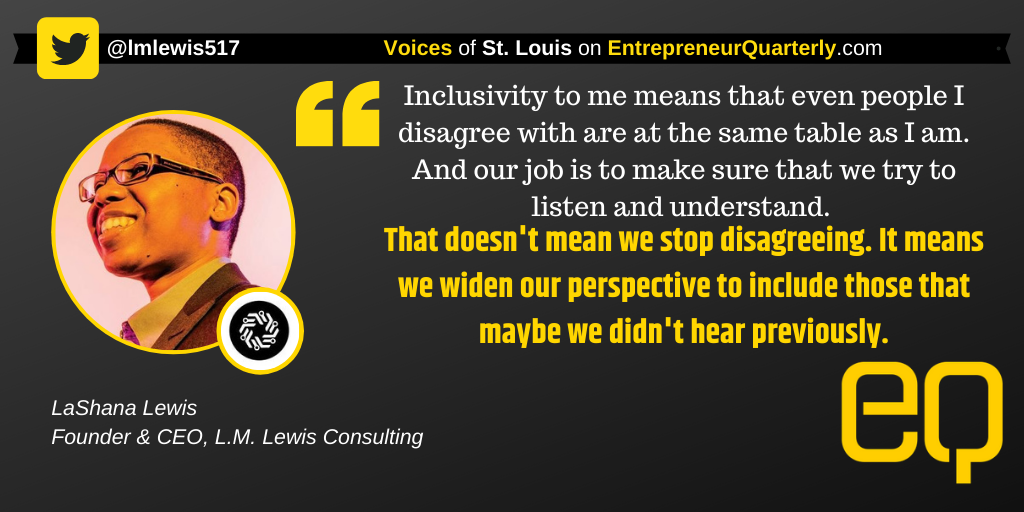 That might sound like an ominous admission, as if what I wanted to initially express is said in bad faith and I just needed someone like a PR consultant to help me "finesse" or "spin" my position, but actually it's often the opposite. Part of what makes critical thinking such a challenging discipline is that it's often the "noble causes" and the "desire to help" that are oppressive to others because they frame "a problem" in a specific way to make it easier to "solve" or "buy into" and, in so doing, perpetuate the very same power structures and thinking that are not just "part of the problem", but are literally core to the entire issue (restructured and bundled up wholesale).
This isn't a new phenomenon and it's something we know intuitively when we chirp proverbs like, "the road to hell is paved with good intentions," but such hazards are exactly the reason why you need a DEI consultant by your side. The mistake is to think that the good outweighs the bad, or that a "net positive" is a satisfactory result, which are all just other ways of saying "the ends justifies the means"; instead, you have to recognize, embrace and own your limitations, shift your attention to your method rather than your desired outcome and strive for sheer excellence in every stage of the approach to your goal.
LaShana Lewis spent the last year deftly navigating the St. Louis Equity in Entrepreneurship Collective through the pandemic lockdown and chairing the St. Louis Downtown Neighborhood Association through 2020's summer of unrest. This year, as you can tell from my intro, I'm excited to see she has returned to her own venture, L.M. Lewis Consulting, because speaking personally, I can't recommend her work highly enough.
What does "inclusivity" mean to you?
Inclusivity means "everyone". Often, we tend to think of making sure that folks are invited to the table that we think give diverse voices, but often it's just shards of what we already agree with in a different wrapping.
Inclusivity to me means that even people I disagree with are at the same table as I am. And our job is to make sure that we try to listen and understand.
That doesn't mean we stop disagreeing. It means we widen our perspective to include those that maybe we didn't hear previously.
From your perspective, how would you describe the current level of inclusivity in the St. Louis startup and innovation community?
I think the inclusivity level in the St. Louis startup scene still exists in silos, but those silos are slowly breaking. I don't think much of it is as intentional as it is exposure and ability to cross-communicate with different demographics within the region.
For instance, Black people in the area are more used to having to go into mostly white-dominated areas to get even some of their basic services and needs as well as for work opportunities, but white people are not as adept or "need" to go into Black areas for the same reasons nearly as often.
This tends to let the exposure for different ventures and opportunities lean heavily in the disproportioned silos that I mentioned earlier. As a result, many startup assistance programs tend to not cater to some of the needs common in the Black community, thus possibly leading to low participation of that demographic.
What would a more inclusive ecosystem look like to you?
A more inclusive ecosystem to me would start with equity. In order to achieve the balance that we desire, we first have to rectify the unevenness that has been established in the various portions of the ecosystem.
Until we address what could be a harsh and oftentimes uncomfortable reality, we are only saving face by having "do-gooder" programs to make us feel like the inclusivity problem is being approached in the ecosystem without actually having to do the harder work to solve it. Once we address this properly, we'll be able to move toward true inclusivity and be able to rewrite what the startup ecosystem can be and how it can grow.
What are a few things that could be done to make it more inclusive?
1. Creating financial programs that focus on providing resources and capital without the strings of traditional investment raising. For example, crowdfunding like that introduced by Backstage Capital via the crowd investing portal Republic.
2. Reworking existing investment strategies to include entrepreneurs from lower economic and nontraditional backgrounds.
3. Establishing an oversight committee whose purpose is to address the items listed in one and two and ensure continuity within current and future investment programs and strategies.
Have you already seen some wins that show we're taking the right steps as a community?
I think programs like WePower, NPower, and Rung for Women are taking the right steps towards equity in the startup ecosystem. By attacking some of the root problems, we're starting to realize that we need to do more than just say we want to help, but take actionable steps based on foundational information uncovered in the Ferguson Commission Report, St. Louis Equity Indicators Report, and similar research studies.
Without a collective base to start on, the wins will quickly give way to short-term achievements. I think using these reports and capitalizing on our existing programs will help move us further in the right direction, in the long run.
Through your role in the startup community, how do you use your influence to make the St. Louis ecosystem more inclusive?
Besides talking on national stages and presenting information internationally, I write and meet with local ecosystem builders as well as employers and foundations that focus on rewiring the workforce to unveil the disparities present when working within a non-inclusive atmosphere. My company specializes in one-on-one interaction with businesses looking to make their environment more diverse, equitable and inclusive to provide customized solutions that will alternatively benefit things like their supplier diversity and make their vendor relations more inclusive.
Can you name something that, in your opinion, represents significant progress towards a more inclusive and equitable ecosystem in St. Louis?
I think the establishment of events like the St. Louis Racial Equity Summit and some organizations like what I listed above are more clear signs that there is at least a recognition of progress needed towards a more inclusive and equitable ecosystem in the St. Louis region. Organizations like Great Rivers Greenway and Civic Progress (now under Greater St. Louis, Inc.) are starting to incorporate an equity-focused lens into their infrastructure plans. And large-scale nonprofits like International Institute of St. Louis and Big Brothers Big Sisters of Southeastern Missouri have reached out to include committees that focus a lot more on equity issues as they solidify their relationships with entrepreneurs in the region.
Are there any people, companies or programs that you believe are models of true inclusivity in the St. Louis ecosystem?
I am starting to see more organizations create programs or initiatives that are based on creating inclusion within the St. Louis ecosystem. One burgeoning organization, the St. Louis Diversity & Inclusion (D&I) Consortium, is seeking to use their collective identities as diversity, equity, and inclusion (DEI) leaders in the private and public sector to mitigate issues within their respective industries, while learning from each other and offering resources.
This kind of collaboration steadily grew throughout the years and is starting to culminate into a full-formed entity that can serve as both a clearinghouse and sounding board for the metropolitan St. Louis efforts in ushering further inclusivity initiatives.
What really stands out to you about their model? What aspects could other organizations emulate or coordinate with?
The part of the St. Louis D&I Consortium model that stands out to me is its ability to come together and focus on different aspects and viewpoints within membership. Since the organization is already varied in ethnic, gender, and even LGBT+ backgrounds, our common goal with addressing DEI issues in large-scale institutions serves as a way for us to look inward and focus on deeper root causes.
We find ourselves disagreeing, but find it more of an enlightening effort as oppose to adversarial. Fortunately, we are taking these lessons learned and will use it to share with others in order to help them figure out the first steps in creating social discourse for operating within these realms.
Where or how would you recommend others start, to start tackling the issues of equity and inclusivity tomorrow?
Whenever I'm working within my DEI consultancy, the first thing I usually establish is a baseline of transparency as well as an agreed-upon level of openness. We understand that everyone has a different starting point in their DEI journey, and to try to make every effort to uncover any items that we may need clarity on.
I often say, "Unless you're calling me an offensive name, there's little you can say to offend me or that I haven't heard before." Once we break past that point, we can get to the most plain discussion about any fears, doubts, and misgivings that could be happening within the organization.
I feel that by starting with this method, people and organizations can take the best steps toward tackling the issues of equity and inclusivity tomorrow.