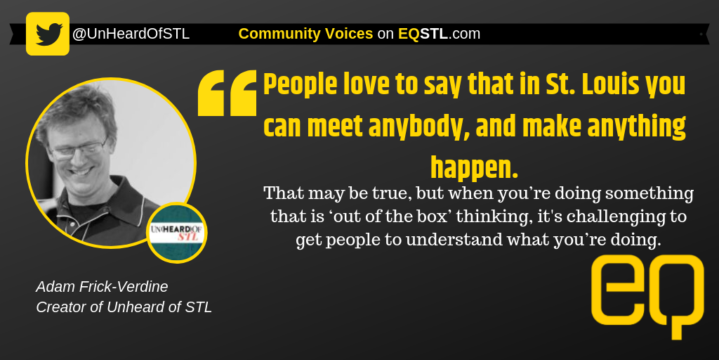 All Entrepreneurs Hustle, But Creatives Raising Funds Need Side Hustle
4
Min
Read

-
Visitors
Adam Frick-Verdine, sound designer and the brains behind the audio mapping project Unheard of STL, got into entrepreneurship by necessity. He got an internship followed by a job in his field in sound design during his last year of college at DePaul University in Chicago but it didn't last.
"I was doing sound for kids' shows for TV, but the place was falling apart," he said. Forced into being a freelance sound designer, he spent a lot of years doing a variety of different projects around Chicago.
When family circumstances led the family to Missouri in 2006, the lower cost of living and growing entrepreneurial culture was attractive. "5 years ago I thought 'I think I'll start a podcast.' The market we have now didn't exist yet, and I saw an opportunity," he said.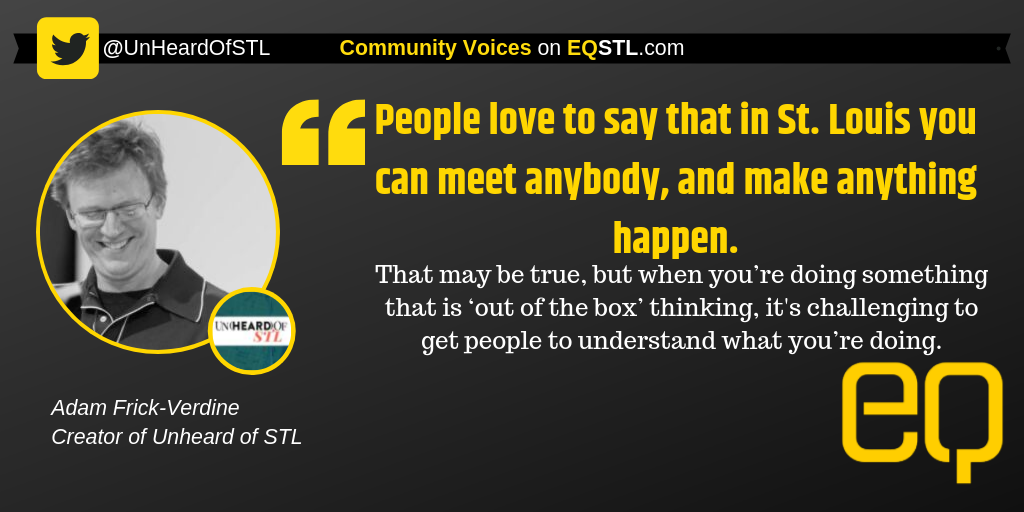 "A lot of my ideas have come from imagining things that I thought needed to exist. Things I wanted to do that no one was doing yet. I said 'I'll do it, the world needs this,' and I did."
Critical Connections Tip the Balance
Making his mark in St. Louis wasn't easy. "People love to say that in St. Louis you can meet anybody, and make anything happen. That may be true, but when you're doing something that is 'out of the box' thinking, it's challenging to get people to understand what you're doing."
Although he knew a few people and was active in the entrepreneurial scene, it took some time for Frick-Verdine to make the critical connection he needed to make to be launched. That happened for him through a connection he made with Maxine Clark, founder of Build-A-Bear, and one of our region's most successful entrepreneurs.
Through LinkedIn, Frick-Verdine was introduced to Clark and now her foundation, the Fox Clark Family Foundation, is a sponsor. "She's a huge fan of the project and our work," Frick-Verdine said.
Using Your Side Hustle to Expand Your Network
Since moving to St. Louis, Frick-Verdine has had opportunities to provide sound for larger budget films outside of St. Louis for which he can work remotely. This provides most of his regular income. He has made an effort to develop relationships and partnerships locally, which has particularly been important for Unheard of STL.
One of the first podcasts Frick-Verdine produced in St. Louis was a sketch comedy podcast called "Welcome thru Effingham" with Content Creator Jason Flamm, formerly Executive Producer/Creator at the now defunct St. Louis comedy workshop organization, Sketchpad Comedy.
"From participating at Sketchpad, and through other ventures, I've been 'collecting people.' The writers have all been people that I know locally, as well as all the actors. The project has employed close to 50 artists, almost all are just word of mouth, people who knew people around town," he said. "A lot of my day-to-day work is with a small crew or on my own. It's been so great on this project collaborating with so many talented people."
Raising Funds for Creative Works
The idea for the project didn't get funded immediately. "From idea to funding, it was almost 4 years of change," Frick-Verdine said.
Unheard of STL is fiscally sponsored by Midwest Artist Project Services (MAPS), which funds artists who are not yet categorized as not-for-profit by the IRS. This has meant that the project can solicit tax deductible contributions and grants, as well as receive consultation from MAPS staff.
"Unheard of STL would not be possible without MAPS," Frick-Verdine said. "They have helped me learn to navigate, project manager, produce. There are a handful of MAPS people who work with me as close partners; digging in with me to develop what stories need to be told. That's why MAPS is so great; they can help with everything."
MAPS has been instrumental in working with Frick-Verdine to get Regional Arts Commission and the Missouri Humanities Council sponsorship. Other sponsors include the Fox Clark Family Foundation, KDHX, and STL Style, and major donors sponsor specific stories. For example, the Fox Clark Family Foundation is the exclusive sponsor of Lunch Counter Protests.
"There were a lot of iterations–very small to very large, custom backend, off-the-shelf backend. Fablist was already underway, so the Pear Blossom story was first in line. Got MAPS sponsorship two years ago, but finally in the summer of 2018, we started working on Unheard of STL. We had little bits of funding to do writing. But turning the project light from red to green ultimately took nine to ten months."
The stories in Unheard of STL were recorded at The Creative Experience at the Central St. Louis Public Library in Downtown St. Louis and at Shock City Studios, a project sponsor. The Creative Experience is a free resource to anyone with a St. Louis Public Library card and offers four pods and a recording room with all the equipment needed for digital creative projects for public use.
Fall 2019 Plans to Develop Unheard of STL
Response to the project has been positive. "Anybody I mention it to is enthusiastic. People love the idea," Frick-Verdine said. MapMe, the mapping software behind the Unheard of STL map, allows tracking of listens and has registered over 700 visitors to date.
"This summer has been a critical time in getting people talking about the project. In the fall, we'll try to inspire donors to help us turn that buzz into more stories," he said.
The most important next step for Unheard of STL is creating more stories, according to Frick-Verdine.
"Any of these ten stories we already have could be the beginning of their own map. We want to continue to produce a diverse set of stories. Old fashioned history books are a good source, but also giving voice to Native American, African American, LGBTQ, gender equality and Civil Rights stories. There are a lot of opportunities in terms of stories, people and geography," he said.