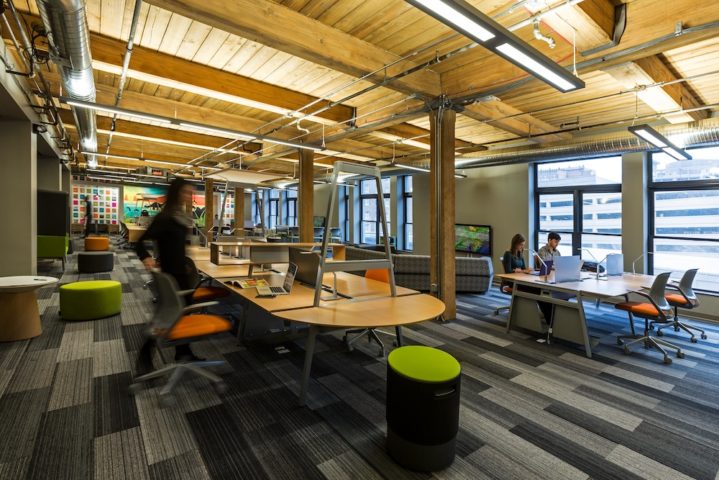 3 Reasons (Backed By Data) That 2018 is a Great Year to Start a Startup in the Midwest
4
Min
Read

-
Visitors
You likely already have plans for what you'll be doing in 2018.
Maybe you've already bought tickets for an epic trip or committed yourself to getting fit this year. Sounds like fun!
But maybe 2018 is also the year that you should start the small business you've always been dreaming of.
Whether you know exactly what kind of business you want to open, or if you just long to be your own boss someday, you should know that 2018 is a particularly good year for starting a business.
Why is that? There are a lot of economic reasons that starting a business in 2018 will give you a higher chance of success – especially if you're opening a business in the Midwest.
1. The Economy is Improving
Remember in 2009 when the economy tanked and no one was buying anything?
It's taken a long time for our economy to recover from that slide, but it's finally starting to grow again — and at a quick pace.
During the third quarter of 2017, the economy actually grew at a 3.3% annualized growth rate. The quarter before that, the economy grew at a 3% annualized growth rate. That was the first time since 2014 that the economy sustained a 3% annualized rate for six months in a row.
That means that the economy isn't just improving. In addition, that growth is becoming more consistent and predictable – which is exactly what you want to hear if you're about to invest your savings (not to mention your blood, sweat, and tears) into launching a start-up.
The economic outlook for 2018 is positive, too: economists expect 2% to 3% annual growth, considered an ideal range by many experts.
This level of growth means that both businesses and consumers are buying more. That means that it won't matter if you're launching a small business that targets consumers or offers services to other businesses, you're more likely to succeed than you might have been a few years ago since more people have money available to buy your products or services.
2. The Cost of Midwest Living Is Stable
It's true — if you live in the Midwest, you don't get to start your mornings surfing in the Pacific.
On the other hand, Midwest living is great for your bottom line: with less to pay on your rent or mortgage, and with stable costs of living, you can gain greater financial independence.
The Bureau of Economic Analysis tracks the cost of living in all regions across the US and looks at different price levels for things like food, housing, transportation and education. The cost of living spikes in places like New York, San Jose, Bridgeport, Connecticut, Santa Cruz, San Francisco, and Washington.
In contrast, the Midwest and deep south have some of the lowest costs of living. That's due not only to low housing costs, but also to lower costs of everyday goods.
That's also great news if you want to start a business in the Midwest.
Fewer expenses means more disposable income. That in turn means more money that entrepreneurs can invest in growing their businesses, and more cash that their customers are happy to spend buying from them. It also means higher profit margins on the back-end — which kicks off the whole cycle all over again.
3. Access to Capital is Improving in Midwest for Startups and Small Businesses
When the economy is struggling, capital is limited. It's harder for entrepreneurs to get funds to buy new equipment, pay for more inventory, and grow their businesses. That can make it very difficult for founders who don't have significant personal cash reserves to deal with the cash flow issues every business encounters.
Luckily, the economy is doing better, and more lenders are lending.
The Small Business Lending Index looked at the lending sector over the last 12 months and saw that lenders increased their loans in 11 of 18 industry sectors. In fact, in 7 industries lending increased by over 4%.
In addition, small businesses are responsibly managing those loans. The Small Business Delinquency Index (SBDI) indicated that small business borrowers had fewer delinquent payments from October to November of 2017. In 2009, the SBDI peaked at 3.50% and over time has moved down to about 1.25%. In other words, small businesses are making on-time payments which in turn creates a positive feedback loop for lending as a whole.
Another significant bonus is that there are now many small business lenders operating online which broadens the potential lenders for those in the Midwest who previously had to rely on local or national banks who can often have high credit requirements for loans.
These new lenders make access to capital easier for Midwest borrowers.
And lets not forget, venture capital and angel investment has been getting increasingly hot for Midwest startups. Traditional tech investors are moving money from the coasts and into Midwest cities like St. Louis where there are lower human capital costs. In particular, Venture Funds like Lewis & Clark Ventures are breaking the "$100 million" ceiling to invest major A and B round capital in Midwest startups.
The Time is Now
With the improving economic conditions in the Midwest, 2018 is the perfect time to start a small business or startup. So, if you've been dreaming about being a small business owner, the time is now to get started on making that dream a reality.