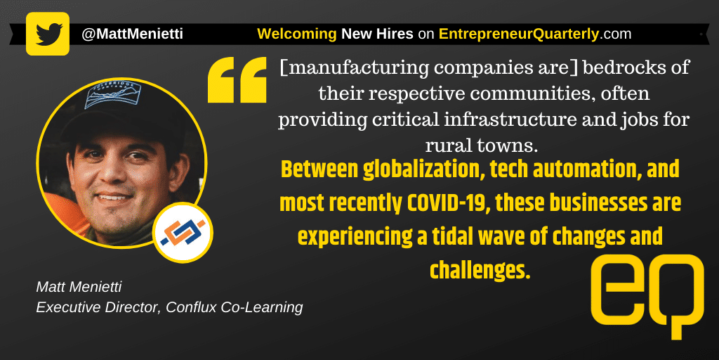 New Incubator for Manufacturing Companies Emerges From Pandemic
3
Min
Read

-
Visitors
goBRANDgo! hires Matt Menietti as Executive Director to oversee new non-profit, Conflux Co-Learning, collaboration space for manufacturing and distribution companies.
Last year, literally just days before the pandemic hit, goBRANDgo!, a marketing company headquartered in St. Louis announced they would embark on a $2 million expansion to create Conflux Co-Learning, a not-for-profit collaboration and education space for manufacturing and distribution companies. Now the St. Louis-based marketing company has tapped Matt Menietti to oversee operations and serve as the organization's inaugural Executive Director.
Located in the Carondelet neighborhood, Conflux Co-Learning occupies a 25,000 sq. ft. former school building, originally built in 1871 to serve the 400+ children of local laborers and manufacturers. The offices of goBRANDgo! have also relocated from their existing space in Benton Park to the new facility.
Pivot into the Pandemic
"After the Conflux building was acquired in late 2019, the organization's co-founders faced an unprecedented challenge when COVID-19 hit in 2020. While they initially planned for a more formal kickoff and launch later that year, it was clear that virtually every manufacturing and distribution company was facing similar challenges, and no one had all the answers," Menietti explained to EQ over email.
"In response to the pandemic, Conflux Co-Learning leaped into action, hosting roundtables, webinars, and sharing relevant information (loan programs, safety guidelines, etc) with the leaders of these industrial companies," he said. "Now, we're tentatively planning for a public launch this upcoming Fall (2021) and we will be onboarding a select group of founding member companies around that time."
New Executive Director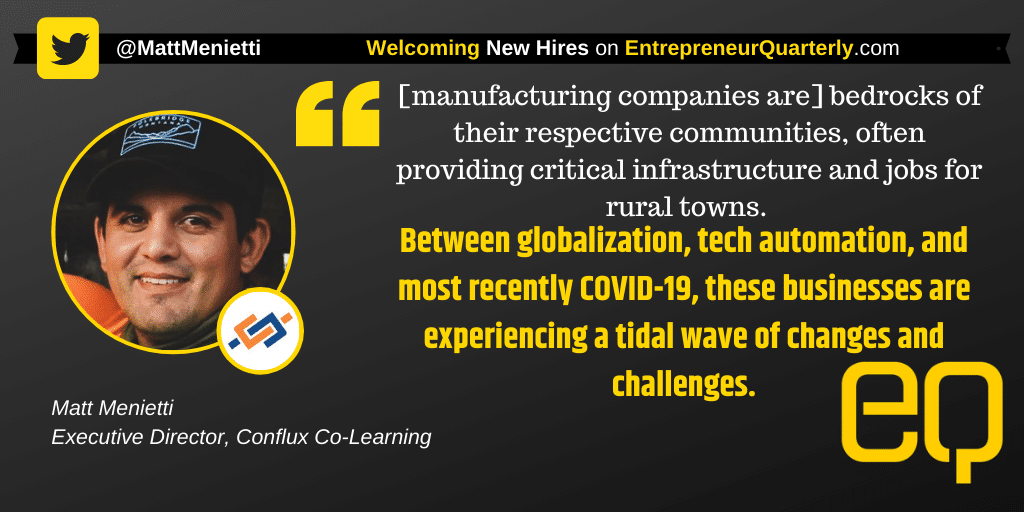 Menietti most recently served as the Director of Innovation & Entrepreneurship for the St. Louis Regional Chamber. Prior to his position at the Chamber, Matt spent 4+ years as the Executive Director of GlobalHack, a tech-focused nonprofit which organizes software competitions and youth coding programs.
Before GlobalHack, Matt ran day-to-day operations for two nationally-ranked accelerator programs, SixThirty and Capital Innovators, which provide early-stage tech companies with seed funding, mentorship, valuable industry connections and networking opportunities. He is an avid champion and advocate for the St. Louis entrepreneurship and small business community, having organized several volunteer-led hackathons, meetups, and events.
"In talking with the Conflux co-founders, it was clear that many of the manufacturing companies they partner with serve as bedrocks of their respective communities, often providing critical infrastructure and jobs for rural towns. Between globalization, tech automation, and most recently COVID-19, these businesses are experiencing a tidal wave of changes and challenges."
"We want to bring these players together and provide them with meaningful content, relationships, and a community of support to help them thrive. I'm humbled and thrilled to build something extraordinary with them," said Menietti.
Manufacturing Business Incubator
Conflux Co-Learning is likely to play a dual role as a manufacturing entrepreneur support organization and workforce development program. Initially, the expansion project plans to bring 28 new jobs to the area and build from there.
"We've been having conversations with industry leaders around workforce development and how many of these companies are struggling to find quality workers and think about the next generation of manufacturers," said Menietti. "We're in the very early stages of exploring apprenticeship programs, certifications, and networking events that allow companies access into a more robust hiring pool and individuals who may not be a good fit for a more traditional four-year degree to find their way to rewarding, well-paying jobs."
These individuals can build wealth, companies can grow because they have the right people with the right skills, and the region thrives.
Outside of the many administrative and logistical tasks of setting up things like accounting, payroll, and other systems, as the first full-time employee, there's a lot that a new Executive Director can bring to the startup nonprofit. Not least of all is setting the tone for the future and asking the right questions, especially coming out of the pandemic, where the path forward may have been unclear or uncertain before.
"We couldn't be more excited about Matt joining our team. He brings an amazing combination of startup, technology, financial, non-profit, and leadership experience that will really help our members learn and grow," said Brandon Dempsey, co-founder of Conflux Co-Learning and partner at goBRANDgo!.
"I hope that Conflux Co-Learning can learn from and borrow many of the great pieces that Derek and Brandon have set up with their marketing agency, goBRANDgo!" said Menietti. "The team is very celebratory and recognizes wins and good work when deserved and pride themselves on having courageous, direct conversations with other team members, partners, and even oneself!"
"While the problems Conflux Co-Learning aims to address are serious, I'm hopeful that we can foster a sense of fun and playfulness in our day-to-day work, that's in alignment with our core values."