San Francisco Coworking Startup's HQ2 Will Be In St. Louis
3
Min
Read

-
Visitors
Covo choose St Louis for the next location of their second coworking building.
Rebecca Brian-Pan, coworking pioneer and founder of the coworking startup, Covo, is poised for global expansion. She's chosen St. Louis, Missouri, as the next location for Covo's second major investment into a shared office building and collaborative workspace.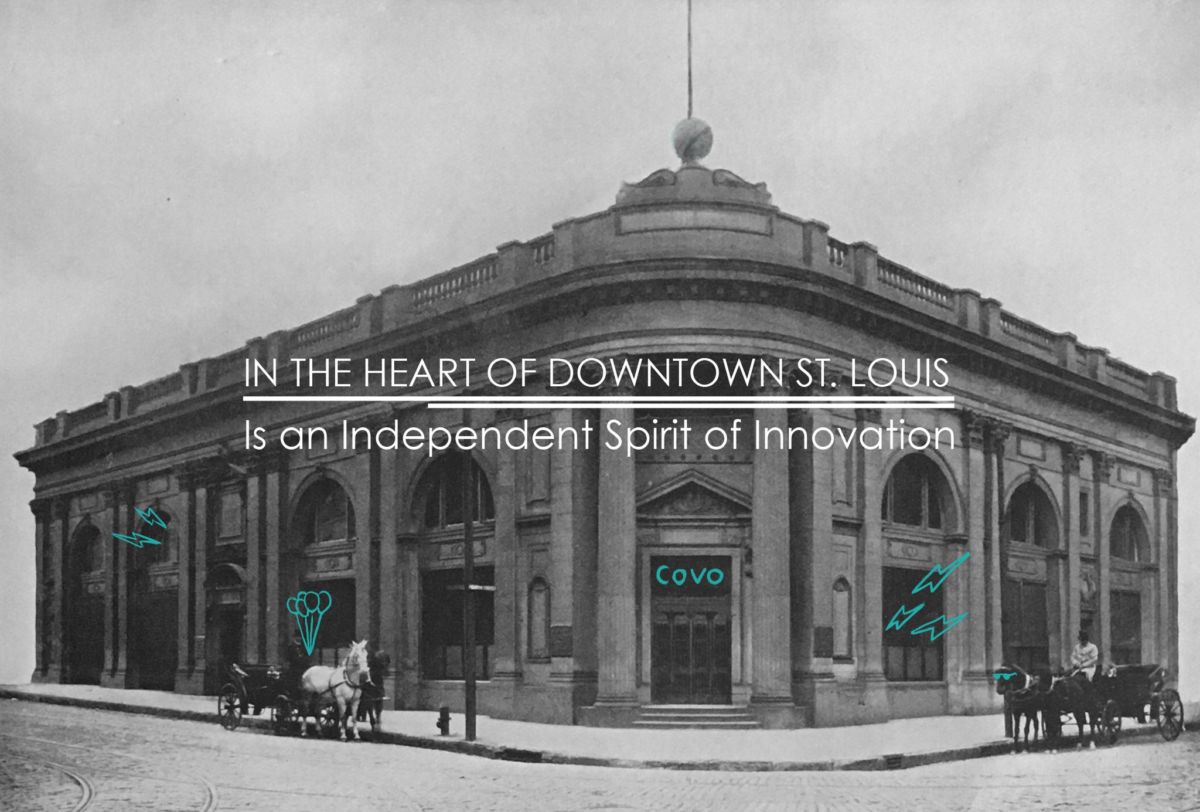 Say Hello to Covo #2
Lauded as "the future of coworking workspace" by the Huffington Post, and characterized as, "like Google and AirBnB opened a Coworking Space," by Urban Daddy, Covo's original San Francisco location has been well received and made a notable impact, both in terms of business model and downtown community development.
Covo selected St. Louis as the ideal location for "Covo #2" due to the outstanding startup scene. Covo is set to officially open their second coworking space in the historic Mississippi Valley Trust Bank building, at 4th and Pine in downtown St Louis, before the end of the year. The project is in the final stages of completion but tours of the premises are available now, ahead of the Grand Opening pencilled for December.
Progress continues at #CovoSTL! Interested in scheduling a tour? Email [email protected]. pic.twitter.com/4iZbMGPMMp

— Covo St. Louis (@CovoSTL) November 1, 2017
Pay-As-You-Go Collaborative Workspaces
According to the founders, Covo is not your typical coworking concept. In addition to terrific coworking spaces and meeting rooms, month-to-month office leasing and shared amenities for members, Covo STL also offers coworking day-passes to the public.
"The full 'Covo experience,'" Rebecca says, "is starting your day off with a beautifully prepared cup of coffee or tea, working hard until the end of the day, and then unwinding with an adult beverage."
While monthly members can enjoy these things on a daily basis, Covo STL is designed to be enjoyed à la carte as well.
Think of it like a super internet cafe ideally designed for a creative workforce. Covo STL will be home to a Kaldi's coffee shop, a full bar and a dedicated event space that includes a rooftop patio overlooking the Arch.
Covo offers coworking for just $2 an hour in its hourly lounge. "Many people already have an office, or only need a place to work a few hours a week" Rebecca explains. "That means they can't take advantage of the benefits of regular coworking spaces. We created the hourly lounge to lower the barrier of entry so people who need more flexibility can call Covo home."
Home And Away
And Covo really could feel like a home, not only because it has your favorite drink available at the bar, but there is a cozy nap room too.
"At Covo," according to Rebecca, "our goal was to make a beautiful space that everyone in our community can enjoy. That's why the coffee shop and bar are open to the public."
Rebecca founded Covo with her husband Jason, and brother Dan, and thinks that Covo's origin as a family business is essential to what makes it different from other coworking spaces. "People often tell me how warm, welcoming, and supportive Covo's staff is. I think that is because we view Covo's members and employees as extensions of our family." 

Sam Whitney, St. Louis native and infrastructure engineer at Expensify, agrees.
"I've worked out of dozens of coworking spaces around the world when traveling for business and Covo is hands-down my favorite. I love that it's so welcoming. I'm excited that Covo is coming to St. Louis and that my hometown is finally being recognized as the startup hub it is."
To that end, Covo STL members will get access to Covo SF too, meaning that membership in St. Louis creates an instant business network and possible foothold and base in San Francisco too.
"We will help forge that connection," Daniel Brian, COO at Covo, told EQ.
Silicon Valley to Silicon Prairie
Covo's Director of Coworking, Alex Anderson added, "We're going to have direct reciprocity. For both cities; in both directions. I think it's going to encourage current members in San Francisco, who are generally excited about what we're doing and to see what we're building, come out and take part in the community that we're growing here."
"We are thrilled to welcome Covo to our community to strengthen the ties between St. Louis and Silicon Valley," said Ginger Imster, Vice President of Innovation and Entrepreneurship at the St. Louis Economic Development Partnership. "Having Covo in St. Louis brings greater visibility to our region's national startup scene, and offers business owners and freelancers in St. Louis a coworking option that will attract ever more professionals to Downtown."
Get Involved
The Covo team is looking for founding member companies to join their coworking space today. If you have any questions, are interested in learning about being a founding member of Covo STL, or would like to partner with Covo, please contact [email protected].