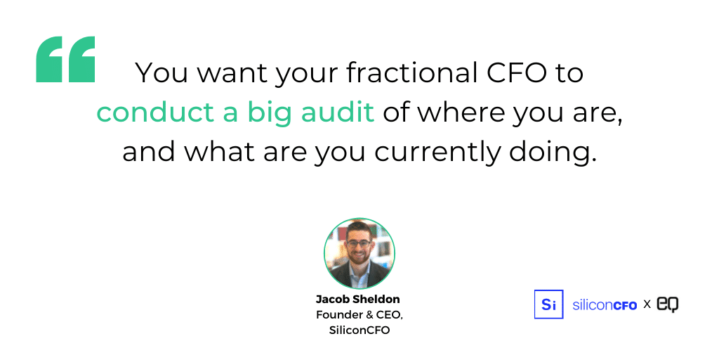 Top Tips for Using Fractional CFO Services
3
Min
Read

-
Visitors
Jacob Sheldon gives us some pointers on how to engage a new startup CFO so that you don't waste any time or effort on making your next big hire.
You know why hiring a fractional CFO makes sense for your new business. But the question is when and what exactly should you use them for? How should you manage your expectations?
We spoke to Jacob Sheldon, fractional CFO and Founder of SiliconCFO to find out. Read on for his tips on how to make best use of fractional CFO services.
Help! My Finances Are Out of Control
Companies, typically those that are small to medium sized, sometimes get to a point when their finances are all over the place. They need someone to just come in and actually do a cleanup.
This could be a book-keeping 'sort out,' or something else within the business that's related to its financial operations. A fractional CFO will get things organized and provide structure for going forward.
I Need a CFO To Do Some of the Basics. Will They Mind?
Some might. Most want to keep a level of financial strategy as part of their role. You could probably get accounting and controller level work done a lot cheaper by someone with less experience.
Ideally, a fractional CFO will have worked full time as a CFO in a larger organization. They'll have also set up systems for a startup.
That means they'll be able to take a company from the 'setting up of the systems' stage by working a couple hours per week right up to the full time CFO role.
When Would Be a Good Time to Hire a Fractional CFO?
One of the best times for a startup to hire a fractional CFO is when they have closed funding: seed or Series A stage. That's when they're either about to raise the rounds and they need some financial modeling done. 
It could also be at the moment when they've just raised the round and now need someone to come in and build up their finance functionality or finance team.
The fractional CFO might need to do some hiring for the team, set up financial procedures and systems as well as prepare the startup for high growth.
Experienced founders may also know they need a fractional CFO because they'll have seen the benefits in previous projects.
Systems a Fractional CFO Might Put in Place
One example would be an accounting system, if a company doesn't already have one in place or if they have a basic one and want to upgrade.
Let's say a company isn't moving to an Enterprise Resource Planning (ERP) system. A fractional CFO might want to implement expense software or insights software for the CEO and founders to keep track of the expenses. 
Recurring reporting systems are also things a fractional CFO might take care of. These will send reports to the board, the team and investors. They'll help ensure things are in place that enable a startup to scale.
This is so that, when a company is growing very quickly, the accounting team is not left behind in areas such as accounting, accounts receivable and accounts payable. It's all about keeping up with the growth of the business. 
Do CFOs Perform a Compliance Function?
Compliance is often part of a fractional CFO's job. If yours is a Fintech firm, there's typically a lot more compliance work that needs to be handled. Some fractional CFOs can do this kind of work, and others can't. 
Key Qualities of a Fractional CFO
They need to be good with people. They need to be great at persuading different departments to have a plan. The CFO also needs to be able to convince the CEO about what to do and what not to do. 
CFOs can be used like chess pieces. That could be internally to sort out co-founder disagreements or, if externally, to handle vendor relationships or client negotiations.
What Products Should A Fractional CFO Recommend?
The first thing would be an accounting package, whether it's QuickBooks, Xero or Wave. All companies need one.
The next thing would be a payroll and benefits provider.
A Professional Employer Organization (PEO) is recommended because it just makes everything so much easier. This includes things like hiring and providing benefits, as well as staying compliant with local and federal employment laws.
The PEO can handle all of the related taxes too at a fraction of the cost it would take to do these things yourself.  
The fractional CFO might also suggest a bookkeeping service instead of hiring someone in house. Again, this can be far less expensive. They may also suggest a range of other software for expense management.
Making the Most of a Fractional CFO
Hiring a fractional CFO is a first step. The next is to sit down with them and be clear about your expectations and how these can be fulfilled. Jacob Sheldon provides tips on how to interview startup CFOs and what to look for so that you don't waste any more time or effort.