What is a Fractional CFO?
20
Min
Read

-
Visitors
The definitive EQ guide to hiring a CFO and getting the best out of fractional CFO services for startups.
What is a CFO?
The Chief Financial Officer, otherwise known as the CFO, is one of the most costly but expansive roles at any company. Whereas the CEO manages the entire business, the COO manages the entire operational team, and the CTO manages the entire technology stack of the company, the CFO manages the entire 'finance function' of the company.
Typically, in a large organization, the CFO manages everyone in the accounting and finance departments, from financial controllers, procurement, and planning, to auditors and accountants. In smaller companies the CFO might manage a single person or small team of people who manage all the financial operations of the company.
What's the Meaning of a "Fractional" CFO?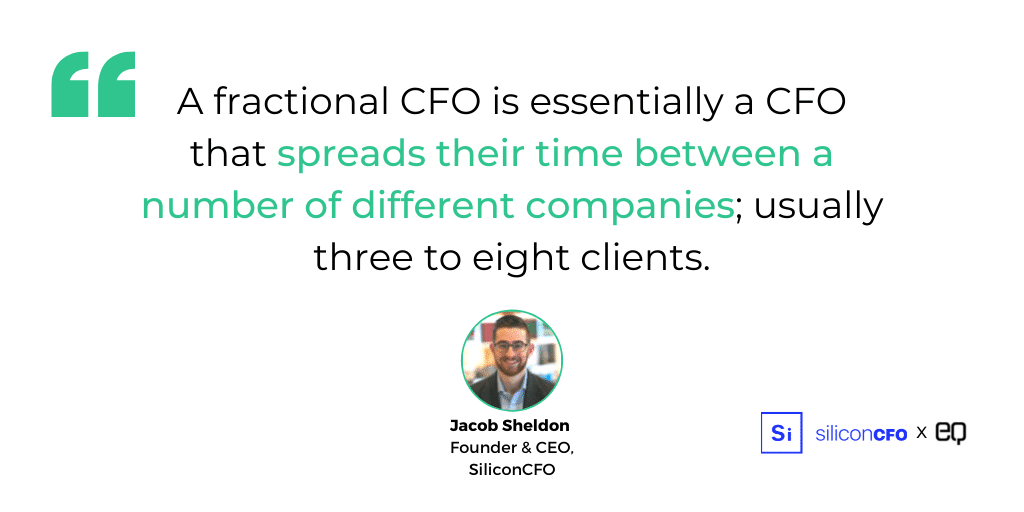 A fractional CFO performs the same overall role as a traditional CFO, but these extremely experienced and talented professionals choose to offer their time and expertise to a number of companies simultaneously.
By spreading their time across a number of clients, the overall cost of their employment is reduced so that more companies can afford their expertise. For fractional CFOs that means they can work for the same equivalent salary which they would get at a single organization, but apply their professional know-how to a wider range of challenges and opportunities.
In that sense, fractional CFOs are naturally entrepreneurial, which makes them a great fit for working with startup founders.
"A fractional CFO is essentially a CFO that spreads their time between a number of different clients, usually three to eight clients," says Jacob Sheldon, founder of SiliconCFO, a startup that offers fractional recruitment services for startups looking to hire a CFO.
What Does a Fractional CFO Do?
In a small, early-stage startup (who may have just won some seed funding, for example), a fractional CFO might manage the entire finance function of the company by themselves. Not dissimilar to a CTO, who plans all of the technology which your startup will use to build products, a startup CFO will build out your finance department from the ground up.
The fractional CFO's role and responsibilities at a startup are to:

Scope out the entire financial operations infrastructure and talent needs of the company
Start to implement an operational plan around how the company charges customers and collects payments
Pay employees, contractors, service providers, or suppliers
Determine what financial department roles the company will need to hire in the future to manage the business as the startup grows.
CFO Responsibilities and Duties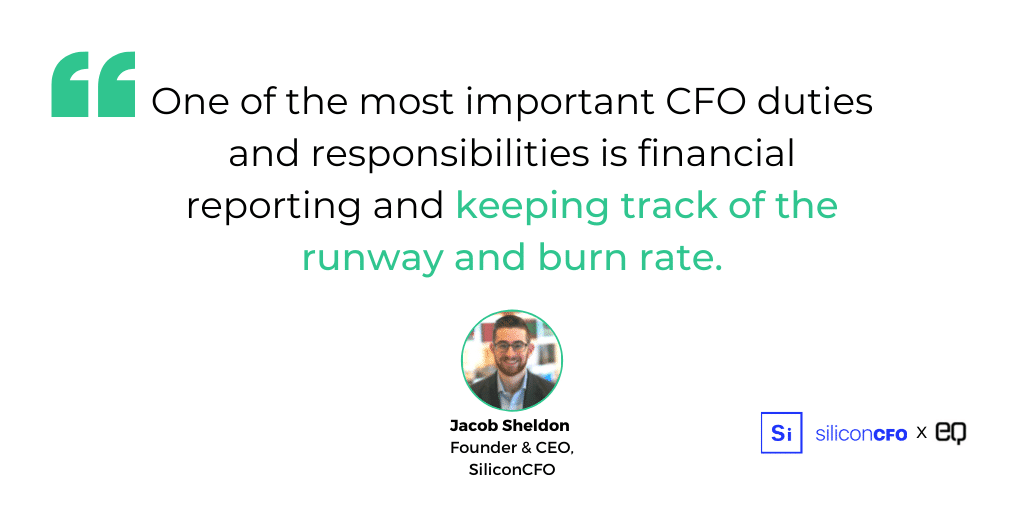 "I'd say one of the most important CFO duties and responsibilities is financial reporting and keeping track of the runway and burn rate," says Sheldon.
Your fractional CFO is responsible for all the important money conversations you'll need to have about your business. The CFO role at a startup splits across two broad responsibilities: Financial Operations and Strategic Planning.
Whether it's them doing the work themselves or managing another finance team member, startup CFO responsibilities and duties are to make sure that someone in the company is flagging any anomalies in the management of company finances, such as any fraudulent transactions, and keeping track of the cash situation overall. In managing financial operations, CFO duties are to understand the big picture around company finance.
The types of questions your CFO should ask:

Do we have enough cash to make payroll?
Are vendors being paid on time?
Are accounts receivable being collected?
To help answer these day-to-day operational questions, fractional CFOs will often help startups get their financial compliance functions in shape. They can help startup founders choose a payroll and benefits provider, and plan systems and processes for how compliance is handled on a daily basis.
The average company might outsource their HR function to a Professional Employment Organization (PEO) platform, but a CFO will often help configure these services for the maximum benefit to the startup. FinTech companies have more compliance issues, but whether your fractional CFO handles all the minutiae of compliance is up to them — whatever industry experience they have is certainly relevant, and your goal should be to understand 'the what' and 'the why' of the recommendations they make.
CFOs need to be good with people across the whole organization. As your company experiences growing pains, you'll need them to convince staff in every department that they have a plan, how to implement it, and how to reach company goals.
"CFOs need to be very good at convincing the CEO on what to do and what not to do," says Sheldon. "I've seen that firsthand… go horribly wrong. Sometimes that's the fault of the fractional CFO not being convincing enough. But sometimes it's just inevitable it's the fault of the CEO not wanting to listen."
In that sense, all CFOs perform a core diplomatic function in every organization and industry. As "money conversations" are often the hardest, no matter how much business experience you have, you should look to hire a CFO who is not simply good with numbers, but whom you also find persuasive and easy to talk to.
Who Needs a Fractional CFO?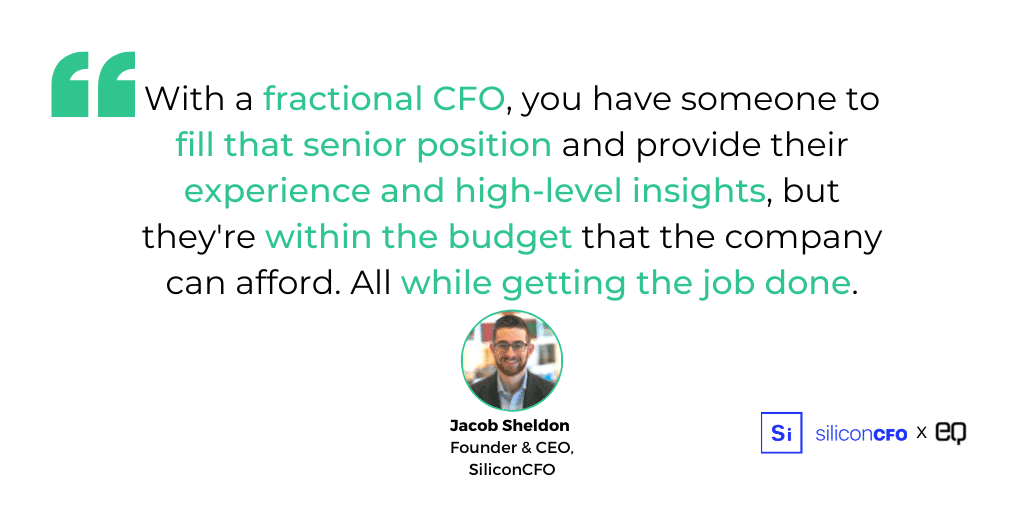 As we've explained, the CFO plays an important role in aligning teams across the entire organization around the financial realities of maintaining and growing the business.
The more experienced the CFO is in all aspects of company operations and growth, the more likely they are to know how to respond to every challenge and opportunity that arises. It's that breadth of experience that makes hiring a traditional CFO too expensive for most small to medium sized businesses and startups.
Nonetheless, almost every company can benefit from having someone experienced in the position of governing the finance function of the business. Fortunately, although most small companies and early-stage startups cannot afford a full time CFO, they usually don't need someone occupying this position full time, so fractional CFOs can be a perfect solution.
"That's where this idea of a fractional executive or fractional CFO, specifically comes into play," says Sheldon. "With a fractional CFO, you have someone to fill that senior position and provide their experience and high-level insights, but they're within the budget that the company can afford. All while getting the job done."
Hiring a fractional CFO provides startups with expert talent at an affordable cost. Not only will a fractional CFO handle their role like a full time CFO, but over one week per month, they'll manage everything at once — just on a smaller scale.
Many fractional CFOs are willing to handle a large portion of the financial operations, even despite the fact such duties are typically too junior for that role. Acting in the capacity of a Head of Finance or a Financial Controller, your fractional CFO might manage payroll, manage the accounts payable and accounts receivable, and even handle the bookkeeping or directly manage an outsourced bookkeeper or bookkeeping services firm.
That's one of many key differences between most CFOs and any fractional CFO: The typical CFO is not handling the day-to-day accounting function or even the financial modeling. Instead, as senior executives, they're overseeing the entire accounting and reporting process, or they're in board meetings where they are focused on big-picture financial strategies across the entire organization, such as expense cutting or strategically utilizing the cash that they have to keep the company on track to hit their goals.
By contrast, even very experienced fractional CFOs who have worked full time at large companies in their career will gladly consider "getting into the weeds" of reconciling the accounts or revenue recognition because it's something that just needs to get done. If your firm doesn't have someone to handle these duties, a fractional CFO will either do it themselves or outsource it to someone under them, whom they might have retained internally on their own team.
Most fractional CFOs intend to stay focused on high-level strategy to control costs, as you can get the accounting and controller work done for a lot cheaper by someone else with less experience. Nonetheless, when their client company has specific needs, a fractional CFO might just say, "All right, I have to do this," and they're happy to bill the hours to do it.
How Would a Fractional CFO Help a Startup?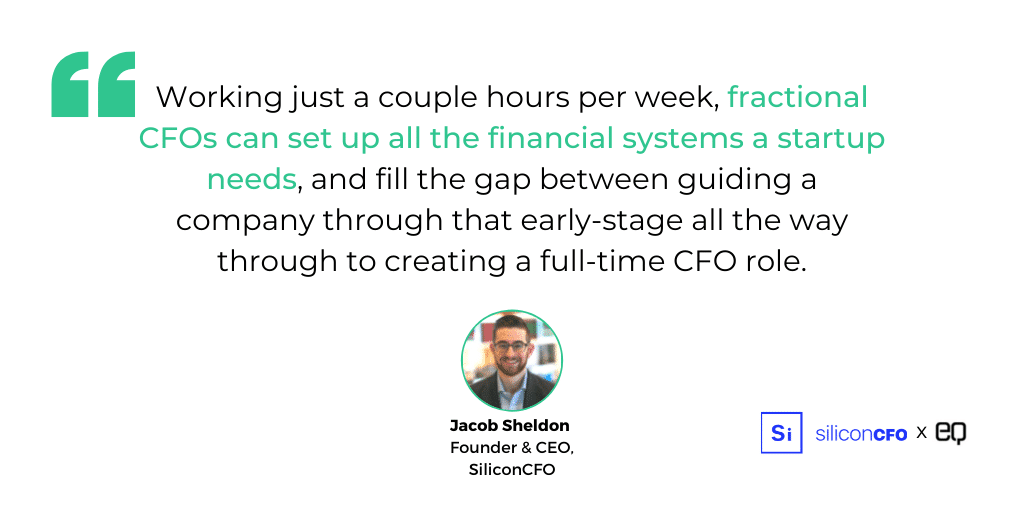 As we've already discussed, unlike a traditional CFO, a fractional CFO is generally more willing to start putting their wealth of professional experience to work anywhere within the finance department. This can be great for new startups whose financial operations are underdeveloped or not yet established.
Someone with professional CFO experience has managed an entire finance team before, so they have a huge advantage over the founding executive team at a young startup. Drawing upon their own careers, fractional CFOs can easily visualize the entire financial operations in a company, even if yours is not at that stage yet, and can connect the dots on all the processes that could be improved over time.
It's a special vision they bring: a fractional CFO can envision the future of a company in a way that founders simply can't. Experienced CFOs have a vision for the end-to-end solution you may only be just imagining. They know what a productive company looks like on the balance sheet, how it runs on a daily basis, and what systems it needs to be truly effective.
"The ideal scenario for hiring a fractional CFO is that this person has worked full time as a CFO in a larger organization," explains Sheldon. "Working just a couple hours per week, fractional CFOs can set up all the financial systems a startup needs, and fill the gap between guiding a company through that early-stage all the way through to creating a full-time CFO role."
What Should a New Startup CFO Do First?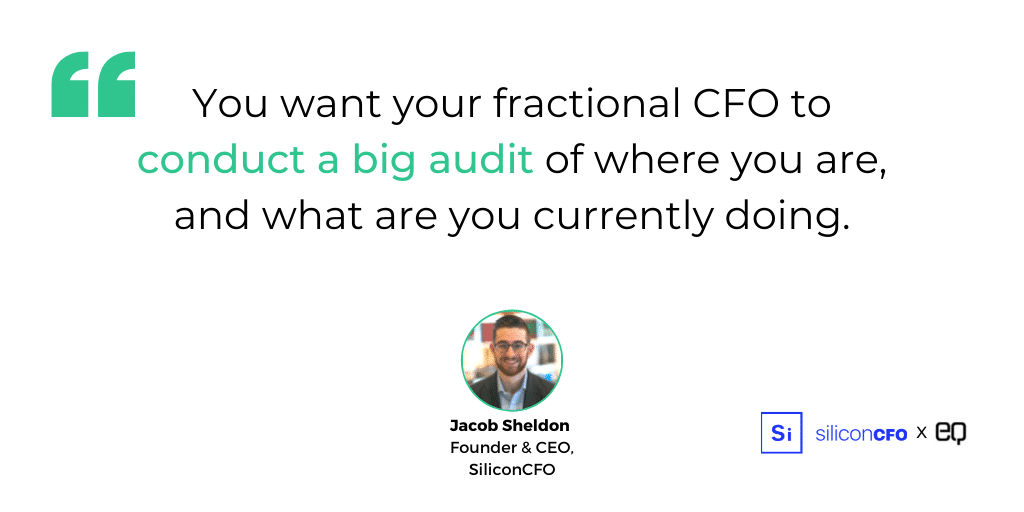 New startups who hire a CFO in a fractional role gain the benefit of professional help to address the company's core finance function at an early stage. There are a number of ways a CFO can help a startup plan for long-term growth, says Sheldon:
"The core functions of any company's finance department are bookkeeping, Accounts Receivable, Accounts Payable, Payroll Expense Management, Employee Expense Management, Cash Flow Forecasting, Budgeting, Pricing, Strategy, financial models for fundraising and capital management and Compliance."
Founders should expect a lot of questions when they first hire a CFO or take on fractional CFO services. There's an early discovery process around how things are done and, once that's completed, the next task is to start visualizing the future and agreeing a vision of the company.
"One of the first things that you'd want them to do is to really ask you a ton of questions around 'what are you currently doing for your finance function within your business?'" recommends Sheldon. "You want your fractional CFO to conduct a big audit of where you are, and what are you currently doing."
When you first start using fractional CFO services, the kind of questions your CFO will ask are:

What do your financial operations look like?
What are your current systems and procedures?
Do you have accounting software (e.g. QuickBooks) set up, or are you just using spreadsheets (e.g. Excel)?
Do you have a lot of accounts receivable or accounts payable?
Are you delinquent on or close to delinquent on any payables?
Do you have substantial collections on your accounts receivable that are really aging poorly?
After getting all those details out of the way, their aim is to understand the bigger picture. Your CFO wants to know, "Where do we need to be and what's the plan for the business for the future? What are we trying to do with this business?" says Sheldon.
It's all about developing a CFO onboarding and performance plan:

How do we bridge this gap between where we are now and where we want to go?
What do we need to do with regard to implementing a FinTech stack?
What do we need to do in terms of procedures and building a team to serve that financial operations function?
Best Tips for Fractional CFO Services
Remember, you're hiring a fractional CFO to manage growth. Your ultimate goal is to avoid a situation where your company's financial operations implode from mismanagement just as you're about to explode with new customers.
So, hit the ground running! Prepping a CFO tech stack not only saves time but it makes all the fractional CFO services work you're paying for even more cost-effective in the future.
If you don't already have one in place, implement an accounting system. If you already have a basic one in place, your CFO may recommend upgrading to a more comprehensive solution, such as an ERP like NetSuite.
You may also need to implement expense management software for your employees to claim expenses and also help the CFO and founders to keep track and gain insights into the overall cost of goods sold. Such insights are an essential part of developing recurring financial reporting systems, which are also needed in order to streamline sending reports to the board and investors.
Finally, based on the recommendations of your CFO, it's worth implementing anything else that needs to be put into place to allow you to scale. When the company is growing — hopefully quickly — the accounting and finance team won't be left behind.
Building the CFO Tech Stack
Whether it's keeping up accounts receivable/payable, or tax accounting, or managing expenses, your goal is to ensure that all kinds of payments are being managed correctly and the entire finance function of the company can keep up with the overall growth of the business. Experienced founders often know they want a fractional CFO just because they've been through this before.
"Founders often tell me, 'I know how important this function is and I know how important it is to have this all set up and set up correctly from the early stages. So I want to hire someone right now to set this up for me,'" says Sheldon.
There's some pretty standard components to the CFO tech stack. Sheldon recommends considering these products and services alongside a fractional CFO:
Accounting Software (e.g. Quickbooks, Xero, Wave)
Payroll and Benefits provider (e.g. JustWorks) – professional employment organization (PEO) makes all these accounting and finance department tasks much easier:
Hiring and providing benefits
Staying in compliance with local and federal employment, regulations, and laws
Handling all the taxes
Providing inexpensive benefits (much less expensive than doing it on your own)
Bookkeeping Service – instead of hiring someone in-house and full-time, there are lots of bookkeeping services that are fairly inexpensive
Expense Management (e.g. Expensify) – for employee receipts and expensing
Management of Accounts Payable / Accounts Receivable
After your fractional CFO has taken control of the entire finance function, you might consider bringing them into long-term planning conversations about the company, even if they're not specifically financial.
Example: Role of CFO in a Company

"Typically, if you're hiring a fractional CFO, this is a higher cost person, and a really experienced person — an expert really. And so you should be utilizing them for some of the more complex and 'harder' tasks and responsibilities," Sheldon recommends.

"So for instance the bookkeeping controllership, such as Accounts Receivable (AR), Accounts Payable (AP), and payroll, you might want to have someone else do that more affordably or you might want to outsource to a firm. Whereas some of the more higher level work such as cash flow analysis and forecasting strategy, you would want your fractional CFO to do."
Best Ways to Use a Fractional CFO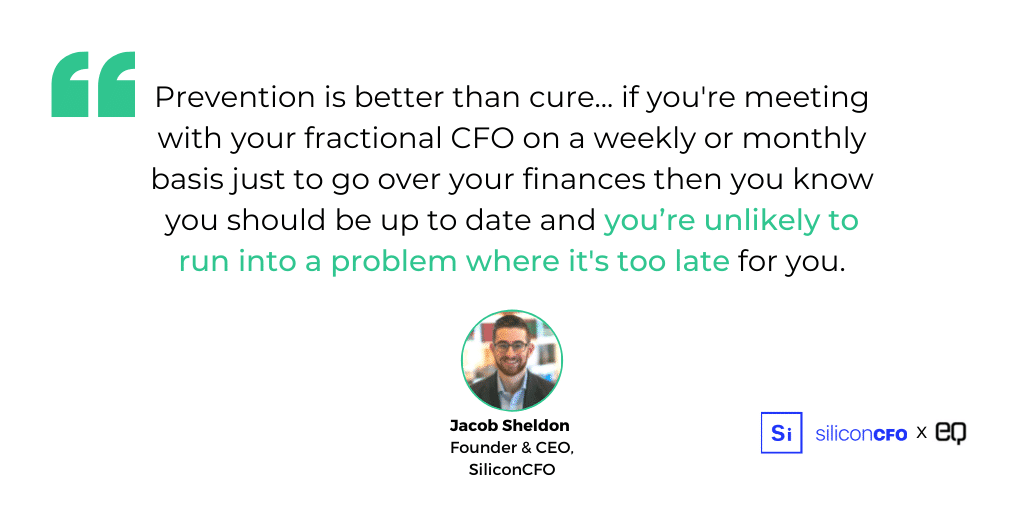 Beyond planning your finances, your CFO is an important chess piece who can help in all kinds of negotiations. Internally, your CFO can help resolve disagreements between co-founders and negotiate with external parties like your vendors, service providers, and even clients.
While the only people reporting directly to the CFO are in the finance team, there needs to be good communication between the Executive Team and that finance function. You should expect the CEO, CMO, and CTO to work with the fractional CFO on budgeting, forecasting, and expense management and maintain a good relationship.
Hiring a CFO — or using fractional CFO services — is all about having someone responsible to manage "the money conversation," which is, in any company, often the most difficult conversation to have even at the best of times, but especially when the "boom times" are over. Your CFO is the person to go to who will be able to explain things clearly to you and be comfortable having a money-related conversation.
"I've seen a number of times where that CFO is coming in to not just provide the management and oversight in that position but also to provide clarity across the team with regard to the finances and anything money related," says Sheldon.
People often feel uncomfortable talking about finances, which makes your CFO an important chess piece. Plan a role that recognizes that your CFO will need to go across the organization and have "money conversations" all the time, whether it's about budget and expenses or department salaries, individual salary and compensation, or equity compensation negotiations.
You also want your fractional CFO to explain the big picture of what's going on in terms of company finances to your executive team and regularly communicate financial performance using monthly reports. There's a "stitch in time saves nine" aspect to the day-to-day duties and concerns of the CFO role, and they have responsibility to spot negative trends early and raise them as issues.
The month to month reports for any company are important for founders to understand where your business is at the moment. You want to be able to compare it to the previous months to see how the company has been doing historically, so the CFO can answer these questions:
Best questions to ask a CFO during a meeting:

Are you improving your financial position or is it degrading?
Are you slowly getting to a point where you're going to run out of money?
"Prevention is better than cure," explains Sheldon, "if you're meeting with your fractional CFO on a weekly or monthly basis just to go over your finances then you know you should be up to date and you're unlikely to run into a problem where it's too late for you."
"You want to be proactively working with your fractional CFO, to go over your monthly financials so that you don't have to wait for them to point it out to you and say 'hey you really should have looked at this thought about this three four or five months ago,'" he continues. It's best to tackle issues as they arise.
Example: Good Advice From a Startup CFO

"In my own role as a fractional CFO, I've had clients that get to a point where, all of a sudden, I'm looking at the monthly reports and seeing that they haven't improved their position… and they haven't asked me about it either. So, as the fractional CFO, I need to proactively go and tell them, 'Hey, you need to take a look at this and you need to make some changes.'

"Otherwise, you're going to either be insolvent or your balance sheet is going to be in a position that you really don't want it to be, or you're going to just run out of cash. But if you start maybe cutting expenses now or focusing more on the near term revenue production, you may not run into as bad of a situation as you would if you don't address this for a couple of months."
CFO Meeting Agenda
What do you talk about when things are going well? What are the best questions to ask a CFO during a meeting?
"Just having a recurring sort of financial health check-in on the calendar is essential," says Sheldon. "Even when you're doing incredibly well and you think to yourself, 'Oh, I don't really need to spend the time speaking with my fractional CFO,' just to save yourself a couple of hundred dollars by trying to reduce their time, you're really doing yourself a disservice," asserts Sheldon.
There's always something that you can talk about with your CFO. Whether it's specifically about your finances and the good or bad position, or if it's about legal, or negotiations, or the customer experience.
It could be anything, even if it's not specifically finance focused. Instead of banking the savings, take the meeting.
Good questions to ask a CFO during a meeting:

How can we do even better than we're doing now?
How can I free up more of my time to focus on customer service or growth?
How do we best utilize our free cash flow?
Conversations with your CFO could be about investments; it could be about hiring. It could also be about acquisitions: either acquiring a company or getting acquired.
Even when things are going well, every single company has a unique situation to contend with at any given moment. There's no rule of thumb: it's not necessarily about cost cutting in bad times and growing staff when you're booming.
"Some companies might want to deepen cost cuts to improve profit margins and maybe even doing a round of firing, while others may conclude that 'now is the time to expand' by making investments into a new product or service line or hiring new people. Some organizations take stability as a chance to fire the people whom they think are underperforming and replace them, even when the company is doing really well overall," explains Sheldon.
When Should You Hire a Fractional CFO?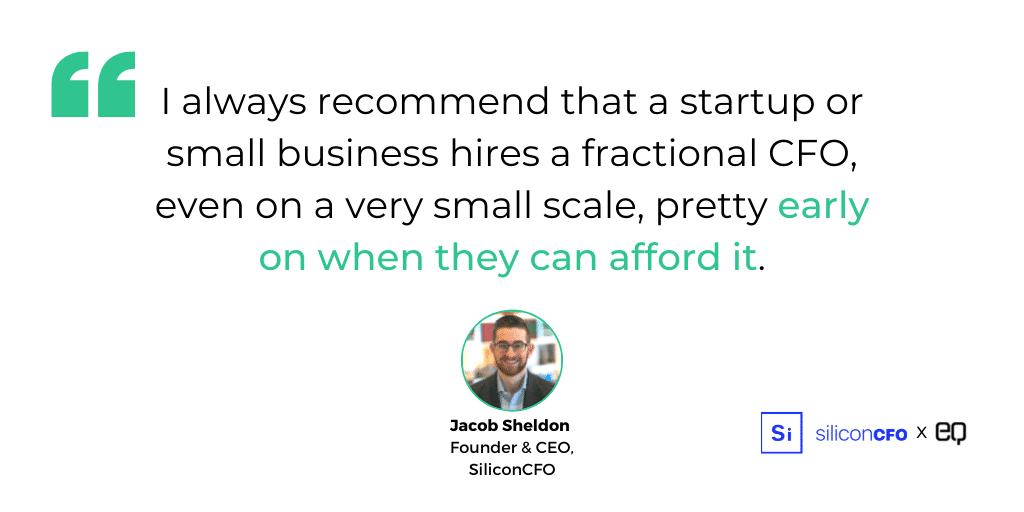 It's not just startups that need a fractional CFO. Agencies and small-to-medium sized businesses can also benefit from having complex financial operations handled by an experienced CFO.
Technically-skilled founders (from tech to manufacturing and science) often need a fractional CFO because they don't even know where to start and they can't imagine exactly what is needed on the financial operations side of their business; they just want someone else to handle it for them. A fractional CFO is someone who is experienced enough to be able to come in and say, "You need this, this, this and that, done and I'll do it for you. You don't have to worry about it."
Example: When to Hire a CFO as a Startup

"I always recommend that a startup or small business hires a fractional CFO, even on a very small scale, pretty early on when they can afford it," says Sheldon. "I do often see that the point where startups want a fractional CFO is either in the seed or series A stage."

"They're either about to raise a round and they need some financial modeling done or they just raised the round and now they need someone to come on and actually build out their finance function and their financial operations team. They actually need to do some hiring for that team and set up the procedures, the systems and prepare them for high growth."
Despite incurring costs, founders who hire a fractional CFO in the early stages of their company will learn more than enough to make up for the cost of paying for CFO services. Ultimately, you'll save a lot of money on taxes and the financial operations management expenses.
Example: When a Fractional CFO is Worth it

"Even a 1-2 hour consultation every month can save you a ton of money or help you make more money," says Sheldon. "For example, even a small business or agency that's been operating for 5 to 8 years and has been managing 5-10 million per year in revenue just by using a bookkeeper or financial controller will see considerable benefits."

"Sometimes the bookkeeping, tech stack and procedures, are pretty messy and need to be cleaned up for tax filings, or project based reporting, so that you know what your project based profitability is," explains Sheldon. "If you're making over a million dollars per year and you don't know your specific client or project based profitability, you should hire a fractional CFO to clean up your books and get your reporting structures in place."
This example is all too common: small firms doing millions of dollars in revenue but operating with a single financial controller that manages the entire "finance department." Often they're just too busy with managing the day-to-day finances that they can't put together the structure or conduct a sufficient cleanup in order to have an accurate reporting structure and offer a strong financial analysis.
This situation happens when the finance function can't keep pace with the growth of the business. Typically, this issue manifests itself as companies not keeping books up to date on a monthly basis, and leaving it to do quarterly or even just annually for their tax returns.
"It's sad to see people all of a sudden have to give up all of their free time to clean up their books in order to make their tax filings," laments Sheldon, adding that, "When you're in a good spot with regard to financial operations, you should not be worried about whether your cash balance is too low. You should always have enough cash, so you don't have to worry about it."
As a business owner, the goal for your financial operations team is to always be growth ready and not stuck in the position where they're playing catch up. When things are going right business owners shouldn't have to worry about their financial operations; they should just be being handled efficiently by someone else.
Especially when you're scaling quickly. Financial operations continue to run smoothly without you having to worry about whether:
Your books are getting done
Your contractors and employees are being paid on time
Your invoices and receivables are being collected and paid in a timely manner
How Much Does a Fractional CFO Cost?
You could compare hiring a fractional CFO to hiring a full-time bookkeeper or a full-time Financial Controller. You could even think of the cost as equivalent to a full-time Business Development person.
While it is similar in terms of the annual costs for those junior roles, the difference is that you're getting an experienced executive to handle the most important function in the business for you: finance.
Is a Fractional CFO Worth it?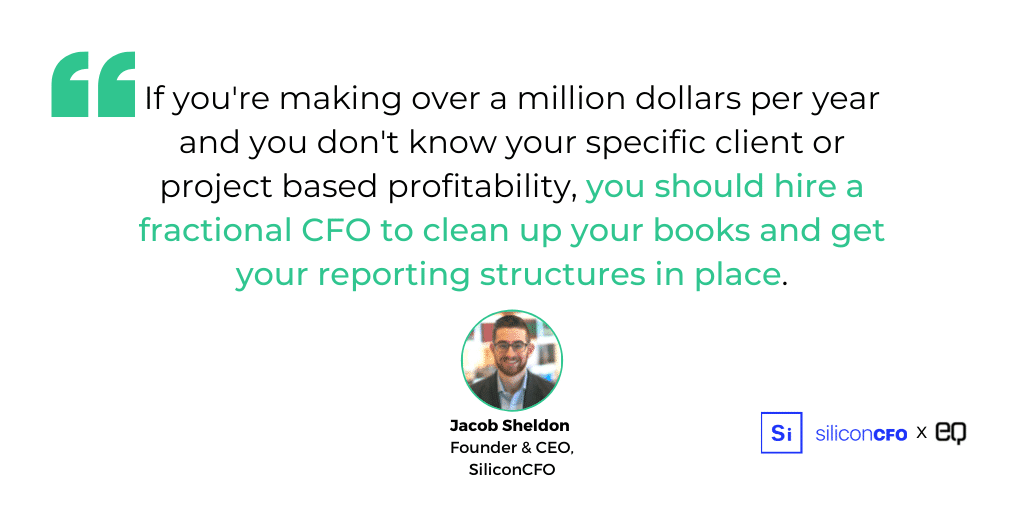 "If you're at a very early stage: say, pre-revenue or pre-funding, a fractional CFO is probably not worth it," says Sheldon. "It's almost never worth it at that stage."
"I've seen people at that stage want a fractional CFO to build a financial model for them but they can't afford it, so it just ends up being a waste of time for both sides. It starts making sense for a startup with some pre-seed money who can afford a few thousand dollars per year."
"At this stage it's probably best to consider bringing on a fractional CFO even just for a couple hours per week or month, just to make sure that your books are in check and you're planning for the future correctly," says Sheldon. "Have them handle the tax returns or work with a tax accountant to make the tax filings and keep you compliant."
"If you can find an experienced CFO willing to do that as fractional work then I'd say it's well worth it. And everything after that is almost always worth it, depending on how you're utilizing your fractional CFO."
Nonetheless, as your business grows, you'll want to direct their valuable skills and attention elsewhere. If you find that your fractional CFO is doing all the bookkeeping and revenue recognition, you should discuss with them who can be hired to manage it for them so that they can focus on more important aspects of the business.
The most important thing is not so much the setting of milestones but just staying up to date with your fractional CFO and understanding whether they are getting the support they need. Think of hiring a fractional CFO as one of your first long-term hires, rather than the last.
What Makes an Excellent CFO?
Let's return to the foundational point in this discussion: their previous career experience as a CFO is extremely relevant to how much impact they can have in a fractional CFO role. How they've responded to situations in the past and their breadth of experience across a variety of different challenges is something that founders should be investigating before they actually hire a CFO.
During an interview for a fractional role at your company, founders should focus their startup CFO interview questions around an in-depth discussion of the candidate's previous experience. Try not to discuss this just in a general sense, but be prepared to improvise new questions and be curious about the specific moments they raise.
Ideally, you want to find a CFO who has a broad range of experiences, not only similar to the industry you're in or especially pertinent to the growth stage of your company, but who has also gone through good times and bad, economically speaking. Whatever situations they've worked in, your goal is to assess to what extent they've made pivotal decisions and played a critical role on the team.
Startup CFO Interview Questions
"I typically ask about their favorite projects," advises Sheldon. "I start to lean toward,'Okay, I know what you can do and you've told me what you can't do (e.g. they don't want to take on manufacturing clients or biotech or pharmaceutical clients)… But tell me about what you truly love?'"
The types of CFO interview questions you can ask include:

What company did you most love working for?
What projects did you work on with that company?
What is your favorite and most enjoyable project that you worked on ever?
You can expect some very interesting answers from these questions. Some of them might say they're most interested in "the accounting side" or "actually managing the accounting team" and others might talk about really complex financial models that they've made, or an acquisition that they brokered.
"With these answers you really get to truly understand what they enjoy doing," says Sheldon. "You want to make sure that the CFO has either done this stuff before, as a CFO or fractional CFO, or has a really good idea of what it's going to be like, and what is needed."
Example: CFO Interview

"There was one younger CFO, probably in his early 30s, but somehow he had worked his way into being the CFO of this business unit within a very large company. This business unit did over a billion in revenue — and this is a fairly young CFO managing a business unit that was huge — and he was most enthused just talking about his love for working in the energy space."

"So any real energy company that comes through our door looking for fractional CFOs, he is going to likely be perfect for: he's got a lot of great experience and he just really loves this space. That makes him just way better at helping the company not only with their finances, but also with everything else that's separate from that —the strategy."
CFO Leadership Skills
Naturally, as the CFO works across the entire company, you should be looking for someone who is prepared to work well with others. With a fractional CFO, you should also be looking to hire a candidate who is confident adapting to different roles on an as-needed basis.
"As you're scaling, you're going to want this fractional CFO to work well with your team, and potentially even in certain scenarios manage different people in your team," advises Sheldon. "Say if you have someone who leaves or you have to fire someone and now, all of a sudden, you need an interim manager in a certain position, you can call on your fractional CFO to be that person in the interim."
Ultimately, when it comes to hiring a CFO for your startup, you need to decide on what kind of working style is going to suit you best. You're unique and they're unique, so the dynamic between founder and CEO is naturally going to vary from person to person.
"Some founders might want a more hands-on CFO who is going to be more definitive and telling you what to do, and others just kind of want that advisory role and getting input, while others want the person to handle it and make the decisions on their own," says Sheldon. "What's most important is understanding whether you're going to work well with them or not."
What CFO leadership style do you prefer?

Someone who tells you exactly what to do.
Someone who advises you on the choices available to and guides you on the decisions you need to make.
Someone who makes all the decisions themselves without raising them with you.
As the founder, although you'll be the captain of the ship, an experienced CFO can act as an effective navigator on your startup journey. Whatever you're looking for in hiring a fractional CFO, you want someone who knows where you're headed and how you're going to get there, and who understands the different types of weather you might face on the journey.