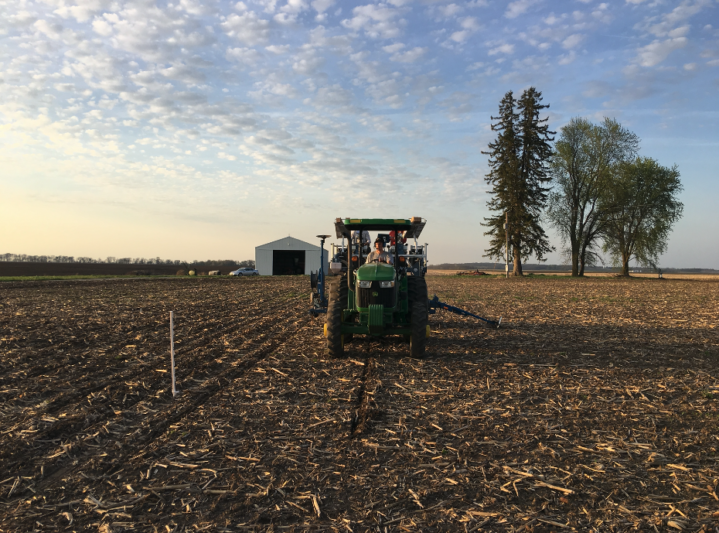 Davos On The Delta Connects Farmers, Distributors, and Buyers, to Spur Innovation in AgTech
4
Min
Read

-
Visitors
Startups in the multi-trillion dollar global agriculture market are currently underinvested, leaving a giant hole the size of Missouri into which savvy investors can and will invest.
For the founders of iSelect Fund, Craig Herron and Carter Williams and their partners, holding a conference like Davos on the Delta around the future of agriculture seemed like a no-brainer. According to them, the AgTech sector is a market ripe for rapid innovation and disruption with all the blessings and consequences inherent in each.
"Technology is great," says iSelect Fund CEO Carter Williams who kicked off the conference, "but the thing that speeds up technology is the connections between people."
Davos on the Delta, an invitation-only forum in its second year, seeks to facilitate those relationships. For two days in Memphis at the historic Peabody Hotel, AgTech startups, investors and reps from corporate giants like Nestlé, Monsanto and Bungee, met to contemplate the future of agriculture and bridge the gaps that have traditionally stymied innovation in agriculture.
The discussion topics for the conference included Good Bugs, Genetics, Organic Fuels, Alternative Proteins, Robotics, Farm Tech, Consumer Demands, Indoor Farming, Traceability, and Export Markets.
According to many of the speakers at Davos, startups have the opportunity to capitalize in each of these categories and overcome the many challenges that face farmers and food producers now and in the future — the industrial food industry has to adopt new technology, scale to a global market and establish a tighter, denser network. All of which may prove challenging in a commodified marketplace dominated by a handful of large players.
Bridging the Gaps in a Traditionally Insular Marketplace
From farm to table, huge chasms exist between the producers of food and its consumers. These gaps, according to many who spoke at the AgTech conference can lead to uncertain sometimes contradictory market forces. For instance, while the U.S. is exporting record amounts of food, farmers are seeing record-low profits.
If the last twenty years saw the rise of high-yield commoditized farming to fill market demand, the next twenty years may need a new business model.
"Many people in agriculture space are hurting… if you are an adopter of technology you will survive," said Kevin Van Trump, farm whisperer and AgTech investing sage who publishes the Van Trump Report.
The USA is no longer a low-cost market, @KevinVanTrump explains, but in a commoditized market like #corn, price is the main factor.

The US #Ag space needs to explore ways to be competitive, when, as Kevin Van Trump says, some farmers are unable to be more efficient.

— EQ (@eqstl) May 15, 2018
His talk summarized with the need for "de-commoditization" in which AgTech provides a competitive advantage by diversifying crops, food production and land use, whether brought about by new biotech, new breeds, new ways to market like direct to Amazon or new sources of protein entirely. Efficiency, he argues, doesn't cut it anymore for the average farmer because profits are so low. "Any more efficient," Van Trump said relating a story from a high-producing farmer, "and I'll be broke."
@KevinVanTrump speaking at Davos on the Delta in Memphis, describing his vision of the agricultural landscape in an era of de-commoditization. https://t.co/o2IxpKn0j5

— Mockler Lab (@MocklerLab) May 15, 2018
Working back from 2035 to Ask and Possibly Answer Tough Questions
Craig Herron issued a valuable thought experiment to the Davos on the Delta audience: what will the Ag industry look like in 2035?
By looking forward 17 years, the industry is forced to ask themselves hard questions such as:
"What will the role of Amazon be in food distribution?", "Will CRISPR be routine and can these products be considered organic?"
"How will changing demographics affect consumer demand in the U.S.?"
"What will the export markets look like and how will those markets meet their need for growth?"
Herron predicts that the US will become a net exporter of agricultural technology to emerging markets like China, in order to increase their overall yield.
Over the next 20 years, the USA will be exporting #technology, rather than crops, to fast growing economies like China. #DavosontheDelta pic.twitter.com/fc8PHs8ekF

— EQ (@eqstl) May 15, 2018
A Tale of Two Disruptors: Benson-Hill Biosystems and Indigo Agriculture
For venture capitalists looking for new opportunities, game changing disruption in the AgTech sector represents a not-if-but-when scenario. Compared to pure tech or biotech plays, startups in the multi-trillion dollar global agriculture market are currently underinvested, leaving a giant hole the size of Missouri into which savvy investors can and will invest.
"Just think," David Perry, CEO of Indigo Agriculture mused in his presentation, "the largest industry in the world not to be disrupted by technology is agriculture."
#Agriculture has yet to be disrupted. @mbalexan, @deltafarmland, and I brought this up in our #CREchat Live Episodes yesterday. Make sure you're following #DavosontheDelta https://t.co/YvWdPQVDlY

— cflann.CRE (@FlannCasey) May 15, 2018
His company seeks to restore the natural microbiome for many popular crops which promises to increase both yield and quality with less reliance on fertilizer and chemicals, while creating a new market for premium agriculture products, enabling farmers to move away from commodity farming.
"The U.S. is a high-cost producer, so we can't be competitive in a commoditized marketplace," David said.
Matt Crisp, CEO of St. Louis-based Benson-Hill Biosystems approaches the problem of farmer profitability through a platform-over-patent approach. The company's solution allows farmers to experiment with gene editing and CRISPR, which Benson-Hill calls cloud biology: "Farmers are ready to experiment, and its all about access."
Both these founders see an opportunity in disrupting the market in a long-tail way, focusing on a large volume of highly specific and long-term trends, rather than a few generic, short-term market demands. By taking this approach, they can build new business models that bridge the gap between producers and the end-consumers they serve.
When asked about the established gatekeepers and their reluctance to innovate outside of their existing products and channels, Matt said "I don't think the innovation models at these companies have caught up to the demands of the marketplace."
Venture Capitalism, he posits, will fill this demand to create new opportunities in the market. For example, Beck's Hybrids, one of the largest retail seed companies in North America announced a partnership — at the Davos on the Delta conference — with VC-backed Benson-Hill Biosystems to accelerate their corn breeding program.
Today we announced a co-development partnership with @BecksHybrids to take to market the first photosynthesis trait. Congrats to my colleagues @BensonHillBio for making this possible. #agtech #cloudbiology via @FarmFutures https://t.co/K6GpZ9pJCb

— Matthew B. Crisp (@EnergyCrisp) May 15, 2018
David Perry, admitting that his vision of upending an established industry was huge challenge, nonetheless seemed undaunted. With $400 Million in investment so far and an "executive team looks like it belongs to a Fortune 500 company," the serial entrepreneur and self-proclaimed AgTech enthusiast said this, "big visions attract people that want to do big things."