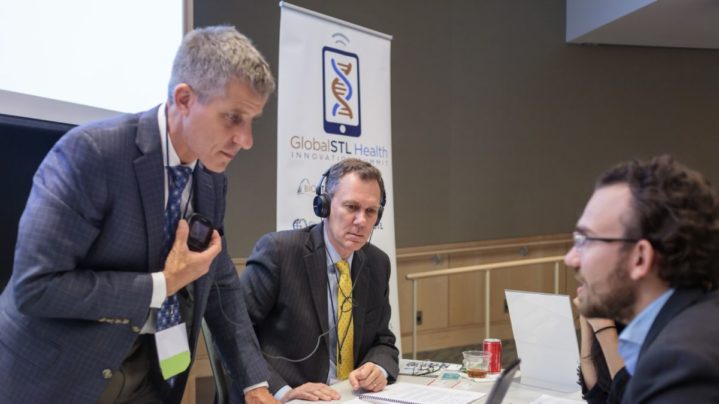 From Fly-Over to "Fly-To" Country: GlobalSTL Health Innovation Summit 2019
4
Min
Read

-
Visitors
BioSTL Continues to Attracts International Health Care Innovators to St. Louis
The GlobalSTL Health Innovation Summit brings new international technologies to local health care systems to create competitive advantage and economic impact in St. Louis. The full strength of our region's health care industry – representing $240 billion – will be on display for highly-innovative digital health companies from Israel, Sweden, Portugal, Canada, and the United Kingdom at the third annual Summit on June 5, 2019.
The GlobalSTL Health Innovation Summit kicks off at 8 a.m. Wednesday, June 5, 2019, on the campus of Washington University in St. Louis. The full day agenda is here.
Recruiting International Companies to St. Louis
GlobalSTL, the international company recruitment initiative of BioSTL, reviewed more than 750 digital health companies and invited 16 of the most compelling companies to pitch their cutting-edge technologies to 75 senior leaders from St. Louis and Midwest hospitals and corporations, as well as a cadre of partner organizations from throughout the Midwest and venture capitalists looking to invest in new companies.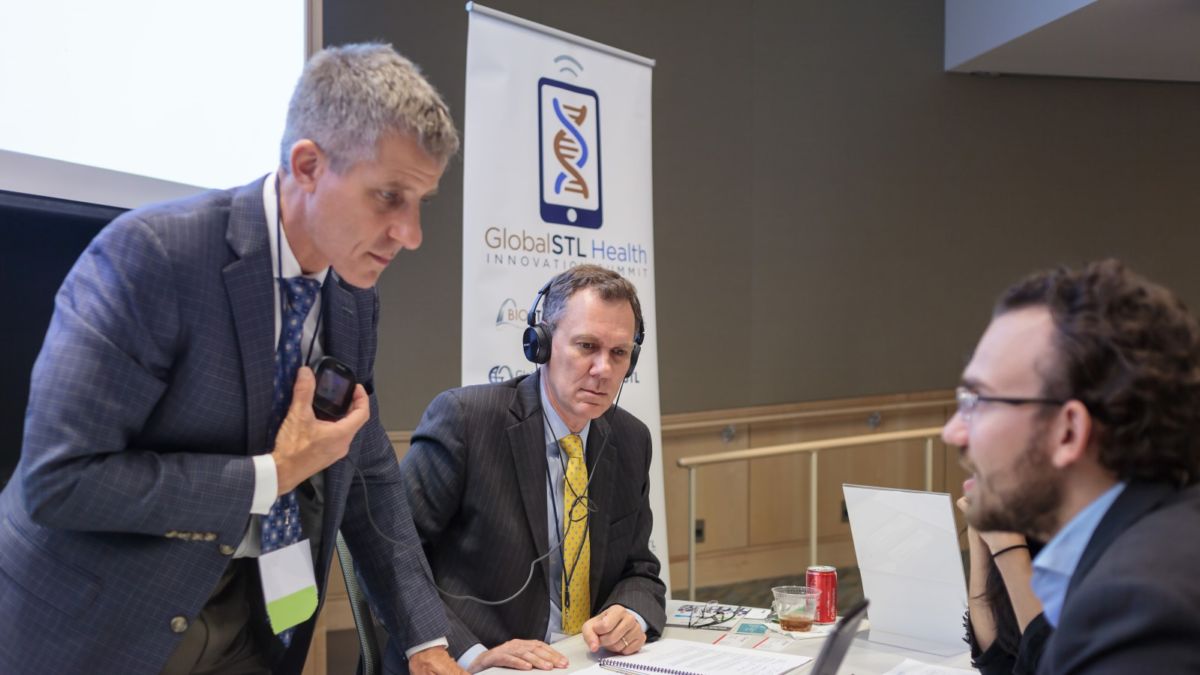 This highly-curated event introduces transformational technologies to the St. Louis health care industry that can specifically improve the quality and access to health care while lowering costs by solving challenges in patient care, health care delivery and hospital operations.
"Global innovation finds its way more easily to the East and West coasts," said Donn Rubin, President & CEO of BioSTL. "For St. Louis, we need to be deliberate, proactive, and strategic in attracting global innovation that can propel our businesses and help solve our problems."
This very deliberate approach has landed 17 new international companies in St. Louis. Since 2014, GlobalSTL has helped global companies reach $107 million in revenue and local investments, adding 219 new jobs to St. Louis. Ten of the 14 companies invited to present at the 2018 GlobalSTL Health Innovation Summit are pursuing or have secured business development opportunities with GlobalSTL partner health care organizations.
Why It Works
The success demonstrates the three-fold goal of GlobalSTL: (1) provide St. Louis companies access to cutting-edge technology to boost their competitive advantage; (2) secure prized U.S. customers and strategic partners for the international companies; and (3) leverage the first two wins to establish the U.S. headquarters of high growth international companies in St. Louis, thus enriching St. Louis' ecosystem with new jobs, new talent and innovation, and new economic activity.
Local and international companies spoke about their St. Louis experience at last year's Summit.
"The GlobalSTL Health Innovation Summit drives international investment directly to St. Louis," said Vijay Chauhan, GlobalSTL Lead. "With massive buying power, health care is our region's economic dynamo. The goal of the Summit is to ensure that this engine becomes stronger. We do this by connecting our health care players with top globally-sourced innovation to not only make them competitive but also to improve the health of our citizens. Bottom line, the Summit is about transforming St. Louis from Fly-Over Country to "Fly-To" Country for top health care innovation."
By leveraging the region's collective buying power, which represents 7 percent of all health care spending in the U.S., GlobalSTL is attracting some of the world's most promising innovators on the hunt for large-scale, paying customers. The Summit is becoming the focal point in the Midwest for accessing the very best of global health care innovation. GlobalSTL serves as their navigator to new U.S. customers – all from St. Louis.
Innovative Health and MedTech Companies Presenting
Some of the types of digital health technologies GlobalSTL is bringing to St. Louis and Midwest hospitals and corporations include: telehealth technologies, remote monitoring of patients with chronic conditions, cybersecurity, big data solutions that include predictive and risk stratification technologies, as well as solutions for lowering operations costs, improving behavioral health, preventing physician burnout, and reducing hospital readmissions.
International innovative companies offering such solutions at the 2019 GlobalSTL Health Innovation Summit include:
A-Eye Health (Israel) is an artificial intelligence-based tele-retinal screening company for diabetic retinopathy, glaucoma, and macular degeneration.
AiDoc (Israel, named a 2018 'Genius Company' by Time Magazine) uses Always-on Radiology AI to flag acute abnormalities as they enter the worklist, helping radiologists prioritize life-threatening cases and expedite patient care.
Ayoga (Canada) enables timely, personalized and relevant interventions aimed at enhancing self-management and improving health outcomes by increasing activation, adherence and persistence to therapy through psychosocial profiling.
Coala (Sweden) has developed an FDA 510(k) cleared heart monitor approved for home and professional use to detect Atrial Fibrillation, nine other arrhythmia's and murmurs without using sticky electrodes, patches or wires.
Healthy.io (Israel) is a smartphone-based urinalysis for CKD/diabetic nephropathy, UTI, and pre-eclampsia.
Healthymize (Israel) provides personalized, artificial intelligence-based voice analysis that turns smart devices into remote patient monitoring devices for voice-affecting diseases such as COPD, asthma, heart failure, neurological and mental health disorders and diseases, which affect nearly 100 million patients in the U.S. alone.
IBEX (Israel) is an artificial intelligence-driven digital pathology, leading to rapid, accurate, and objective cancer diagnosis.
Kryon (Israel) is powered by its proprietary artificial intelligence, Kryon RPA (robotic process automation), which enables health systems and payers to increase efficiency of call centers, claims processing, and other administrative roles.
Lumeon (UK) has developed a Care Pathway Management (CPM) digital health platform for improving health care delivery, which is bi-directionally integrated with EPIC and Cerner.
MilagroAI (Israel) has developed a Real-Time predictive analytics platform using structured and unstructured data to address hospital-acquired infections and readmissions, issues that cause significant morbidity and mortality for patients, and hospitals' cost for providing care.
My mHealth (UK) provides a patient engagement platform for long-term chronic care management for COPD, Diabetes, and Heart Disease.
MyndYou (Israel) has developed an artificial intelligence platform that tracks, evaluates, and addresses behavioral and cognitive-related conditions in seniors.
Nuvo (Israel) is an artificial intelligence-powered, wearable pregnancy monitoring and management platform.
SWORD Health (Portugal) provides digital physical therapy in the home for pain management and to reduce opioid usage.
Uniper Care (Israel) provides a digital health and wellness platform to address social isolation in seniors.
Virti (UK) is an augmented reality/virtual reality-based immersive scenarios that allow for remote, automated coaching and training in realistic environments.
The international companies will pitch their technologies to the St. Louis health care industry, and then take part in 145 highly-curated one-on-one meetings with decision-makers, facilitated by GlobalSTL. Richard Liekweg, President & CEO of BJC HealthCare will deliver the lunch time keynote speech, titled "Choosing St. Louis – A Community Working Together to Advance Innovation." A keynote address by Todd Richardson, Missouri HealthNet Director, will conclude the day during networking reception with leaders from the St. Louis innovation community.