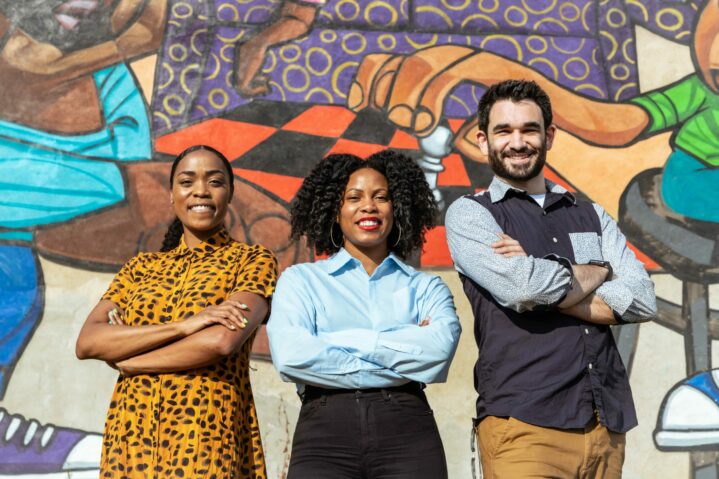 $1.5 Million Fund Raised to Invest in Latinx and Black Business Owners in St. Louis
2
Min
Read

-
Visitors
Elevate/Elevar Capital Will Accelerate Community Owned Wealth and Create Economic Growth in Historically Divested Communities.
WEPOWER, a community of Black and Latinx change-makers and entrepreneurs building political and economic power in St. Louis, launched their $1.5 million investment fund, Elevate/Elevar Capital. With a majority of the funds raised, including a $500,000 investment from institutional impact investor Living Cities, Elevate/Elevar Capital will invest in the financial growth of Black and Latinx entrepreneurs and provide them with valuable connections and technical assistance.
"We've seen the immense potential of St. Louis to advance racial equity through innovative approaches to community wealth building," said Charli Cooksey, Founder and CEO of WEPOWER.
"Black and Latinx entrepreneurs are more likely to be denied bank loans, offered less capital when approved, and are charged higher interest rates, keeping them from building wealth for their families and with marginalized communities. This fund will invest directly in Black and Latinx entrepreneurs, especially those committed to North St. Louis City, to help unlock our region's collective prosperity." 
One of the first funds of its kind, Elevate/Elevar Capital:
Targets companies owned by Black and Latinx entrepreneurs with a strong growth trajectory to ignite economic growth and prosperity in North St. Louis. 
Keeps ownership and control in the hands of Black and Latinx entrepreneurs closest to the work, rather than requiring them to permanently give up significant equity in exchange for investment.
Makes capital more accessible by using a holistic approach to underwriting and eliminating common barriers, such as collateral requirements and minimum credit score thresholds.
Has business owners commit to hiring in areas that have experienced generational disinvestment and providing people with living wages.
Utilizes a revenue-based repayment structure rather than relying on traditional fixed installments.
"We designed Elevate/Elevar Capital to be founder-friendly," said Yoni Blumberg, VP of Community Wealth Building of WEPOWER. "Our funding model is more flexible than traditional loans, allowing us to truly share risk with entrepreneurs and only succeed when they do." 
Elevate/Elevar Capital catalyzes Black and Latinx business owners in St. Louis to become fundamental pillars within their communities, build a tax base and disrupt generational divestment by accelerating shared wealth. A percentage of the returns these entrepreneurs make will be owned and managed by the surrounding community, while the remainder will be used to preserve the fund's legacy to continue investing and Black and Latinx business owners committed to North St. Louis. 
The fund's unique approach results from years of research and design with partners from across the country, such as Mission Driven Finance, an impact investment firm and Certified B Corporation dedicated to building a financial system that ensures good businesses have access to sufficient, affordable capital. Mission Driven Finance will continue to support Elevate/Elevar with fund administration.
"I'm honored to personally participate in Elevate/Elevar Capital as an investor because of their authentic vision and unique approach," said Dave Peacock, President and COO of Schnuck Markets Inc. "One of St. Louis' best assets is the diversity of its neighborhoods, but we need real investment in all of our communities to create the biggest impact on our shared future."
"It's rare to see a fund that uses investing in entrepreneurs as a way to generate wealth for their entire community," added Demetric Duckett, Managing Director of Living Cities. "This model could make a big impact in cities across the country trying to overcome systemic racism and move towards a more just and equitable future."