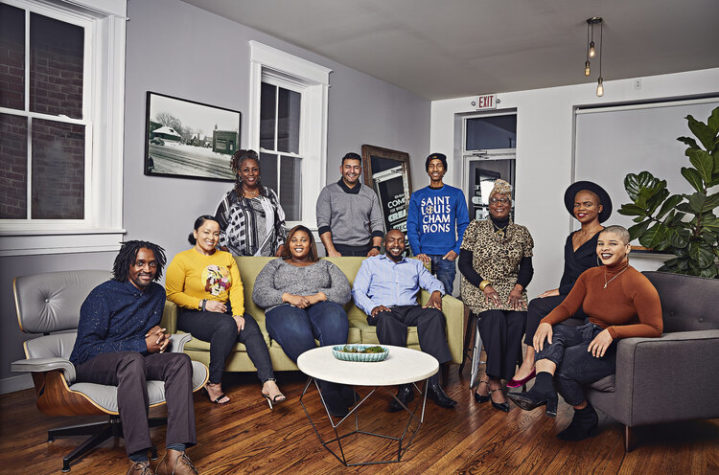 WEPOWER's Elevate/Elevar Is Exactly What the St. Louis Innovation Community Needs
3
Min
Read

-
Visitors
WEPOWER's business incubator program, Elevate/Elevar Accelerator, and why I think the pledge they request of their founders should become the basis for new local startup investment criteria at large.
WEPOWER just completed their inaugural Elevate/Elevar business incubator and accelerator for Black and Latinx entrepreneurs . The Elevate/Elevar Community Pitch Day took place as a virtual event on Saturday and, honestly, it was really cool: it kicked off with DJs and a documentary and then they transitioned into the classic demo day format.
WEPOWER's Elevate/Elevar is one of the newest business incubator programs in St. Louis. One day, I hope it grows into a fully fledged startup accelerator that can make significant investments in every company that joins the annual program… and here's why you should too.
Powering Through a Pandemic
WEPOWER's new accelerator program is barely a year old. There's an authentic and unabashed "we're building the plane as we're flying it" streak in the few interactions I've had with members of the team.
Sometimes, I think of WEPOWER's Elevate/Elevar as "an incubator that's incubating itself", because it really deserves to make a huge splash but occasionally there's a sense in which much of the public good it does has not been made very public yet… so, I have to remind myself that they've literally been powering through a pandemic in their first year; there must've be plenty of kinks to work out.
I guess that is what makes me write with passion now. This weekend we all finally got to see what's been going on for the last six months!
Not to be Underestimated
I needn't have held my breath – the wait was totally worth it. What the Elevate/Elevar program has been able to achieve purely on the merits of their mission so far is genuinely inspiring as it changes the way we define innovation as a community.
From the Community Pitch Day (demo day), it's immediately apparent that WEPOWER's Elevate/Elevar has already fulfilled a vital role in the St. Louis Startup Innovation Ecosystem, which is as a feeder of local entrepreneurial talent into the wider ecosystem of startup pitch competitions, accelerator programs and investor networks. Its unique lens and participation criteria could become a powerful wayfinding mechanism for for local black and brown startup founders to navigate the startup ecosystem.
Unique Local Lens
WEPOWER has it's own totally stand-alone local economic development mission that gives it a unique lens to think about companies. WEPOWER cohort companies are requested to make a pledge to develop their companies using resources from and within St. Louis' North City and pay employees a living wage.
So, rather than picking companies that are expected to burn through capital to "make the world a better place " and attain hyper growth in order to be an effective investment vehicle for rich old white guys (no offense y'all, just cutting to the nub of the gist), WEPOWER picks companies who promise to do their best to invest profits back into the community… that is, just "make their city a better place."
Purposeful Entrepreneurship
Whether that means growing their employee base and paying them fairly, or buying buildings or creating worker-owned co-operatives, urban farms or other kinds of resources, WEPOWER's Elevate/Elevar offers the St. Louis Startup Ecosystem a modern new lens through which to assess emerging players and make sure our local founders are not overlooked.
In my opinion, unlike the other startup accelerator programs in St. Louis, WEPOWER demands a lot more from its founders in terms of making a deep commitment to the region. I'd say it's second only to the implicit pledges to the city that founders make via Arch Grants and, perhaps, BioSTL/GlobalSTL.
Startup Pledges
Pledging a role in the city is a mentality that I wish the other local startup programs would truly adopt into their investment criteria rather than simply paying lip-service to it, which has been the tendency recently. Many local programs barely specifically represent entrepreneurship in St. Louis these days, which is a saddening trend that threatens to worsen during the The Great Acceleration to remote work.
Without asking for pledges, in principle even if not in practice, St. Louis risks becoming a startup accelerator hopper city rather than the destination innovation ecosystem it deserves to be. WEPOWER points the way forward and shows the rest of us that pledging can be a useful organizing principle and ordering function.
WEPOWER has already begun to show how it can help the city's entrepreneur support organizations fulfill their broader civic mission of making startup resources and capital available on a more equitable basis to typically "underestimated" founders from Black and Latinx communities. As we prepare to double-down on adapting to the Great Acceleration as an innovation community, let's adopt Elevate/Elevar's competition criteria as our citywide local startup investment criteria too.