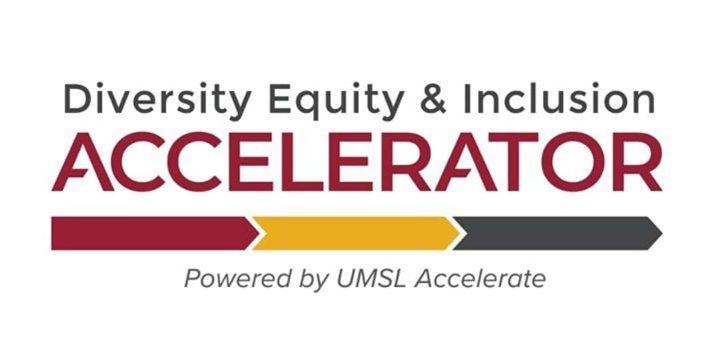 Are You a Founder of Color with a Category Defying Concept? Apply for this $50k Grant Now!
3
Min
Read

-
Visitors
The UMSL Diversity, Equity, & Inclusion Accelerator is a first-of-its kind program that puts underrepresented entrepreneurs at the center of a purpose-driven, university-led accelerator that begins with a non-dilutive $50,000 capital injection.
I just saw that there's only one week left to apply for the UMSL DEI Accelerator, which induced a panic in me, as I felt I had not done enough to get the word out about this program. What follows is a pure opinion on my part, which I have no idea whether it compromises some kind of journalistic integrity (I'm studying an MA in Journalism now at Mizzou, so this stuff matters to me), so treat this like a blog post I'm rushing off in the heat of the moment.
Disclosure

By way of disclosure, UMSL Accelerate has previously been a sponsor of EQ (around 2017, but not now), and I have been a mentor twice (2018, 2019) for the UM System-wide Entrepreneur Quest competition. Plus, I'm on the UMSL Marketing Advisory board, am a partner in MDMC every year and will be teaching classes on Growth Marketing Strategy as an adjunct professor for UMSL Business in November.
All that being well, if you've followed my opinion pieces, you'll know I'm biased TOWARDS UMSL's incubator programs not because I just like them, but because I feel they are probably the least restrictive and elitist of all the incubator programs in St. Louis. And that's not to knock other accelerator programs, that make venture capital investments in companies, and thus need some security, but as someone who's participated in them, UMSL's programs always show up for me as "doing the work."
To my mind, UMSL DEI Accelerator is one of the most important incubator programs in St. Louis, alongside WEPOWER Elevate/Elevar and Arch Grants. In my opinion, these three entities are doing the most work to examine their selection procedures and actively divest themselves of elite structural codes that unintentionally work against founders of color.
One Week Left! Apply to the UMSL DEI Accelerator Now

HMU here, happy to help!
Applying a DEI lens to the startup funding conversation exerts an extremely useful pressure on the innovation community at large. For example, speaking for myself at least, I often find that the winning companies often subvert many of my own inherited assumptions about what a business should be and what one's motivations for running a business are.
I love how my assumptions get challenged and I'm forced to consider the viability of new business categories, such as organic nail varnish or space age sticky pads, that I had never included in my definition of innovation before. To be clear, one doesn't need to be a person of color to found these retail category defying ventures, but that's again why the DEI lens and selection criteria of these incubator programs contribute so much to St. Louis: they're showing us the way.
And the UMSL DEI Accelerator is probably the least restrictive of them all. Rather than needing swag bags of venture capital to get going, you're qualified to apply even if you're not incorporated, you don't have paying customers, have not raised any money and don't intend to.
That's literally the opposite criteria of any other organization offering the same kind of money ($50k each) and it's equity-free.
If you're a founder of color with a category defying concept for a company, or it's up and running, may I urge you to apply? Your application will tell key stakeholders in St. Louis that people like you are out there hustling on your business ideas and that generates future funding momentum for everyone else.
Correction: The UMSL DEI team wrote to me to clarify that, "DEI2 is open to more than just people of color. We use the language "underrepresented founders" to help express a broad spectrum of eligibility that spans many marginalized groups."