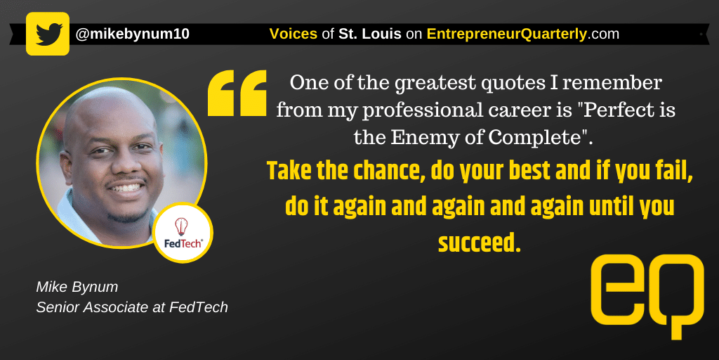 On Creating an Inclusive Ecosystem: Mike Bynum of FedTech
5
Min
Read

-
Visitors
Still buzzing off the success of hosting UMSL's inaugural DEI Accelerator, we caught up with Mike to get his take on how he sees the region's commitment to equity and inclusion in the St. Louis startup ecosystem is progressing.
Mike Bynum is a stalwart member of St. Louis' innovation ecosystem who has, at least in my humble opinion, stayed relatively "behind the scenes" until fairly recently. Now a Senior Associate at Venture Builder, Accelerator and Corporate Venture firm FedTech, Mike is bringing these "deep tech" and engineering investors to St. Louis and aligning their work across the DoD, NASA, DoE, universities, and federal labs with the geospatial startup ecosystem.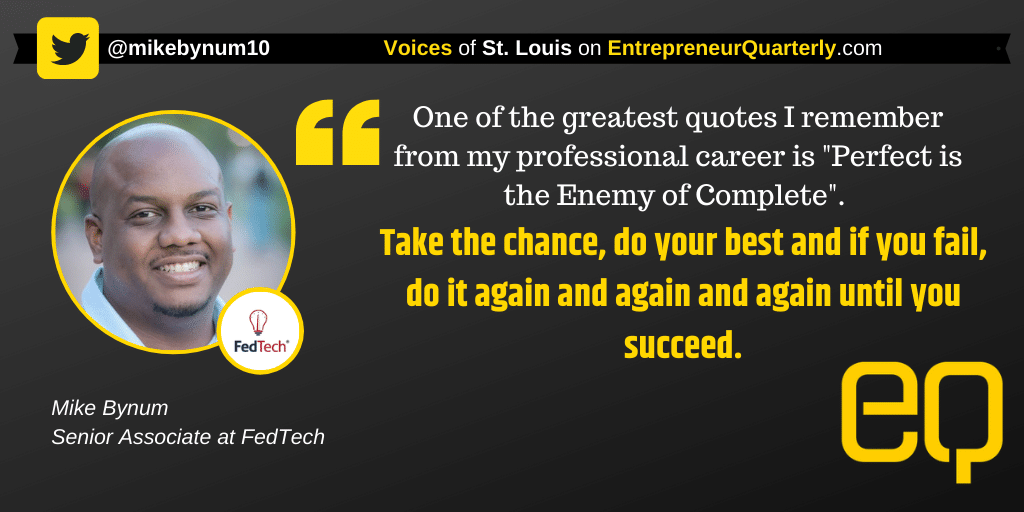 But, as I said, you've seen Mike's work before. From Executive Director at The Balsa Foundation to directing Sports Startup Accelerator programs at Stadia Ventures and, more recently, UMSL Accelerate, Mike has been offering a bridge between founders and finance for the last five years.
Still buzzing off the success of hosting UMSL's inaugural DEI Accelerator, we caught up with Mike to get his take on how he sees the region's commitment to equity and inclusion in the St. Louis startup ecosystem is progressing. Catch his answers below.
What does "inclusivity" mean to you?
Through the lens of supporter of startup ecosystems, inclusivity is viewing all founders of all colors with the same scrutiny.
Too often we find additional risk associated with minority founders in an environment that's initial risk assessment is that most startups will fail. The "fail forward" saying was coined in the the Startup ecosystem.
I always explain that inclusivity raises the bar for both side of the coin however. If you approach me with a business idea, prototype or active business, I will in fact treat you just as I would any other business that is pitching to me.
It would be a disservice to do otherwise. Where I go the extra mile is that I will give feedback that is critical and constructive.
I do this because the startup space moves at 100MPH and with that, there is no time for pats on the back. The idea is that you walk into the next meeting prepared!
From your perspective, how would you describe the current level of inclusivity in the St. Louis startup and innovation community?
St. Louis has a great ecosystem and I believe that there are legitimate efforts to bridge the gaps between founders of color and the greater startup community as a whole.
I only push back on the lack of funding that goes into these initiatives. We've become to accustomed to thinking that the underserved community needs to be taught how to be a successful business owner.
I will push back on that type of thinking and continue to challenge that with facts. There has been innovation in the black and brown community since the 1800's.
That not only needs to be realized by stake holders in our startup community, but it also needs to be realized by the black and brown community as well:
Brilliance in innovation comes from all communities. The afore mentioned list of Black inventors show that an investor absolutely misses opportunities if they bypass underserved founders due to bias in their risk assessment.
What would a more inclusive ecosystem look like to you?
My wife and I had the privilege of helping stand up the UMSL DEI Accelerator. We funded $50K to 6 companies founded by people of color.
The application for this program had well over 400 applications from the Greater St. Louis area. That, in fact, is evidence of lack of funding in the black and brown start up ecosystem.
We obviously celebrated the excitement about the program, but once you step back and think about what it means, you then understand that it's a reflection of a problem. An inclusive ecosystem is one that does not need a DEI program.
It is an ecosystem that recognizes innovation from all walks of life and doesn't assume that there is lack of innovation from the underserved portion of the ecosystem. We don't need to educate the founders, we need to educate ourselves.
What are a few things that could be done to make it more inclusive?
This answer is simple. Lead with funding. Lead with your network and connections. Lead with essential support partners in Sales, Finance and Legal.
Lastly, you must lead with all of these functions (Fund, Connect, Support). I find it to be disingenuous to do it any other way.
Sure, there is an art to elevator pitches, pitch decks, networking and efficient business operations. However, the early stage business is and always will be fueled by funding.
Have you already seen some wins that show we're taking the right steps as a community?
The St. Louis ecosystem has always steered in the right direction. There doesn't need to be change, just refinement.
We should always ask and answer the question, are we doing this the right way? Are we solving the right problem?
This needs to be a reflection of all organizations that are tackling DEI. The answer changes over time.
At one time, mentorship and teaching was necessary for the black and brown startup ecosystem. However, now is the time to evolve and realize that as the startup space matures, so do all participants within that space.
Through your role in the startup community, how do you use your influence to make the St. Louis ecosystem more inclusive?
In my role, I will continue to advocate for inclusivity. I will continue to use metrics and data to show the ecosystem that innovation isn't exclusive to just one segment of our society.
I will continue to challenge black and brown founders to achieve greatness, even if that achievement takes twice the effort of their counterparts to their left and right. Will we ever live in a perfect world? Absolutely not!
One of the greatest quotes I remember from my professional career is "Perfect is the Enemy of Complete". Take the chance, do your best and if you fail, do it again and again and again until you succeed.
Can you name something that, in your opinion, represents significant progress towards a more inclusive and equitable ecosystem in St. Louis?
Just to be transparent, my view here is absolutely biased: The UMSL DEI program is the sign of progress.
Edward Jones, Ameren, Express Scripts, Anders, Thompson Coburn, Midwest Bank Centre and many others funded and participated in the program. I believe other programs should follow. Fund, Connect and Support.
Are there any people, companies or programs that you believe are models of true inclusivity in the St. Louis ecosystem?
I am again biased here. The BALSA Foundation has been funding black and brown founders for 5+ years now.
As we go through this time period where DEI is popular, we must also look back at organizations that were doing this before it was popular. Also, this popularity will eventually fade away and we must also look at who continues the effort beyond the popularity.
What really stands out to you about their model? What aspects could other organizations emulate or coordinate with?
The BALSA Foundation operates at the earliest stages of the Startup ecosystem. You can have an idea and get funded. Along with that funding comes a business development Accelerator program.
The BALSA Foundation also has a free to download Entrepreneur road map and provides expert feedback via their idea support program. They Fund, Connect and Support.
Where or how would you recommend others start, to start tackling the issues of equity and inclusivity tomorrow?
There are many startup support organizations focused on DEI in the St. Louis area. Add funding, tomorrow.
They are all excellent in connecting and supporting the ecosystem. Now, its time to mature with the ecosystem and fund those same companies they are supporting. It can be as simple as $1,000 or as complicated as a $1,000,000 term sheet.