How Did the Pandemic Affect Marketing?
10
Min
Read

-
Visitors
No doubt the coronavirus pandemic had an impact on your marketing strategy. If you've been wondering how you fared compared to others, read on! We caught up with this year's speakers at the Midwest Digital Marketing Conference to address the elephant in the room, and ask them the very same question.
Sarah Dalton, Adjunct Professor, UMSL and Director of Marketing, Nolan & Associates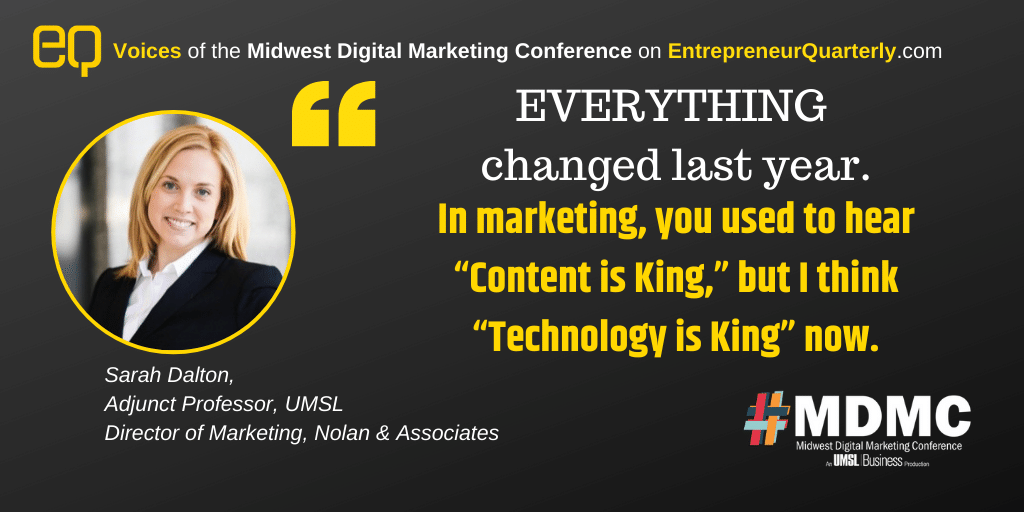 EVERYTHING changed last year. In marketing, you used to hear "Content is King," but I think "Technology is King" now.
Overnight, customers demanded seamless online and e-commerce experiences that mirrored their former in-person experiences. They wanted the same products and services in an "ASAP" timeline, despite the changing environment.
Over the last 12 months, the focus for many brands was communicating how they could meet and best serve their customers wherever they were. Whether it be ordering in an app, curbside pickup, free 2 day shipping and returns, virtual try-on or Zoom meetings, marketers had to educate their customers on their plethora of distribution channels and new e-commerce processes.
It was "off to the races" to see which brands could provide customers the best deal in the fastest timeline to get their share of wallet. In response, marketing shifted its goals to delivering the best virtual and online customer and brand experiences possible.
Companies immediately upped their app and website game and those with the strongest marketing technology stacks quickly shined. Retailers built in GPS tracking for freaky fast curbside pickup, integrated with same-day delivery services like Instacart and Shipt for customers that "needed it" NOW, and 2-day shipping and free returns quickly became the standard for e-commerce.
When restrictions ease, I expect many customers will continue to prefer several of the new brand experiences born during the pandemic. And I would award Zoom with "Best Marketing Communication Strategy" during COVID.
I have completed a lifetime's worth of Zoom meetings during the pandemic, and I have developed a strong appreciation for how this tool was able to pull together families, friends, communities, workplaces, schools, gyms, churches and so much more. Zoom became a lifeline for people in times of isolation.
I was proud of how Zoom remained accessible to everyone and how they would lower limits on attendees during holidays so more people could gather virtually. This brand was flawless in response to their overnight celebrity and exponentially rising demand, while remaining solid in providing a product that became as essential as our cell phones.
I think curbside pickup, Zoom appointments, telehealth and other products of the pandemic will be here to stay. Many will not let go of the conveniences and time-saving distribution channels produced by the pandemic.
As we come out of COVID, brands will need to continue to educate their customers on what is "here to stay" in terms of distribution and what will be leaving with the pandemic. It will be essential for companies to track consumer behavior to ensure they do not cut off any COVID-age distribution trends that consumers want to keep on the other side of the pandemic.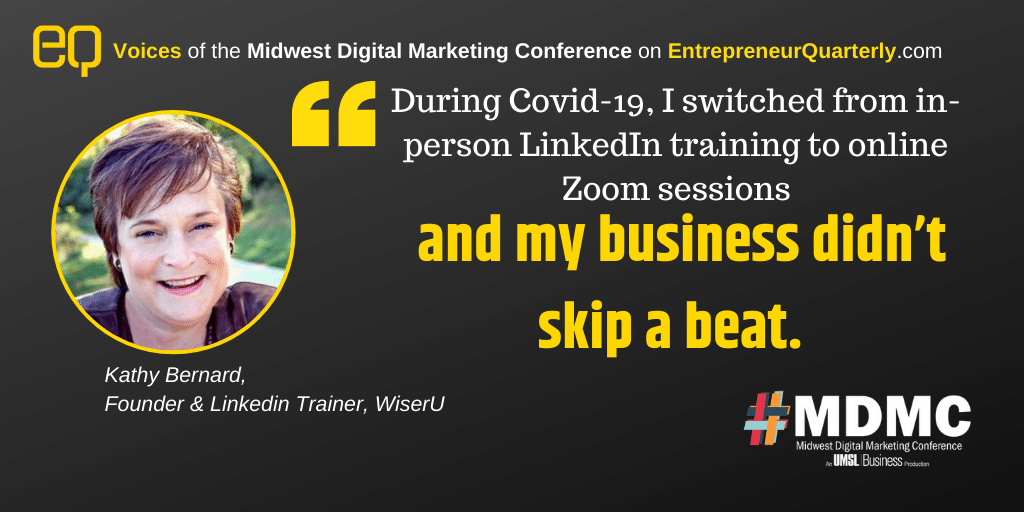 During Covid-19, I switched from in-person LinkedIn training (individual and corporate) to online Zoom sessions and my business didn't skip a beat. The switch enabled me to use my time more effectively (no more running all over town) and for most training sessions, Zoom worked better than conducting sessions in person since the client and I could look at their profiles at the same time.
As far as marketing during that change, I just continued marketing through LinkedIn posts, blog posts, and individual email messages and phone to prospects. Mass promotion fell on deaf ears because people weren't doing mass events or even functioning in their offices like before.
I think people had to make their marketing more personal and specific to each individual. As people were working remotely, it wasn't as easy for salespeople selling business processes or products because the people they were calling couldn't get buy-in from office influencers or decision-makers quite as easily.
In the future, I will continue to conduct training sessions online and charge more to do in-person sessions.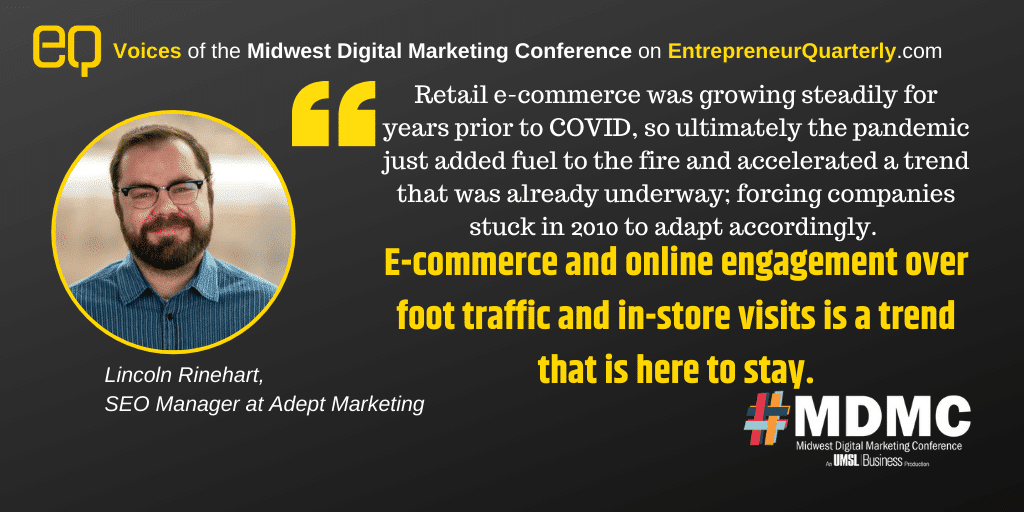 When stay-at-home orders began in March of 2020, we immediately had to get creative with our clients. Each approach varied by industry vertical and customer base. We had to develop communication strategies that included both on-site and off-site (Google My Business posts, for example) and encourage our clients to keep in close contact with their loyal customers.
During the peak months of COVID and business closures, there was an unsurprising decline in the iconic 'near me' searches. What was surprising, however, was the near-equal increase in 'open now' searches: although businesses closed, consumers still had needs to fill.
For some clients, we experienced the pandemic as a digital accelerant. For clients in e-commerce, we experienced huge increases in website traffic and online revenue, at the expense of foot traffic and in-store sales.
Retail e-commerce was growing steadily for years prior to COVID, so ultimately the pandemic just added fuel to the fire and accelerated a trend that was already underway; forcing companies stuck in 2010 to adapt accordingly. E-commerce and online engagement over foot traffic and in-store visits is a trend that is here to stay.
A lot of companies were forced to rapidly overhaul their business plans to accommodate a new market (or retain their customer base). One great example of such digital transformation was FUSIAN Sushi.
They've historically been a fast-casual, Chipotle-style sushi joint, but during COVID made the decision to evolve into grocery delivery. This allowed them to stay in touch with their customers, use their inventory that may otherwise expire, and have a new revenue stream while restaurant foot traffic was rapidly declining.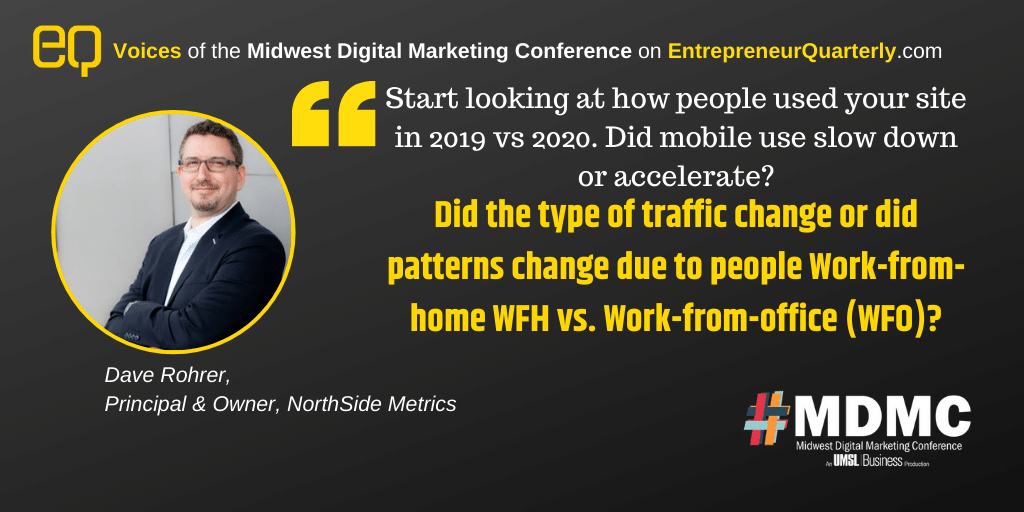 At this point, it is obvious who updated their marketing, support materials and messaging to take into account what has gone on. Just watch television and count what % of commercials show people interacting with or without masks during a commercial break.
In radio ads listen for how people are or are not addressing current restrictions. More agile and local businesses seem to be doing a better job, in general, but certainly there are larger national brands that have pivoted and updated their messaging and visuals.
My biggest tip to examine the impact on your own business is to start looking at how people used your site in 2019 vs 2020. Did mobile use slow down or accelerate? Did the type of traffic change or did patterns change due to people Work-from-home (WFH) vs. Work-from-office (WFO)?
With shopping sites, for example, instead of more lunchtime sales perhaps they saw more in the morning as people opened email and with no fear of a boss/co-worker being around they shopped during that morning meeting. There is also the change of consumption with people changing commuting, workout, and other habits – how did it impact their possible interaction with a business and did that business pivot to stay in front of them?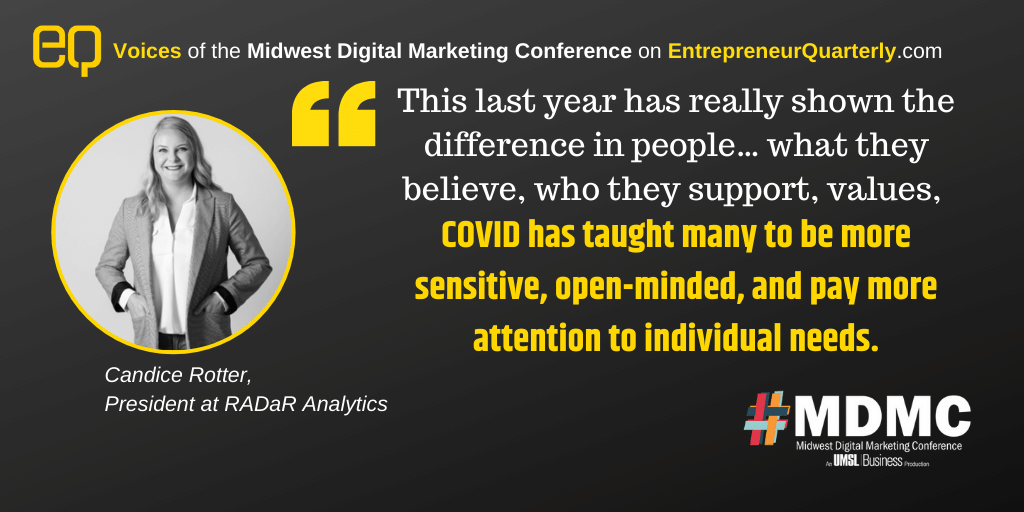 Well, what didn't change last year? With many industries losing revenue, the need to be even more efficient and effective was at the forefront.
This last year has really shown the difference in people… what they believe, who they support, values, COVID has taught many to be more sensitive, open-minded, and pay more attention to individual needs.
I think this last year really let everyone understand the importance of their internal data, understanding the consumer journey, knowing how long on average it takes them to covert, and what media mix generates the most revenue to the products or service lines that move your business forward the most. Being more on top of how data is captured, the accuracy, and analyzing all aspects of your business will be something that continues to stay around.
Ensuring your message goes to the right people is one step; making sure you are communicating to them in the correct style is essential. This is where data comes in handy.
You can capture consumer segmentation details, sentiment, conversion data, external data that impacts your business, like weather, and overlay it all to tell the story of those that engage with your brand. This allows you to break out the segments and communicate individually based on DATA, not assumptions.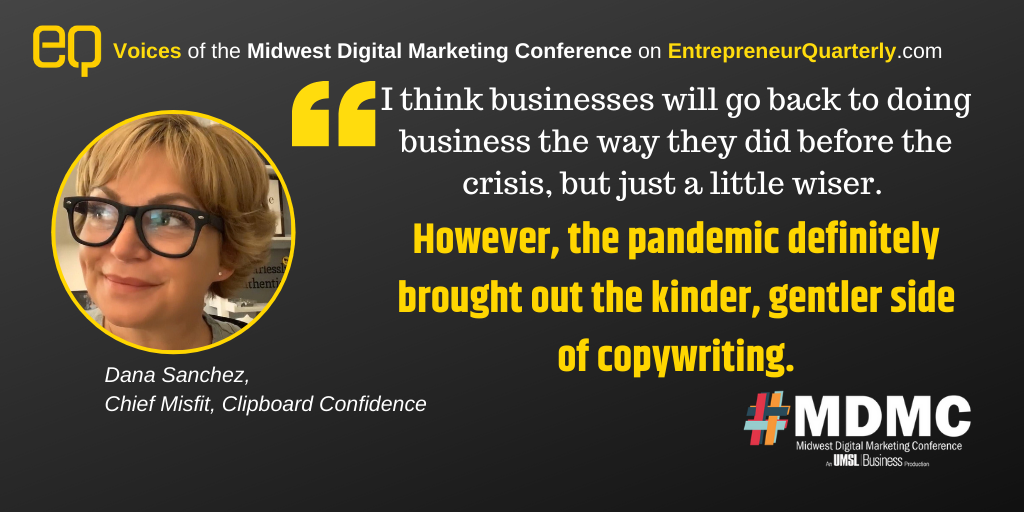 I work with small businesses in small towns in rural Missouri. When COVID hit, we had to get scrappy.
My retail businesses that didn't normally sell online were suddenly open to adding an e-commerce feature to their website. They were also quick to embrace Facebook Live as a tool to sell directly to customers through weekly streaming shows.
COVID forced us to get creative and adapt. Online sales didn't really take off for my local business clients, but it felt good to have that option.
I don't think those changes will be permanent. I think businesses will go back to doing business the way they did before the crisis, but just a little wiser. However, the pandemic definitely brought out the kinder, gentler side of copywriting.
Many businesses backed WAY off any semblance of urgency or a hard sell message. Nobody wanted to look like insensitive jerks, especially when it came to asking people to buy from them.
We had to balance the knowledge of a looming pandemic (address it) with the legitimate needs for our products (sales/offers) in our messaging. As this year progresses, we're already seeing a slow fade out of the gloomy "we're all in this together" messages.
That said, no one is going to go guns blazing with hard sell messages either. Not at least until 2022.
By way of example, I think General Motors, Ford and Chrysler all did great jobs in communicating timely offers, in a very sensitive way. They all offered incredible incentives for the general public, (aka well qualified buyers), but really rolled out the red carpet with historic incentives and rewards for healthcare workers and first responders. It worked because they were an essential business (after all, people needed to get to work and buy groceries right?) and their offers were over-the-top insanely good especially for those on the frontlines.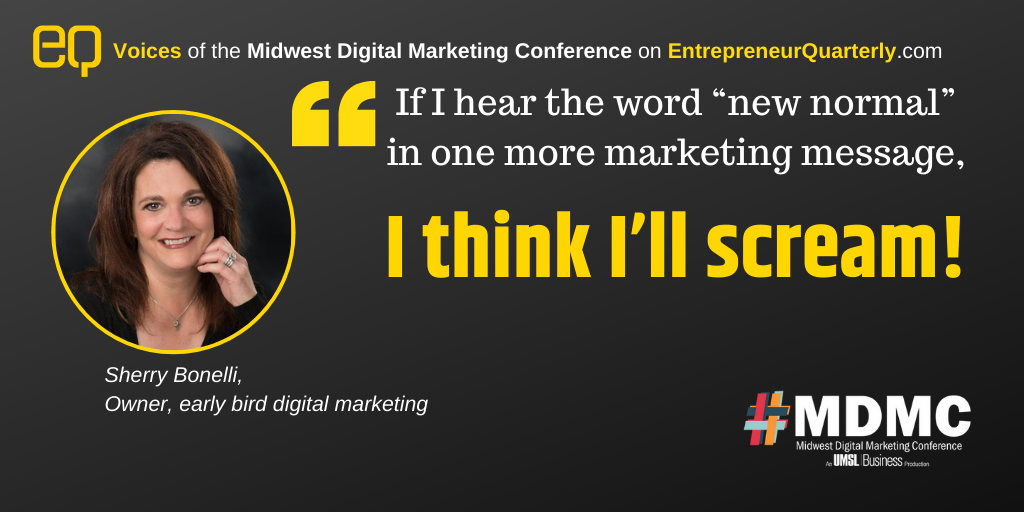 During the height of the pandemic, marketing messages shifted to "we know you're at home more." So businesses that sold products and services tried to align their messages with what their customers were going through – being "locked down," working from home, surrounded by their kids and other family members. (BTW If I hear the word "new normal" in one more marketing message, I think I'll scream!)
Moving forward, marketers need to realize that consumers are shopping differently and are connecting with businesses differently. This means that businesses need to make themselves available in multiple ways – website, phone, social media, chatbots, live chat, physical storefront, etc.
As a Google My Business Gold Product Expert, I was happy to see that Google adjusted their Google My Business product to help local businesses during the COVID crisis. Local businesses were hit hard during the pandemic, and Google acted quickly to create new features to help businesses with the new, ever-changing local business environment.
For instance, if businesses were temporarily closed due to lockdowns, they could let customers know they were temporarily closed or if they, unfortunately, went out of business, they could mark their GMB business listing as permanently closed. Other new features were added, like restaurants being able to display if they offered delivery, dine-in, takeout or curbside pickup.
Google has even offered some categories the option to do live video services if the businesses cannot do in-person services, like fitness workouts or other training. Medical and healthcare listings were given several special features in their GMB dashboard and listing, including a place to include a virtual care link so patients could easily connect to their healthcare professional.
Additionally, Google has added COVID features (known as "attributes") so businesses can keep customers informed on health and safety information — like if the business requires masks, if employees wear masks, if staff disinfects surfaces between visits, etc.
Domino's Pizza was one of the first companies that advertised "contactless" delivery. That made people feel more comfortable to order food delivered to their homes during COVID. Brilliant, huh?
I think Google realizes that the way local businesses do business has changed forever because of COVID. I believe that Google My Business will continue to evolve as well by offering even more options and features to local businesses in their Google My Business dashboard.
Google My Business (GMB) is one of THE best ways for local businesses to get found online. By updating their service availability, local businesses can also let customers know if their business is open, if they are seeing customers on-site, offering online classes or online estimates.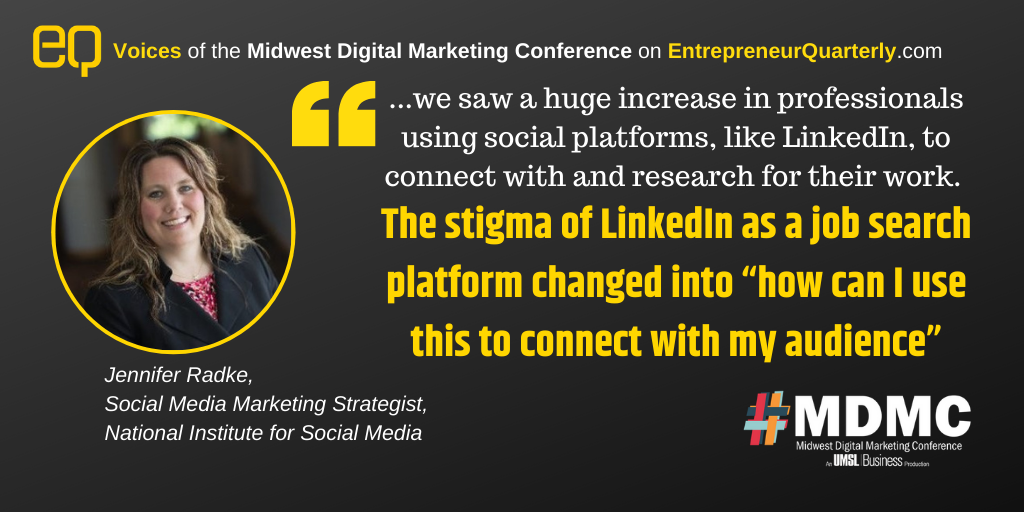 There were several brands who made great moves during COVID.
For example, Ford transitioned to making much needed medical equipment and let the world know it. IKEA launched a great campaign about loving your home and focused on the DIY projects you could do while in lockdown (with the help of IKEA, of course).
And then on the creative side, Hello BC (British Columbia), launched a campaign to share the amazing things to see and do in British Columbia AFTER the pandemic with their #ExploreBCLater campaign. A great way to build awareness, while helping people who can't travel currently to feel connected to BC.
We were all forced to get online during the pandemic and as a result we saw a huge increase in professionals using social platforms, like LinkedIn, to connect with and research for their work. The stigma of LinkedIn as a job search platform changed into "how can I use this to connect with my audience" outside of marketing verticals.
I believe that as we return to more in-person work or networking, we will continue to see people strategically utilize social tools to increase efficiencies. Messaging has become more "real", and at it's been well received.
Individuals and brands have opened up and offered more authenticity in their posts, engaging their audience/community in a conversation that more people can relate to.
This increase in two -way communication and authentic messaging will continue going forward. I predict there will be an increased focus on diversity, equity, inclusion and value-based messaging and less of a focus on "buy my stuff" content.
Eric Nelson, VP, Director of Media, Rodgers Townsend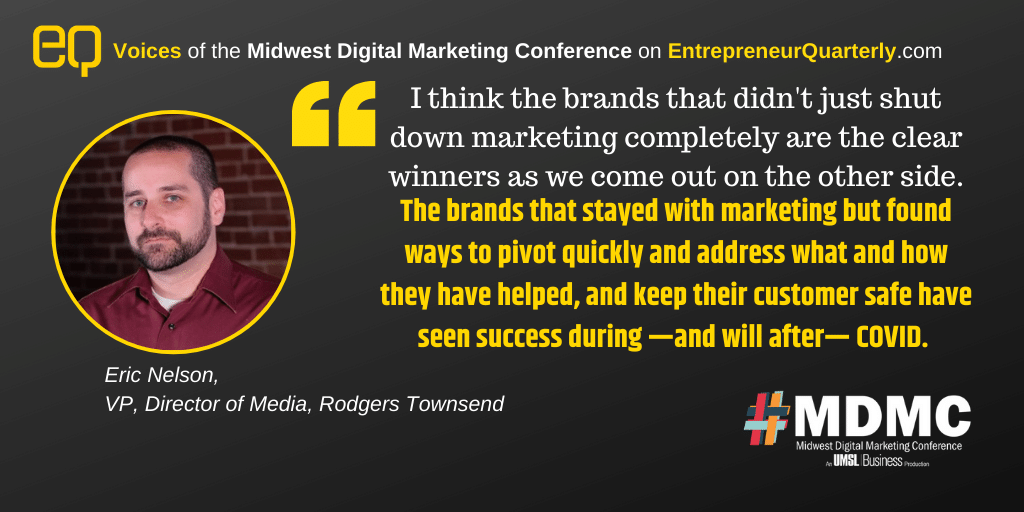 The biggest change is meeting customers where they are in terms of media consumption habits. Terrestrial radio tanked, Out-of-home (OOH) was a waste with no commutes to work any more. A presidential election cycle and the consumption of local content —in particular news– went through the roof.
The main thing here to stay is the shift from traditional radio to streaming audio. Gone is the "drive time" radio reach and now you have to have a mix of audio platforms like Spotify, iHeart, Pandora in order to build reach and awareness for your brand.
I think the brands that didn't just shut down marketing completely are the clear winners as we come out on the other side. The brands that stayed with marketing but found ways to pivot quickly and address what and how they have helped, and keep their customer safe have seen success during —and will after— COVID.
I also think we are seeing the "social" impact on messaging. Brands will continue to live in fear of the next keyboard backlash and continue to push socially just messages and casting to ensure every race, color, gender is accounted for.
Diversity and Inclusion have begun to turn into marketing buzzwords. PR will play a larger role to craft narratives instead of messages and Marketing will be less about the product and more about the "mission," regardless of whether a corporation actually delivers on the mission.