Team Spotlight: LockerDome's Ryan Allen Went From Intern To Working With Some of The World's Largest Publishers
4
Min
Read

-
Visitors
Q/A with Ryan Allen, Director of Publisher Development and Activation at LockerDome.
As part of EQ's mission to strengthen connections within St. Louis' growing startup community through storytelling, EQ is rolling out a series of profiles on startup team rock stars. For our first Team Spotlight, meet Ryan Allen of LockerDome.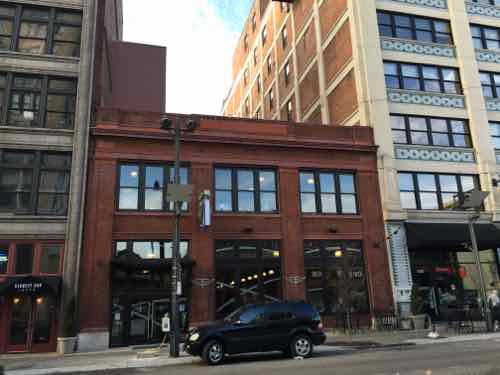 Ryan Allen, 24
Hometown: St. Louis, MO
Role: Director of Publisher Development and Activation at LockerDome
Education: Studied Economics at the University of Pennsylvania, class of 2013
How did you land in STL's startup community?

In college, I tried the finance route, but it didn't really light my fire. I've always been interested in tech and in making an impact on St. Louis' business community, so when I was looking around for jobs and found LockerDome, I reached out for more information. After two interviews and a project, I accepted an intern position and started two days after graduation.
How did you move from being an intern to having the role you have now, working with media publishers?

When I joined LockerDome as an intern, my primary role was getting amateur sports teams to use our platform to house and access centralized game schedules, rosters and stats. That was back when LockerDome was focused solely on athletes and sports. After three months of proving myself, I was offered a full-time position.
As the company grew and evolved, so did my responsibilities. Our user base began to multiply, and I, along with the team, started reaching out to media publishers, specifically websites, to use our embeddable tools to scale their audiences. Massive success on that front led to explosive growth for LockerDome. Fast forward two years to today, and the company continues to partner with a growing number of the world's biggest media publishers. LockerDome is now also a player in the advertising technology space.
What are you currently working on?

I currently oversee all of LockerDome's media partnerships. My teams work directly with media companies to better engage and grow their audiences by embedding LockerDome widgets on their sites. We also work with our premium media partners to drive revenue opportunities through LockerDome's native advertising platform.
How's that been going?

Unbelievably well! In April, we launched our native ad platform and are already seeing great traction. We're focusing the majority of the LockerDome's resources on this part of the company right now. Across our media partners and the advertising platform, we're launching upwards of 40 campaigns and on-boarding 20 new publishers each week.
What's your typical day like?

I like to start my day by working out in the morning. Today I did 6:00am yoga at Hot Yoga St. Louis with my fiancé, but most other days, I go to the gym or run outside.
By 7:30am, I'm at the office, where I take a shower, eat a little breakfast, and start my day with a few phone calls. A significant amount of our work is international, so I'm able to catch Europe, India, and other countries before they end their day.
By 8:30am, we start team stand-ups, where every employee on every team provides quick updates on what they accomplished yesterday and what they plan to get done that day. Then I spend the rest of the day with scheduled meetings, emails, and more calls. I usually head home around 9pm.
How do you blow off steam?

Anything active—weight-lifting, running, or just being outside. I also love all sorts of food, so I'm always trying out new restaurants around town. I really like Sugo's, Trattoria Marcella, and my Wash Ave. go-to, Caruso's Deli.
How would you describe your leadership style?

I would never ask anyone to do anything that I wouldn't do myself. When someone new to the team is doing "grunt work" and there's a leader right there with them, I find it really inspiring. It's part of the culture our CEO Gabe Lozano has created here. Even leaders take out the trash.
Any go-to books?

The Art of War. That mentality is critical for anyone in a stressful position; never get too high or too low. It's incredibly relevant to rolling with the peaks and valleys of being part of a startup.
What's next on your list to learn?
Professionally, I'd like to deepen my technical knowledge. I work closely with LockerDome's product team on a daily basis, so being able to understand the basics of programming helps me communicate better, both internally and with our media partners. Personally, I need to learn how to dance before my wedding! My fiancée Madalyn McGahan, who also works at a downtown St. Louis startup, Label Insight, and I are tying the knot in September.
What do you like about working at a startup?

Prior work experience means very little; you're judged not on what you've accomplished in the past, but what you're contributing right now.
What do you like about working in downtown St. Louis?

I like working in the heart of the St. Louis tech community. Even since I started at LockerDome, the city has seen tremendous growth in the density of companies and talent downtown with T-REX, Lab 1500, and Cultivation Capital. When you're walking on Washington Avenue, you're bound to run into a fellow startup employee, entrepreneur, or investor.