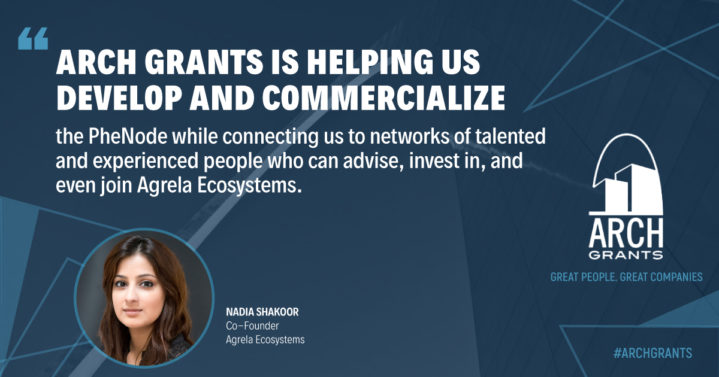 From Science Research to IoT Device Design: Plant Analytics Startup Grows With Arch Grants
3
Min
Read

-
Visitors
Dr. Nadia Shakoor is pioneering the future of agriculture and plant research with an IoT-enabled phenotyping and data collection device. She opens up about her debut in the business world.
When Dr. Nadia Shakoor discovered the lack of availability and the prohibitive costs of plant data collecting devices on the market, she considered her options. She could invest in one of the current options at $100,000 per unit while sacrificing customization — or she could invent her own.
She opted for the latter, and hasn't looked back since.
"We decided to build a solution in-house that would be affordable, customizable, and modular," she says. "We quickly realized that the device could be of value to others."
Shakoor has a PhD in plant genetics, and currently work at the Donald Danforth Plant Science Center in St. Louis. Her research focuses on plant monitoring and breeding — she's essentially investigating how to improve crop-growing.
Her company Agrela Ecosystems is built around the data collection product they developed in-house, which they dubbed a PheNode. The device is democratizing access to valuable real-time metrics that may help scientists and farmers alike — in everything from disease detection to crop yield predictions.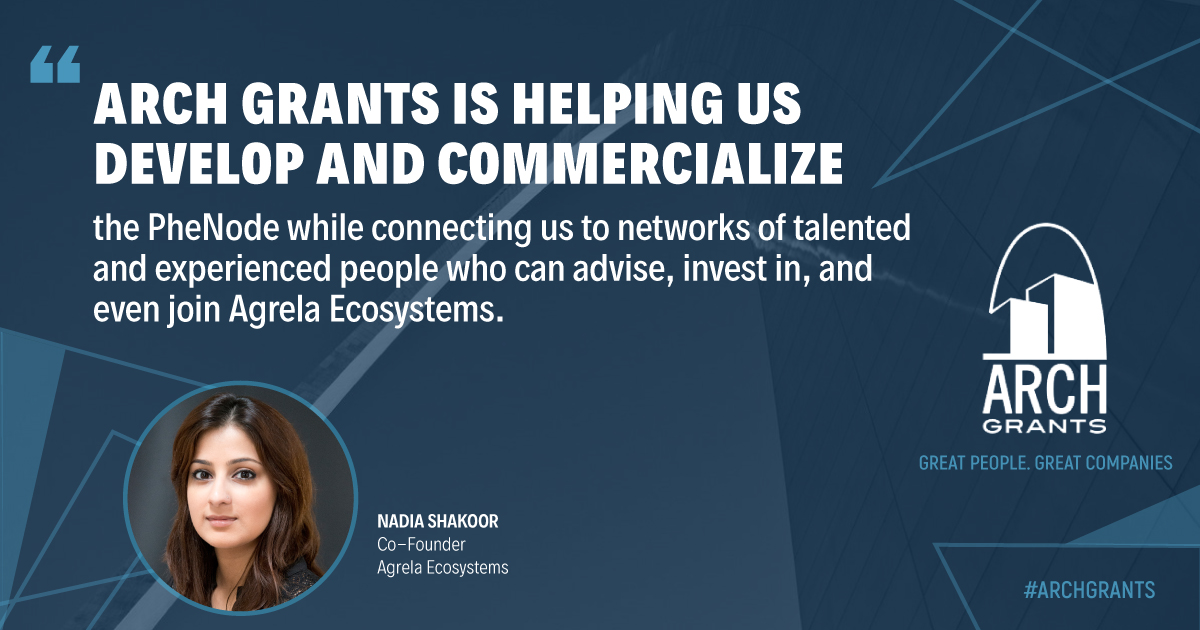 Developing A Device for Plant Analytics
It's an energy-efficient, 'smart', field-deployable, solar-powered environmental sensor and phenotyping station designed to monitor plants in real-time and wirelessly transmit the data. It's called a PheNode for a reason — it's meant to be a node, a point of contact out in the field, acting as part of a large-scale network of nodes measuring parameters like light, temperature, humidity, soil moisture, and more.
Currently, the market primarily consists of other researchers, but they're hoping to expand our scope soon. Agrela Ecosystems plans to move beyond data collection and add value by providing actionable advice to customers, by developing plant analytics software.
When considering plant monitoring technology, many people in the industry immediately think of drones, but the PheNode's technique differs greatly from the whole-field scans often conducted with drone technology.
"Our technique is more time- and cost-effective than using a drone because it measures a sample size representative of the whole field or greenhouse, rather than trying to capture information about the whole area," Shakoor explained.
"Plus, with a drone, you're not able to capture important changes occuring in the field on a daily an hourly basis, and there are often time restraints or logistical problems like poor weather or the presence of tractors and machinery. Employing a static system adds a layer of reliability and consistency to data collection.
The PheNode is modular and can be staffed for different varieties of plants or sample sizes. Its three modules are integrated with different data collection capabilities, so users can customize it for the metrics they need.
Plus, the PheNode's efficacy doesn't rely on variable factors like weather or user operation. Since users can view plant data in real-time from remote computers or phones, the device itself requires little user interaction. The PheNode also has a camera that takes images once an hour, so users get a closer look at what's really happening with their plants, enabling them to detect disease earlier and measure important parameters like stand counts with more accuracy.
Impact Of Receiving an Arch Grant
An 2017 Arch Grant Recipient, Agrela Ecosystems is an active member of the vibrant and upcoming movement in St. Louis-based AgTech around 39 North.
"When we began seeing interest in our product from high-value crop producers and farmers, we decided to create a business around it," Shakoor told EQ.
"But we're still a team of scientists, and don't have the business acumen to scale the company by ourselves. The grant funding is helping us develop and commercialize the PheNode while the Arch Grants team has been connecting us to networks of talented and experienced people who can advise, invest in, and even join Agrela Ecosystems."
Agrela Ecosystems plans to apply the funds from the $50k grant to help assemble strong operational management, engineering, marketing, and sales teams through recruiting.
"We're starting at local universities, since the city is home to a few top-notch institutions with great science, business, and marketing programs," Shakoor continued.
"Our Arch Grant is also helping to fund the research and resources necessary for us to develop strong business, sales, and marketing models. This year, more of our beta-level prototypes are being tested, and we'll be working with customers directly to improve the commercial side of our business."
Sharing some advice for other scientists-turned-startup founders, Shakoor said of St. Louis, "this city hosts a burgeoning startup culture, so do your research, as it's crucial to really understand what the city has to offer and the ways in which you can both contribute to and gain from its business ecosystem. There's plenty of competition because it's a hotbed for innovation in business and technology, which is exciting to be around."