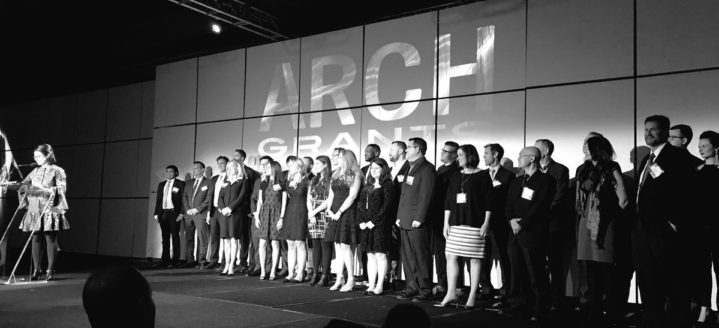 18 Startups Win $50,000 Each To Locate Their Business In St Louis
4
Min
Read

-
Visitors
5th Annual Arch Grants Gala sees huge donations made to help startups relocate their companies to St Louis and make a difference.
Arch Grants has awarded $900,000 in grant funds to 18 new startups and early-stage businesses. The winners were announced at the 5th annual Arch Grants Gala on Friday night.
Each of the winning companies will receive an equity-free grant worth $50,000. By accepting the award, the startup founders have chosen to locate their business to downtown St. Louis for at least one year. Of the 18 winners, ten were from Missouri or the St Louis metro area – choosing to retain their startups in the region – while the remaining eight were attracted from across the country and around the globe.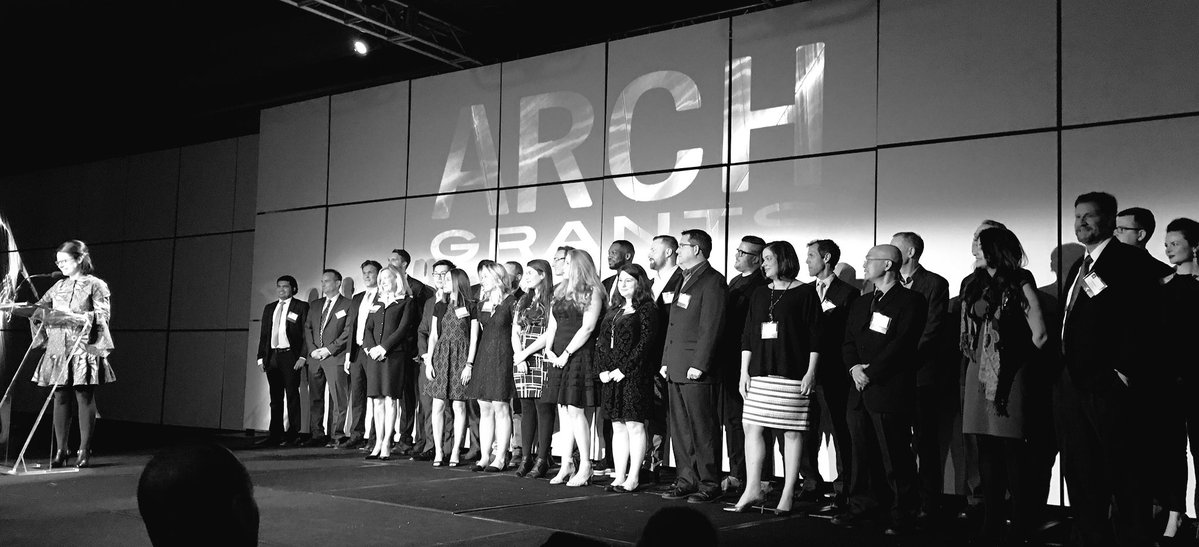 Economic Impact of Relocating Startups To St Louis
Since 2012, Arch Grants has awarded over $6 million in cash grants to attract and retain more than 100 early-stage businesses in St. Louis, invigorating the city's startup scene with new talent and ideas and helping to shape the future of the St. Louis economy. Through Arch Grants' program activities and connections throughout the region, these companies have gone on to create over 1,100 jobs, generate $65 million in revenue, and attract over $119 million in follow-on capital.
Emily Lohse-Busch, the new Executive Director of Arch Grants, "Just by the nature of who they are and what they do, Arch Grants' companies invigorate our economy and spark a positive narrative about St. Louis. We are proud to add this year's group of entrepreneurs to our portfolio and look forward to helping them to build and strengthen connections throughout the region as they grow their companies here and invest in St. Louis."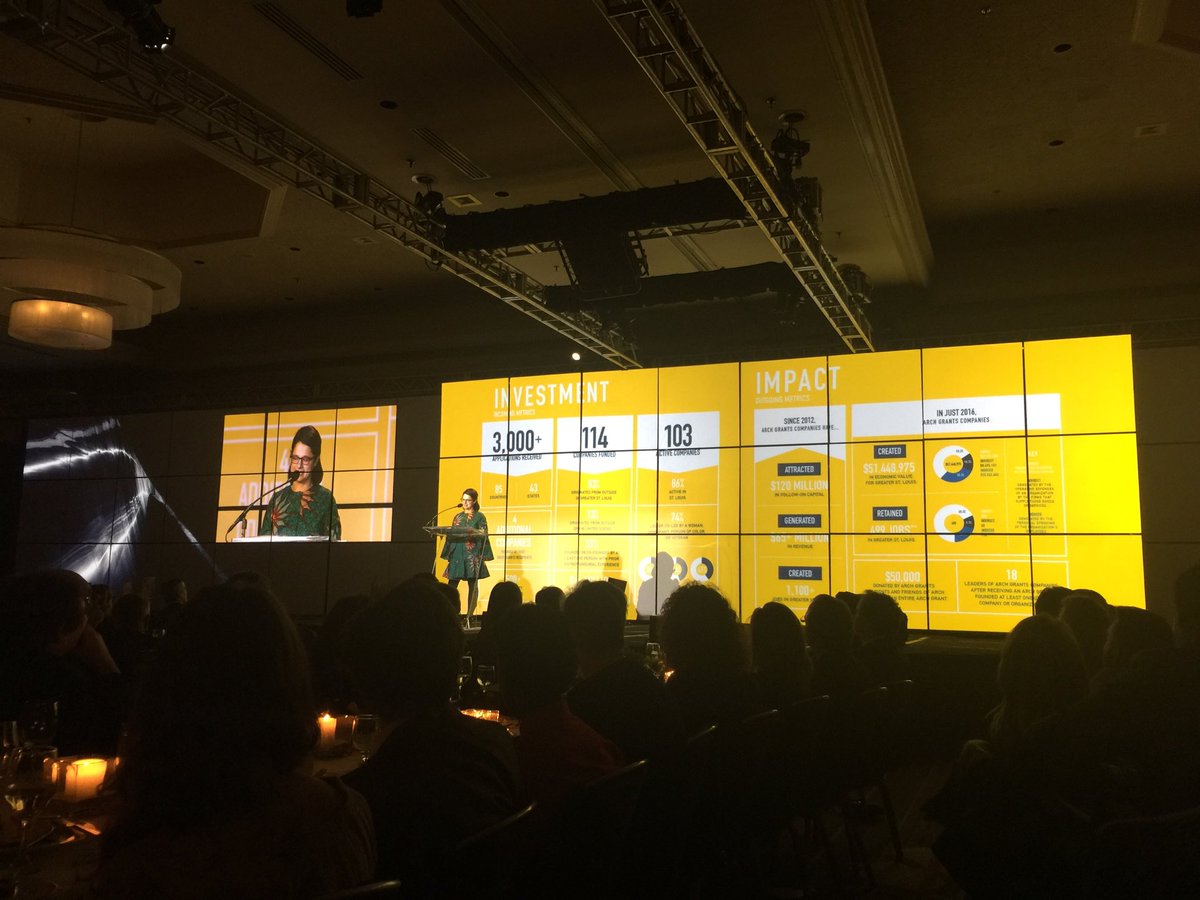 Meet the Startups Shaping St. Louis' Future Economy
Agrela Ecosystems (St Louis, MO)
High-value "smart" field crop sensor platform for agricultural applications.
Allison Mitchell (New York, NY)
Emerging luxury handbag label that designs and produces pieces made from exotic textiles, hides, and skins.
AppsCo (Sarpsborg, Norway)
Advanced Cloud IAM (Identity Access Management) solution.
clEAR (St. Louis, MO)
Auditory brain training for people with hearing loss via web-based computer games.
Corvus Robotics (Chicago, IL)
Intelligent aerial robotics that helps warehouses and distribution centers improve their inventory processes.
Demestik by Reuben Reuel (St. Louis, MO)
Womenswear brand offering made-to-order dresses.
Drug Design Methodologies (St. Louis, MO)
Novel software that accelerates pharmaceutical pipelines by optimizing drug-target binding
Lean Media (Chesterfield, MO)
Digital marketing startup that helps agribusinesses reach target audiences online with greater precision, frequency, and control.
MakersValley (New York, NY)
Online platform connecting designers with Italian apparel manufacturers.
MetKnow (Tulsa, OK)
Patented flash card and quizzing software that helps members in organizations learn each other's names.
MyStrengthBook (Calgary, Alberta, Canada)
Web-based platform that optimizes athletes' performance in the gym
OutdoorMetrix (St. Charles, Missouri)
Hunt performance and trail camera management application for hunters and wildlife managers.
Rozzy Learning Company (St. Louis, MO)
Edtech company that develops educational software
SentiAR (St. Louis, MO)
Digital health company developing a holographic platform for interventional procedures.
Strayos (Glendale, MO)
3D computer vision platform for Mining and Quarry blasting operations.
SunStation USA (St. Louis, MO)
Resource for community sunscreen dispensers.
VaxNewMo (St. Louis, MO)
Developer of next generation pneumococcal conjugate vaccines.
ViTAL (St. Louis, MO)
Software that makes digital learning content accessible to blind and visually impaired students.
Tierpoint Partners With Arch Grants
Emily Lohse-Busch, Executive Director of Arch Grants, also presented the non-profit's 2017 Entrepreneur Award to Jerry Kent, Chairman and CEO of Tierpoint and Cequel III and Chairman of StayLock Storage.
He is most well known for his role as CEO and co-founder of Charter Communications and selling SuddenLink for $9.1Bn. A trailblazer in the technology and telecommunications industries, Kent was recognized for his extraordinary contributions to St. Louis as a business leader, as well as his consistent civic engagement.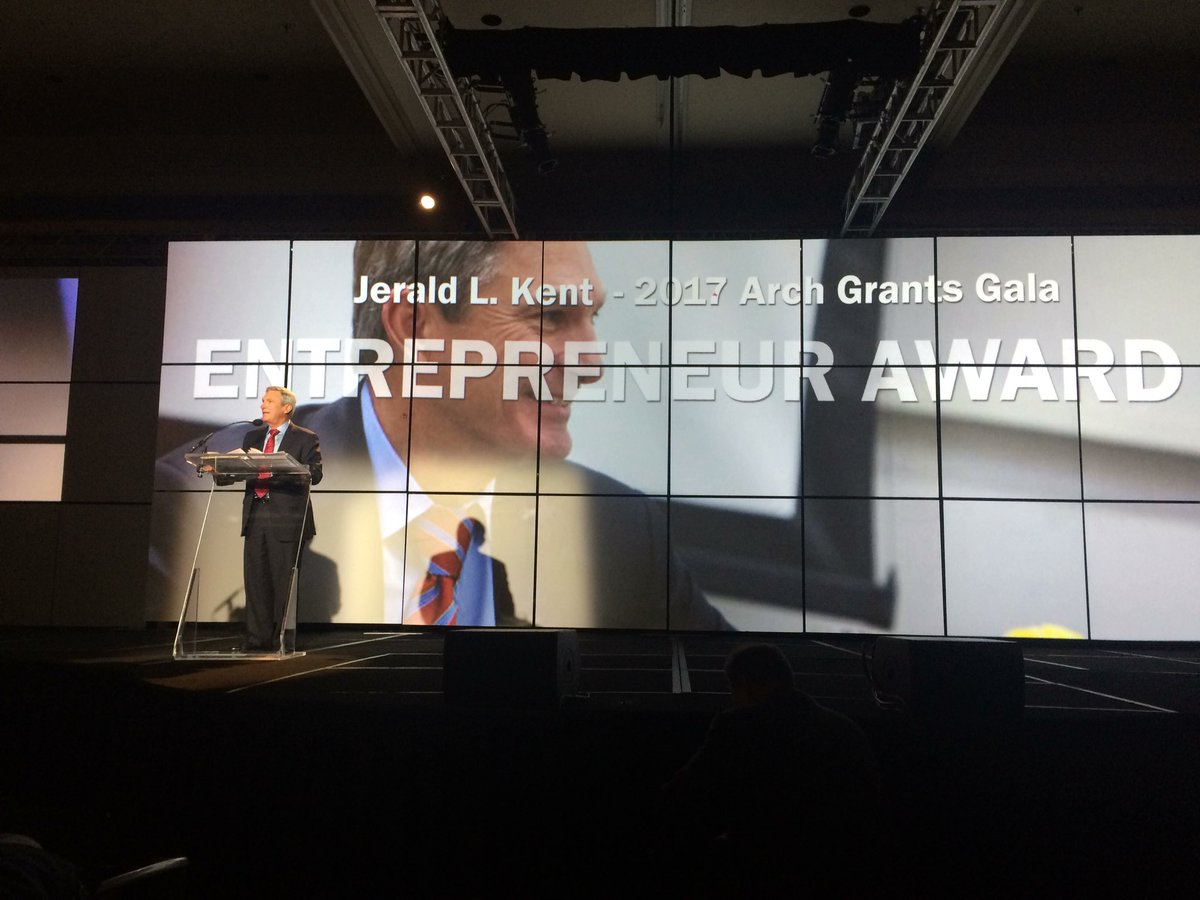 In a boon to the new grant recipients, Kent announced that Tierpoint is partnering with Arch Grants and donated $200,000 to identify companies and startups that have outgrown the current capabilities of its existing systems.
Monsanto Partners With Arch Grants Earlier this year, Monsanto partnered with Arch Grants and donated $100,000 to underwrite two $50,000 'Growing Innovation Grants' designed to identify promising AgTech companies.
Of the eighteen Arch Grants recipients in the 2017 cohort, the two 'Growing Innovation Grants' were awarded to two women-led companies operating in the AgTech space, Agrela EcoSystems and Lean Media Inc.
"Arch Grants is excited to have the support of Monsanto Company as we make investments in diverse and innovative startups like Agrela Ecosystems and Lean Media who are committed to growing their businesses in St. Louis. Monsanto has been a major underwriter of Arch Grants' Global Startup Competition since 2014 and we are pleased to continue our strong partnership for the benefit of the St. Louis entrepreneurial community and regional economy," said Emily Lohse-Busch, Executive Director of Arch Grants.
The Gala Raised Another $300,000 On The Night
Guests at the gala donated over $300,000 to Arch Grants which underwrites another six new grants on offer for the Global Startup Competition in 2018.
Checkout the Twitter Moment of the 5th annual Arch Grants Gala, to get a sense of the evening's events. As the founder of the X-Prize foundation and the Singularity University, Peter Diamandis, said in a keynote speech to the audience via hologram, "it was a magical time."
CEO and Founder of @TheWhetherApp welcoming this year's keynote speaker! ? #ArchGrantsGala https://t.co/uYqlFpQD3Q

— Arch Grants (@ArchGrants) November 3, 2017