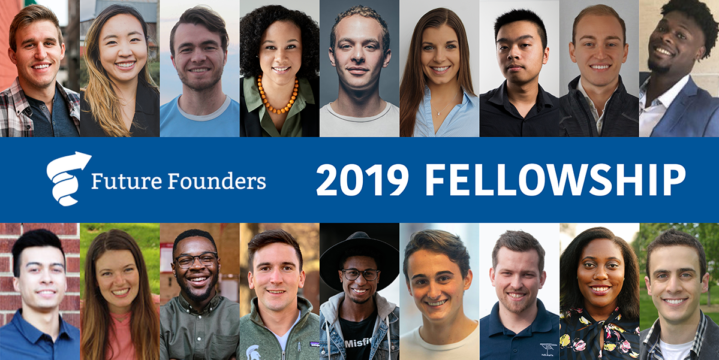 National Competition Awards Young Entrepreneur Fellowship to 3 MO Startup Founders
2
Min
Read

-
Visitors
Non-profit organization, Future Founders, who "believes every youth can become an entrepreneur," has selected eighteen entrepreneurs to participate in its 2019 Fellowship program, three of whom hail from Missouri.
"The 2019 Fellows are some of the highest potential young founders in the nation," said Scott Issen, President & CEO, Future Founders in a blog post. "We are optimistic that this year's cohort will achieve milestones similar to our first three cohorts that generated $9.1 million in revenue, secured $3.3 million in capital and created 234 jobs."
Now in its fifth year, The Fellowship, offers a 12-month program to accelerate the development of current entrepreneurs in the nation aged between 18-30 years old. Fellows benefit from mentoring, entrepreneurship retreats, a peer community, and volunteer opportunities through Future Founders programs.
Acceptance into the Fellowship was pending a competitive nationwide application and interview process. From the 2019 Fellowship, there are three founders who currently live in Missouri:
This Year's Fellowship
Alon Gilboa, Explority, MO (St. Louis)
Explority is a productivity and collaboration platform that makes it easy to manage organized group experiences such as trips, workshops, retreats and more.
Eric Laurent, Roo, LLC, MO (Columbia)
Roo is an online platform that connects those with extra space in their home to those in need of storage.
Yulkendy Valdez, Forefront, MO (St. Louis)
Forefront is a corporate education company that helps businesses and their leaders enable their cultural competency and inclusive leadership skills.
Congratulations to these 2019 Fellows – we wish them continued success!
Future Founders Fellowship Alumni
It's noteworthy that Alumni Fellows of the Future Founders program have both won a string of awards in St. Louis over the last years.
Andrew Glantz, GiftAMeal, MO (St. Louis)
GiftAMeal is a mobile app that donates a meal to someone in need each time a user dines at a partner restaurant.
Adam Hoffman, CheckTheQ, MO (St. Charles)
CheckTheQ tracks and communicates wait times in real-time: We help airports, stadiums, and venues help their customers.
Jackie Wu, Corvus Robotics, MO (St. Louis)
Corvus Robotics makes indoor drones and analytics to help warehouses automate inventory and increasing worker efficiency.
About the Future Founders Virtual Accelerator
If you're interested in getting involved with Future Founders, you may be interested to know that they are actively recruiting potential founders now, for a program called The Residency, which is aimed at companies at an earlier stage than The Fellowship.
Scott Issen, President & CEO, Future Founders shared details with EQ over email and explained, "The Residency is an innovative program designed to empower 18-30 year-olds to start their own businesses. The virtual early-stage accelerator program provides participants with access to workshops, mentorship, and a national network that allows them to explore opportunities to launch and grow their ventures.?
More info and application details are available here.