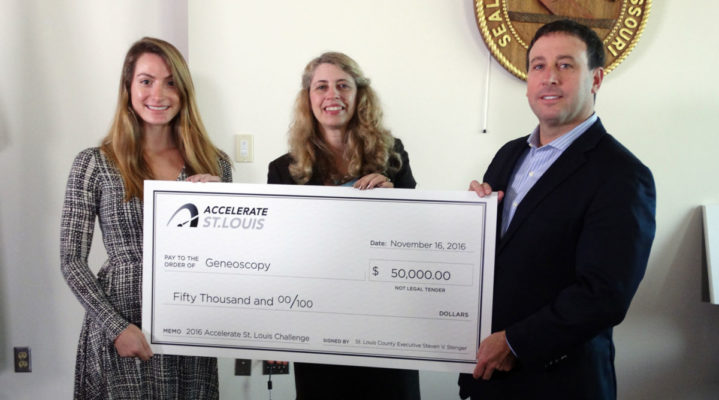 Accelerate St. Louis Awards $120,000 in Prizes at Startup Connection 2016
3
Min
Read

-
Visitors
A total of $120,000 in cash was awarded at tonight's Startup Connection, the largest annual event for the startup community that draws over 1,200 people.
The goal of Startup Connection is to give St. Louis' top startups the opportunity to present their companies to a packed house of entrepreneurs, investors and other members of the innovation community. The event combines a startup showcase (where 70 hand-picked startups had the chance to demo their products and interact with event attendees), a resource fair (where ESOs and vendors got face time with startups and attendees) and pitch sessions (including a student pitch-off, which was new this year).
A main feature of the event is the Accelerate St. Louis Startup Challenge, an award competition that highlighted the latest crop of stellar early stage companies. Tonight, a total of $120,000 was awarded, with life science company Geneoscopy named as the first place winner, taking home $50,000.
Awarded privately by St. Louis County Executive Steve Stenger earlier in the week and announced publicly at tonight's event, the Accelerate St. Louis Challenge rewards three top companies with an equity-free cash prize and provides one year of professional services and office space.
"This year's Accelerate St. Louis Challenge was a really tough competition, so I want to congratulate all of the winners," Stenger said. "The St. Louis startup scene is really exploding.  My team and I are committed to supporting local startups in any way we can.  I truly believe the next Express Scripts, Edward Jones and World Wide Technology are already right here and growing."
The top three winners of the Accelerate Startup Challenge were:
First place: $50,000
Geneoscopy developed a method to isolate and preserve biomarkers in stool samples using a customized detection algorithm providing patients with a non-invasive screening test that can accurately diagnose and treat colorectal cancer more accurately than a traditional colonoscopy.
Second place: $30,000
Babyation developed a whisper-quiet, smart-phone-enabled breast pump that also seamlessly fits into jogging bras, allowing women to pump without removing their shirts.
Third place: $20,000
Pro-Arc Diagnostics is developing a next-generation laboratory test for patients at risk of Progressive Multifocal Leukoencephalopathy (PML), which is caused by the John Cunningham virus and is responsible for thousands of deaths each year.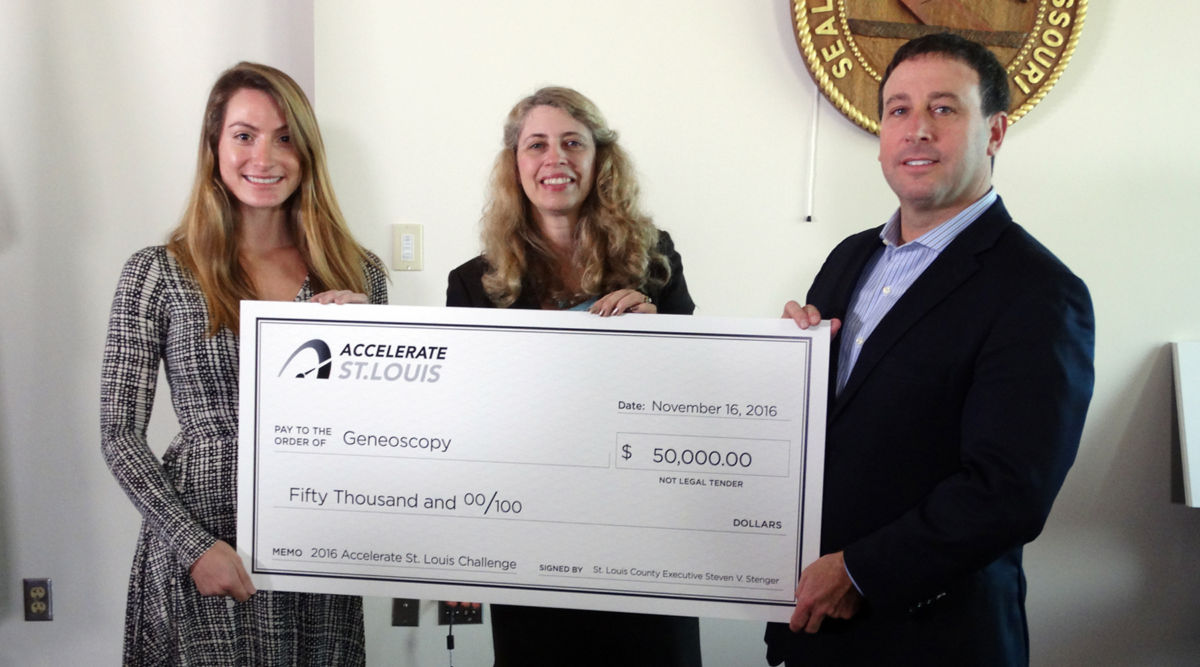 "I feel honored to have been selected for this prestigious award," said Erica Barnell of Geneoscopy. "The competition itself was instrumental in developing Geneoscopy's business plan and the award will provide funds to support a 1,000 patient pre-clinical FDA trial. This pivotal trial will bring our test one step closer to the 80 million Americans recommended to undergo regular colorectal cancer screening.  Beyond this competition, I feel proud to be a part of the growing entrepreneurial community here in St. Louis that is turning significant scientific discoveries into products that improve the healthcare industry. St. Louis is the place to be for young entrepreneurs like myself."
In addition to the top three winners, the Accelerate St. Louis Challenge also gave away three Bright Futures Awards to immigrant-, veteran- and minority-owned companies. The winners tonight were AirZaar, Idiomatic and Upaya Pharmaceuticals.
"We had lots of terrific contest applicants this year," said Jason Hall, St. Louis Regional Chamber vice president for entrepreneurship and innovation. "Several national media outlets have called St. Louis a top region for startups, and the quality of these businesses would certainly support that perspective. These entrepreneurs are critical to our future growth and prosperity."
Other finalists for the 2016 Accelerate St. Louis Challenge include Cotton Cuts, Eureka Analytics, Ivani / Network Presence Sensing, Lifepack, MathBRIX, NanoGuard Technologies, PawFriction, PEDECARE, Public Funds Investment Tracking and Reporting, Pyngby and Sports Valet.
Startup Connection was sponsored by Accelerate St. Louis, Washington University in St. Louis, Simplify Commerce by Mastercard and about 30 other sponsors at various levels.