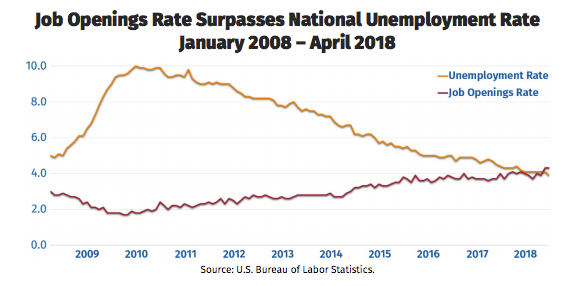 Tech Workforce Development in the Region Approaching Crisis Level
5
Min
Read

-
Visitors
Workforce development seems to be a topic on everyone's mind in the economic development circles these days. In a recent commentary in the St. Louis Business Journal, Tom Chulick, president and CEO of the St. Louis Regional Chamber called it, "the most critical issue facing the St. Louis regional business community today."
A report entitled the 2018 State of the St. Louis Workforce Report from the St. Louis Community College outlines the issue in depth:
There's a record-low unemployment rate for the St. Louis region at 3.2%.
61% of IT firms are experiencing a shortage of skilled applicants.
74% of Financial Services firms are forced to hire less skilled workers and train them.
54% of Health Care employers plan on increasing employment in the next year.
37% of technology firms are having difficulties finding Web Developers.
While these reflect an absolute turnaround from 2009 when the Regional unemployment peaked at 10%, the report is clear that the region is in for sustained tightening of the labor market unless the outlook for the skill pipeline improves:
"The 2018 State of the St. Louis Workforce Report reflects a growing local economy but with a constricted labor market supply due to low unemployment, an aging workforce and static labor force participation that may eventually constrain future growth."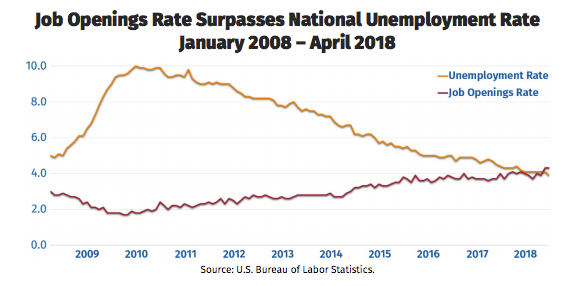 To address this brewing storm, a coalition of concerned parties is meeting in various forums, conducting qualitative and quantitative analyses of the issue, and mounting a public outreach campaign.
One such effort from the Cortex Innovation Community called the Tech Talent Supply Initiative, brought together a group of 34 organizations representing local startups, established companies, tech training organizations, entrepreneur support organizations, degree-awarding colleges and universities together with city and state agencies to discuss the issues and assess the region's overall needs.
In general, participating companies expressed a desire for candidates that:
Have strong coding skills (this is even more important to them than a 4-year college degree) and points to the value of certificate tracks or internship programs as a possible solution.
Have a data science background

and

people skills. In particular, companies are looking for data science professionals with MBAs.

Possess overall DevOps experience and skills, allowing them to lead teams or act as a one-person development and deployment team.
In the regional struggle to fill the thousands of open positions every year, the report identified some bright spots such as the recent efforts of academic institutions to offer new career-oriented tracks available in a variety of two-year, professional studies and certificate programs. These provide a faster, cheaper way to get a candidate into the marketplace than a traditional four-year program.
Scaling workforce development efforts
The report calls out local training organizations like LaunchCode, Savvy Coders, Midwest Cyber Center, and Claim Academy that provide accelerated programs offering foundational and follow-on tech training, but does mention these are difficult to implement at any scale.
Dan Fogarty, Vice President of Growth at LaunchCode, believes that there's opportunities for programs to scale rapidly with the right support.
"Out of 1600 applications in July, we are able to accommodate 450 people in our program, but with the right resources we should be able to train 600-700." Part of the scalable solution that LaunchCode is implementing is a streamlined program partially subsidized by federal grants for technical apprenticeships and earned revenue from the companies that hire them.
The approach can train individuals in the fundamentals of coding at a cost to the program of roughly $1000-$1500 per student, compared to many thousands for a bootcamp approach or tens of thousands of dollars for a traditional degree. LaunchCode students attend the program free of charge as well, a critical difference from these other programs.
Scaling for LaunchCode is enabled through corporate partnerships, "Deep relationships with Express Scripts and Bayer mean that we can customize some of our offerings to train students in niche technologies," says Fogarty, pointing out that LaunchCode has trained groups of students in technologies and programming languages that are more highly specialized and therefore a difficult skill set to find.
Savvy Coders takes a different approach focusing more on individual career rather than large scale workforce development. Elaine Queathem isn't trying to scale as much as create the best foundation for developer training she can.
"It's more important for us to provide our students with the best quality training we can provide in 10-weeks. We want to improve individual career prospects."
Tony Bryan, Director of the Midwest Cyber Center, sees corporate partnerships as the key. Like LaunchCode, a sponsoring organization is crucial to the success of any apprenticeship program.
Both Fogarty and Bryan recognize that the paperwork and bureaucracy of the federal apprenticeship program can be daunting to employers, especially the reporting requirements, but once they get involved, Bryan says, "they see the value right away."
"We've taken a machinist off the floor of True Manufacturing for instance and trained them to run Cybersecurity there. For a fraction of the cost, they have filled a position that is very hard to fill," he says.
The scarcity of IT jobs isn't just a St. Louis Regional issue. States all over are experiencing talent shortages in IT, Devops, and Cyber Security.
An upcoming report from ITEN that surveyed thousands of companies to assess the tech talent drought, confirms this general assessment. Billed as one of the largest quantitative efforts to document the problem, the unreleased report highlights the importance of tech training and talent to bottom-up entrepreneurial growth.
According to James Von Der Heydt, VP Chairman of ITEN, who spearheaded the survey, understanding the depth of the problem is critical to ensuring a vibrant ecosystem, "We can't have a robust entrepreneurial tech community if we don't have a robust tech talent pool," he says.
All of the above
Solutions range from rebranding the City to retooling and investing in STEM training starting with K-12 through workforce retraining.
The end solution, most agree, is a multi-faceted approach; i.e. STEM training needs to start early, universities and non-traditional training organizations need to continue to produce quality candidates and scale where possible, and corporations need to step up to support workforce development before they start to see crisis-level shortages.
In a recent speech held at LaunchCode, Gov. Mike Parson, unveiled a proposal to allow Missouri high schools to substitute computer science training for traditional high school Math classes.
The proposal puts a spin on the traditional ABC's vs. workforce and technical training argument. While high school math offers valuable learnings on its own, the thinking goes, the ability to code a calculator is fair more valuable in today's economy.
Build up the brand too
Looming over the workforce development discussion is a familiar regional bogeyman around the St. Louis brand and a generally negative perception of St. Louis affecting ongoing efforts to attract and retain talent.
For every article that hypes St. Louis as a City on the rebound, there are reports or articles that St. Louis isn't keeping up with peer cities or is dangerous, etc.
Chulick from the STL Regional Chamber agrees and recently proposed an approach that included a regional strategy based on increased funding for workforce development and a rebranding effort to encourage talent recruitment to the region.
"When Denver and Nashville promote their regional strengths, they don't mention traffic issues, housing shortages and increasing cost of living. They focus on their wins," says Chulick.
Now is the time for the City, the State and the ecosystem to focus on the wins.