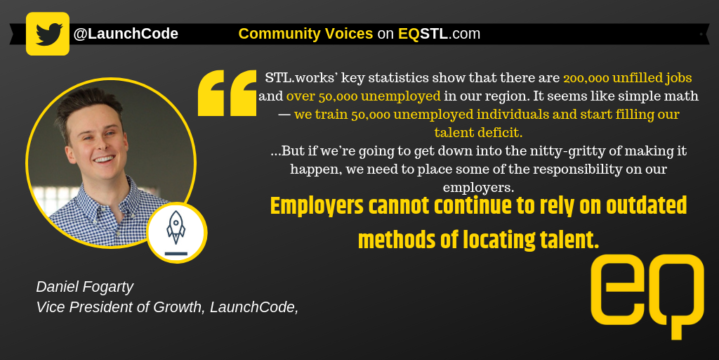 State of the St. Louis "Techforce": Jobs are Plentiful but Employer's Hiring Practices Remain in Stasis
3
Min
Read

-
Visitors
We all want St. Louis to be a "hub" of something: in startup growth, in geospatial intelligence, in cybersecurity, in healthcare, in agtech.
There are plenty of ideas about how to make St. Louis a hotbed for innovation and technology, all of which require a robust and talented workforce rooted here in our region. Discussions around creating these pipelines are plentiful, but they all end up focusing on lack of talent instead of lack of opportunity.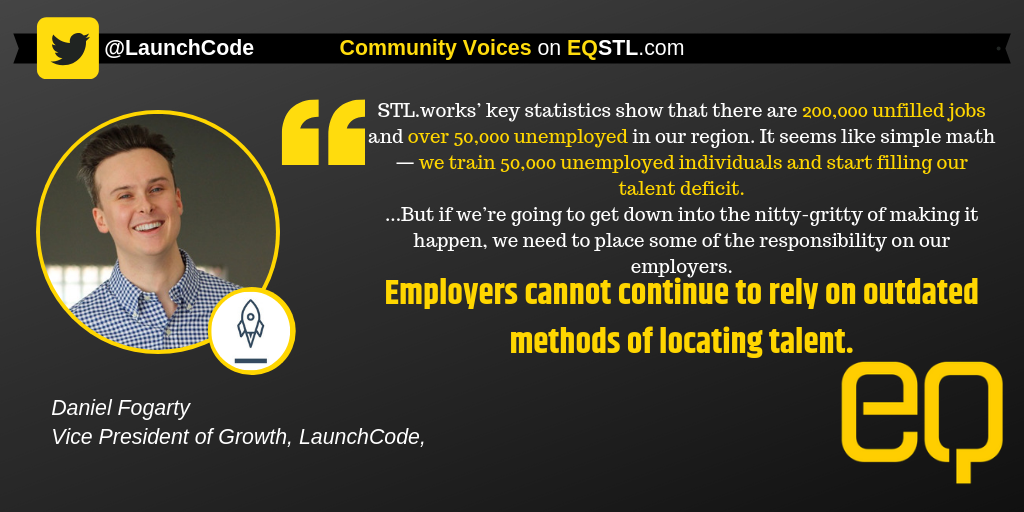 The truth is that the talent is here; so why are job openings continuing to pile up at a rate impossible to catch up to?
As we gather together this week — for State of the St. Louis Workforce week — across industries, professions, and the region, the conversation is centered around building our regional workforce. At the same time the Regional Business Council has launched its online portal, STL.works, to rebrand skilled careers and provide access to training opportunities and career pathways.
STL.works' key statistics show that there are 200,000 unfilled jobs and over 50,000 unemployed in our region. It seems like simple math — we train 50,000 unemployed individuals and start filling our talent deficit.
This morning @STLCCworkforce will be talking about the 2019 State of the #StLouis workforce and we are excited to learn how we can help the community find workforce solutions. Tune in as we update you … #STLworkforce #STLTechforce200 pic.twitter.com/V4xP2a6vkr

— LaunchCode (@launchcode) August 7, 2019
Like all the ideas to make St. Louis an economic hub, it sounds like a great plan. But if we're going to get down into the nitty-gritty of making it happen, we need to place some of the responsibility on our employers.
Employers cannot continue to rely on outdated methods of locating talent.
"We need to find new ways to find people and get them trained. We've had good experience with LaunchCode getting people trained in tech skills." – @sjfults Practice Director @SlalomSTL #STLworkforce #STLTechforce200 ????????

— LaunchCode (@launchcode) August 7, 2019
St. Louis Community College revealed their annual State of the St. Louis Workforce report this week, which surveys over 1,000 employers across the region. Once again companies reported a shortage of skilled workers as a top barrier to expanding employment.
"Middle-skilled workers in the #tech industry in #STL is the top skill needed." #STLworkforce #STLtechforce200

— LaunchCode (@launchcode) August 7, 2019
I wonder, however, what are companies doing in their search for skilled workers? At LaunchCode we are acutely aware of the immense amount of talent in our region.
This summer alone, LaunchCode graduated 200 new technologists and, by the end of the year, we'll graduate twice as many computer programmers as all major universities in St. Louis combined. These graduates aren't just talented, they're hungry too.
We recently received nearly 1,200 applications for about 200 seats in our upcoming free computer programming courses. And while we're producing more tech talent than traditional higher education sources in our region, we can't come close to filling the needs of either side on our own.
Training 200 more individuals and filling 200 company needs is a start, and it can be the launch-pad for greater change. Because these aren't just 200 people ready for jobs, these are 200 of our neighbors who, with us, make up the fabric of the St. Louis community.
What did we learn at the @STLworks rally? #STLouis needs to fill its tech talent gap. This July, we graduated OVER 200 coders in STL & we're looking for tech jobs to fill. Be a part of the solution, hire LaunchCoders for your tech team today! #STLTechforce200 #STLWorks ????????on pic.twitter.com/cWgNTDXtgI

— LaunchCode (@launchcode) August 6, 2019
If we, as a city, are going to become a hub for technology, we need to do it through programs like LaunchCode that focus on providing opportunity for those with the hunger and drive to succeed rather than harping on the dialogue around lack of talent. This hunger to enter the tech field in St. Louis is just as substantial as the needs of companies.
As the region enters into the knowledge economy, we need to not only create pathways between careers, but create networks of opportunity running through the agenda-setters, managers, workers, and ultimately, our community. The times of the past where workers stay in the same career their entire working life is over.
"Improving population and employment density could lead to productivity and wage gains." – Daniel Davis, Assistant VP & Community Affairs @stlouisfed #STLworkforce #STLTechforce200

— LaunchCode (@launchcode) August 7, 2019
By fueling our companies with innovative, diverse, and homegrown talent, we can establish St. Louis as middle-america's economic gateway. And then, maybe, establishing St. Louis as a hub for "workforce opportunity" is something we can all agree on.