Apprenticeships Getting Another Chance By St. Louis Area ESOs
5
Min
Read

-
Visitors
New models of apprenticeship help local economies train people for employment faster and fill critical labor shortages.
The German writer Johann Wolfgang von Goethe wrote a poem called "The Sorcerer's Apprentice" in the late 18th century. In fourteen stanzas, Goethe tells the story of a magician-in-training, an apprentice, who wreaks havoc while the Sorcerer is away, trying but failing to use half-learned incantations and spells to simplify his chores.
Disney popularized the story in the 1940s and again in 1999 with the movies Fantasia and Fantasia 2000. It is an old idea, but the employment construct of apprenticeship lives on in Germany in the 21st century, and represents 25% of its economy.
The story is different in the United States. Originally and for decades in the bailiwick of the Construction, Manufacturing and other trades industries, apprenticeship here has traditionally carried with it the stigma of brawn rather than brain power, and was seen as the exclusive province of union labor.
Due to pressures caused by rising college tuition coupled with growing concern over anticipated demand for a large American technical workforce that doesn't yet exist, apprenticeship today is very much a part of the national labor conversation.
Entrepreneur Support Organizations in the St. Louis region are taking on the apprenticeship trend by reimagining it and activating it in new, innovative ways. Claim Academy, LaunchCode, and the Midwest Cyber Center all work closely with the community, employers and applicants to leverage apprenticeship to everyone's advantage and based on a boot camp model that trains their apprentices in around 3 months and places more than 75% of them into full-time employment.
Apprenticeship 101
When North America's Building Trades Unions (NABTU) was founded in 1907, it included apprenticeship as part of its charter.
When the National Apprenticeship Act, also known as the Fitzgerald Act, was passed in 1937, it regulated apprenticeship and on the job training programs by creating a federally funded advisory committee to draft regulations and set minimum requirements. This committee came up with standards, many of which are still in place today.
According to the U.S. Department of Labor, an apprenticeship is an arrangement that allows a worker to learn how to do a job, and get paid for it. What is called a "registered apprenticeship" and it is sanctioned by the U.S. Department of Labor, meaning that it meets the standards of earning while learning as well as providing a portable certification.
Why the Comeback?
Every administration since Bill Clinton has flagged apprenticeship as a way to tackle employment issues in the United States. According to the Department of Labor, 87% of apprentices are employed after their programs, with an average starting salary of more than $50,000. These workers are likely to make more money than some graduates of four-year degree programs over the course of their careers.
Apprenticeships benefit employers as well, improving productivity, employee engagement, and employee retention as well as lowering hiring costs. Employers can return a significant amount of investment, up to $3 for every $1 invested according to the Construction Industry Institute.
Now, despite consistent pressure from unions against government investment in apprenticeships, the concept is gaining a foothold across industries since 2015, when the Obama administration provided unprecedented support as part of his JOBS act and the DOL established the national Apprenticeship Week in November.
Manufacturing, a skill that formerly involved straight-forward, manual work has become a highly technical industry. The need for tech-savvy workers is consistent across industries, including health care, insurance, and of course, information technology.
According to Manpower Group, 40% of employers surveyed are having difficulty filling roles, and this trend is expected to continue. Despite 50,000 tech graduates every year, it is still expected that there will be one million unfilled tech jobs by 2020.
At the same time, it's harder than ever for high school graduates to pay to go to four year colleges and getting worse. New research shows that students take twice as long to pay off their student loans than previously thought, and default not necessarily because of their amount of debt, but more likely because they didn't finish their degree, or they chose a field of study that doesn't offer enough income to pay off the loans. Learning a skill that can be practiced on the job compared to spending years paying to study, sets apprenticeship in an even more attractive light.
A New Model for Apprenticeships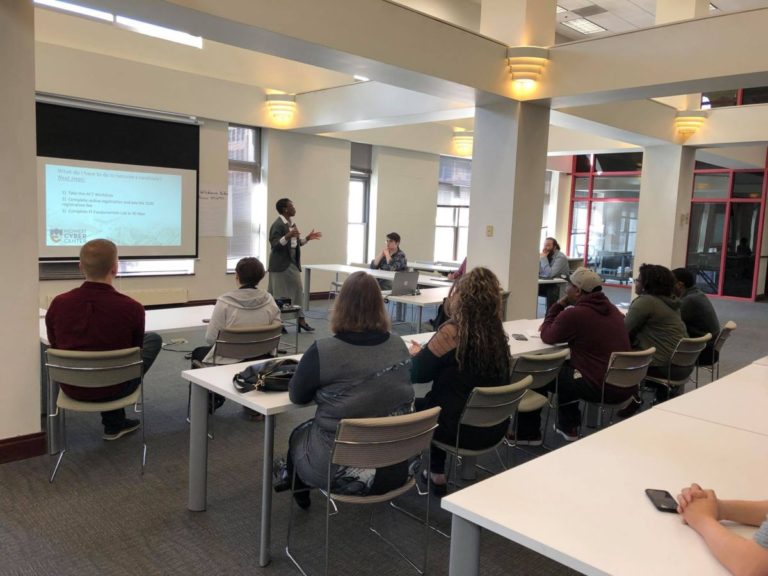 Because of the looming skills gap anticipated by United States manufacturers, the German American Chamber of Commerce is working in ten U.S. states to implement a model based on German apprenticeship.
In Germany, apprenticeships lead to jobs as purchasing clerks, marketing representatives, banking. It isn't unusual for executives to have learned all their professional skills in apprenticeships rather than at universities.
It begins in high school with a technical program, and follows the student through technical school, a part-time role in a factory, to full-time employment after high school. Plans are underway to expand the program to six more states.
Programs in Missouri and Illinois seek to promote apprenticeships in a variety of industries as a means to develop skills that lead to jobs for residents. In St. Louis, the St. Louis Agency on Training and Employment (SLATE) offers apprenticeships in growing industries for minorities, women, and long-term unemployed. Key to the program is support of employers like CVS Health, who designed and conduct apprenticeships in pharmacy.
LaunchCode
LaunchCode offers apprenticeship as an extension of a program that begins with a free coding class. They are A nationally recognized training program, this St. Louis non-profit has innovated and turned old idea of apprenticeship into a means of lowering the barrier to entry for St. Louis workers to succeed in the tech industry. As with the SLATE pharmacy apprenticeship, the success of LaunchCode's program depends on the community of local employers investing in the new talent.
Claim Academy
A new partnership with Eagle Technology Group has paved the way for Claim Academy, a St. Louis-based developer boot camp, to offer apprenticeship training to veterans and their spouses. The program will launch them into entry-level or software development roles at Eagle.
Typical participants at Claim Academy complete a 12-week boot camp in which they learn how to code by partnering with developers, mentors and instructors. They present a final coding project to potential employers, and are also provided career training and placement assistance. The addition of the apprenticeship program adds emphasis on learning while earning.
Midwest Cyber Center
The Midwest Cyber Center specializes in a fast track cyber career path for nontraditional career seekers that includes a registered apprenticeship. As a registered apprenticeship, it is sanctioned by the Department of Labor, and includes work, paid instruction and portable credentials.
According to Tony Bryan, Executive Director of the Midwest Cyber Center, "St. Louis alone has almost 4,000 unfilled cybersecurity positions."
The combination of high demand for jobs, significant employer needs, and low appetite for student loans has created a market in which the time for apprenticeships may have arrived in the United States. St. Louis area innovators are seizing the opportunity to make it happen.