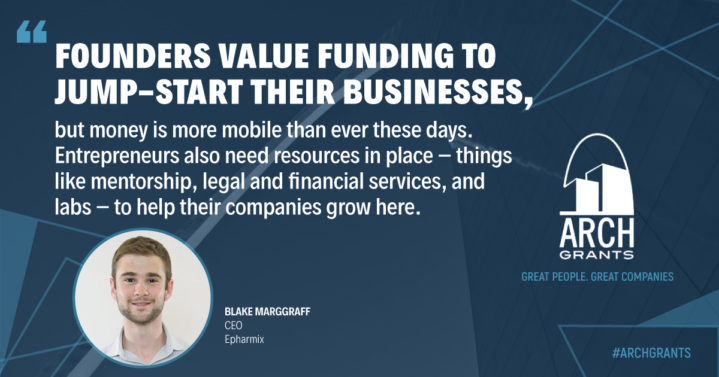 It Takes a Village (and Universities Directly Engaging the Startup Ecosystem) to Retain Talent in St. Louis
4
Min
Read

-
Visitors
Two student entrepreneurs share how they made their way through University to founding a startup.
On the subject of talent retention, every city finds it a challenge to compete with the bright lights of major tech centers like San Francisco or New York. But St. Louis has proven that keeping potential entrepreneurs in the region is as simple as introducing everyone to what the city can do for their business.
"When schools like Wash U, SLU, UMSL and others offer entrepreneurship resources to students and faculty members in their communities… St. Louis as a city reaps the benefits of their talent and energy," Emily Lohse-Busch, Executive Director of Arch Grants said at the Merge Summit. The right level of investment and support can go a long way to retain talented university students in St. Louis when they graduate.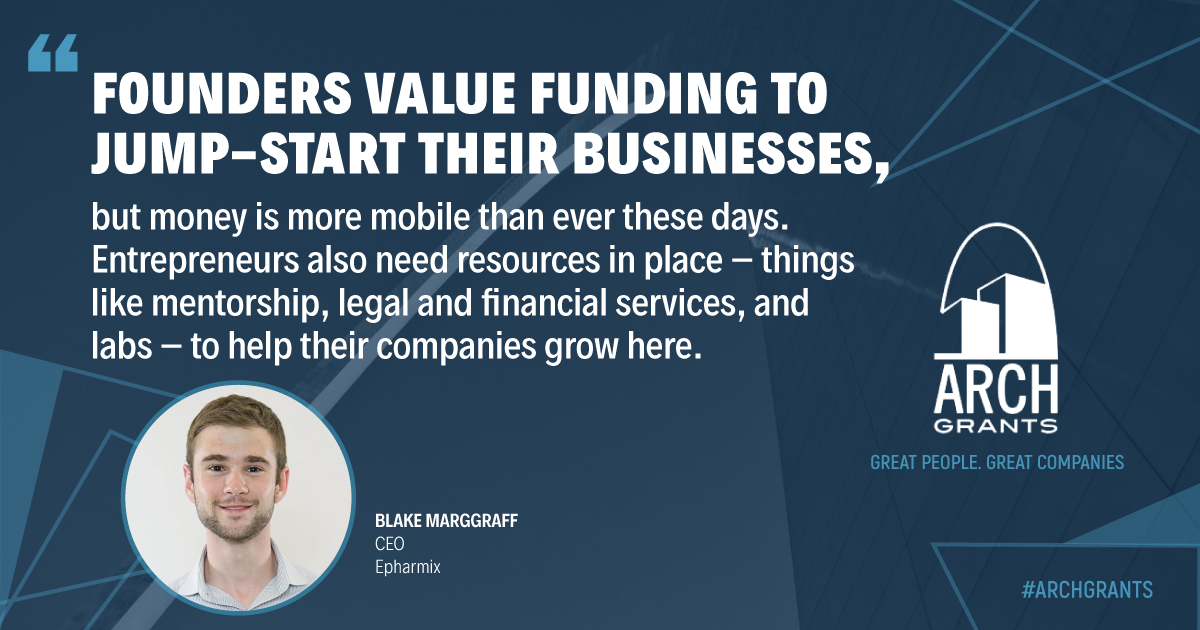 Healthcare startups Epharmix and Geneoscopy exemplify the St. Louis talent retention ecosystem working exactly as intended. Both companies began at Washington University in St. Louis, received the right support, funding, and mentorship, and have since grown their companies locally.
EQ reached out to the founders to find out what got them first engaged with the St. Louis startup ecosystem – as well as what kept them going.
Epharmix
For Blake Marggraff, founder and CEO of digital health startup Epharmix, the decision to build the company in St. Louis was made when he started his first company, Betabox, an edtech startup. The first company's relationship with Arch Grants made all the difference when it came to starting his second.
"When I was a student at Washington University in St. Louis, I decided to apply to Arch Grants for Betabox, and was honored and surprised that we received the Arch Grant. At that stage, $50,000 was a pivotal amount of money, but I quickly realized that the community-driven mentorship was the single most valuable contribution that Arch Grants would make to my business."
Blake emphasizes the value of the "weak ties" that programs like Arch Grants create. "Arch Grants has a really solid base of active community participants, folks who span the public and private sides that are drivers of positive change, especially social change. As part of their strategy, Arch Grants builds relationships between its Recipients and people who can be allies now, or allies down the line at a different company.
When Blake decided to transform his healthcare research into a second startup, the network he had built at Betabox turned out to be invaluable.
"When I was focused on education, Arch Grants introduced me to everyone from innovative teachers to the C-suites of local colleges," he says. "Now that I work in digital health, St. Louis continues to be an excellent place to build a business. Arch Grants has spurred innovation across the enterprise software space and attracted a lot of talent to build that network here."
When asked about the value of that network to his business, Blake doesn't hold back.
"The network is everything," Blake explains. "I'm not sure we would still be here if it weren't for the level of time and attention that organizations like Arch Grants put in to making sure we met the right people."
Geneoscopy
Life sciences startup Geneoscopy is truly an example of the St. Louis ecosystem working as intended. The medical device company raised $1 million in seed funding from local investors, including Missouri Technology Corporation and Billiken Angel Network. Brother-sister co-founding team Erica and Andrew Barnell attribute their funding success to the strong networks available in St. Louis.
"We spent over a year talking to more than 100 investors around the country," says Andrew Barnell, Geneoscopy's CEO. "We were thrilled to find our funding solution right here in St. Louis."
Erica, Geneoscopy's Chief Science Officer, began researching colorectal screening techniques as an MD/PhD candidate at Washington University in St. Louis. When she and her brother decided to turn her research into a company, Erica enrolled in Sling Health, a biotechnology incubator based at WashU.
"I think we were the third cohort of Sling Health that went through the process, and I was really fortunate to be part of that process," Erica says. "I like the structure of that program because entrepreneurs can come in with any level of expertise. You bring yourself to the game and they give you a problem list and then you develop a company around that."
Erica gives Sling Health credit for allowing students to pursue dreams of entrepreneurship without sacrificing other aspects of their lives.
"Sling Health taught me that you don't have to be "funemployed" to start a company. You don't have to quit school or your job. Through these programs, you can look at the feasibility of developing that product into a company before committing full-time," she explains.
Resources and mentorship across the city have helped the Geneoscopy team shape different aspects of their products. Though the company's ultimate goal is to create minimally invasive colorectal screening options for humans, local mentors helped them realize that their technology had veterinary applications as well.
"Many of the different facilities in St. Louis are interested in different things," said Erica in a recent interview. "We have advisors in the veterinary space through the Global Impact Award, and advisors from WashU and the hospital on the human front. Having everything in the same area allows us to expand our company and de-risk our company by applying it to multiple technologies."
Since its founding in 2015, Geneoscopy has won an Arch Grant, a $50,000 equity-free grant for early-stage startups with one condition: recipients must remain in St. Louis for a year. The company has also received funding from BioGenerator, established a home base in regional innovation hub CORTEX, and has gained recognition through Pipeline, the Midwestern entrepreneurship network.
"Our most recent funding round is only one small part of our St. Louis story," Andrew says. "Geneoscopy's seed funding is the culmination of the city's investment in us."