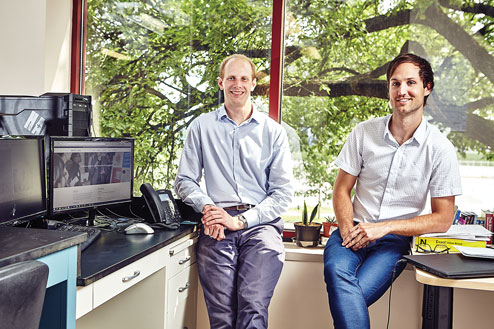 Sling Health 2018 MedTech Demo Day, Tomorrow at Cortex
2
Min
Read

-
Visitors
Demo Day devoted to launching the next generation of MedTech entrepreneurs to showcase startup concepts.
What began as a WashU student group in 2013 has became a fully incorporated nonprofit, celebrating six years of showcasing local and national MedTech talent mixed with a hero-dose of startup hackathon style genius.
Sling Health pairs teams of medical, engineering, and business students, with a network of medical bioengineering, design and entrepreneurship incubators from top universities around the country. Their mission is threefold: solve medical problems, train innovators and improve healthcare. To that end, the program brings together interdisciplinary student teams with the intent to create startups that produce solutions.
The startup innovation teams get mentorship from faculty, healthcare professionals, and local entrepreneurs in order to tackle unmet needs in healthcare delivery and clinical medicine.
The concept, formerly known as IDEA Labs, was founded at Washington University in St. Louis, in 2013, and has grown through an ongoing collaboration with the American Medical Association. Now, participating universities include Harvard, MIT, U. Pennsylvania, U. Michigan, Tulane, LSU, Georgia Tech, Emory, U. Florida, and UCLA.
Get Involved
Sling Health will host its 6th annual Demo Day on Friday, April 13th, from 6-9pm in the 4240 Building at the Cortex Innovation Community.
The innovation showcase for the public — Demo Day — is the program's capstone event where teams from across the country will present entrepreneurial solutions that they have developed for a variety of medical fields, from primary care to surgery.
The keynote speaker for Demo Day is Jeff Karp, Professor of Medicine at Brigham and Women's Hospital, Harvard Medical School. Dr. Jeff Karp is a renowned entrepreneur and biotechnologist with over 100 patents, and his companies have raised over $100 million in funding.
Sling Health Demo Day sponsors include the American Medical Association, PhRMA, Boston Consulting Group, Husch Blackwell, Washington University in St. Louis, St. Louis Regional Chamber, BJC-Washington University Health Systems Innovations Lab, Saint Louis Metropolitan Medical Society, CORTEX, and Sameem's.