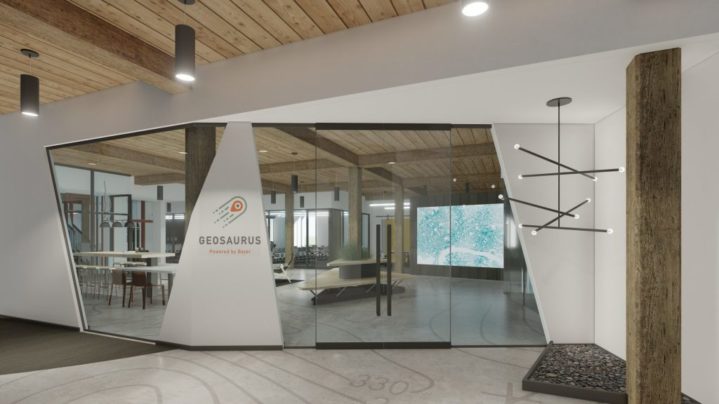 Geosaurus' Gigantic Plan to Push Talent Towards St. Louis' Next Innovation Frontier
4
Min
Read

-
Visitors
T-REX's Geosaurus Resource and Innovation space, Geosaurus, offers a bridge into St. Louis' geospatial industry for those who don't have security clearance.
St. Louis has been riding a geospatial wave of excitement and development that began after the 2016 announcement that the NGA (National Geospatial-Intelligence Agency, to you civilians) was building their headquarters in North St. Louis.
The construction of the campus should be done by 2023, and the $1.75 billion project should be completed by 2025. This exciting development for the city and region was the inspiration and ingenuity behind the Geospatial Resource & Innovation Center – otherwise known as Geosaurus – that was unveiled earlier this year.
As T-REX Executive Director, Patty Hagan, told EQ last year, "Everybody is excited about this (The NGA relocation) and everybody is pulling together. It's about making St. Louis the global center for excellence in geospatial and location intelligence."
With the NGA providing the federal anchor to the budding ecosystem, having a space for companies to start moving to the area was a huge opportunity realized by the downtown tech hub and Director Hagan.
To the Fourth Floor and Beyond
"Geosaurus, Powered by Bayer" is set to open in the Fall of 2019 and is located on the fourth floor of T-REX in downtown St. Louis. The beautiful space is being designed by Remiger Design, a local architecture and design firm with various work around the St. Louis region including the Crestwood City Center and the Great Rivers Greenway to name a few.
The larger goal for Geosaurus' investment into the space is to provide collaborative content and programming for advancing the geospatial industry.
Its mission is to become a talent pipeline for companies like Bayer and the National Geospatial-Intelligence Agency, which is conveniently located less than two miles away from T-REX. Bayer was a strategic investor of the space, which signaled its first major investment in the region since its acquisition of Monsanto last year.
Hard Hat Still Required
Even though construction is still underway, companies have begun signing up and moving into the building. Companies like GeoData IT have already found value in the emerging Geospatial scene and are excited for it to reach its full potential.
Justin Bennett, President and CEO of Geodata IT explained the benefits of the new space to EQ, "Working at T-REX has provided Geodata IT with a supportive network of like-minded GIS enthusiasts. If you want a future in building technology in St. Louis, T-REX is where you want to be."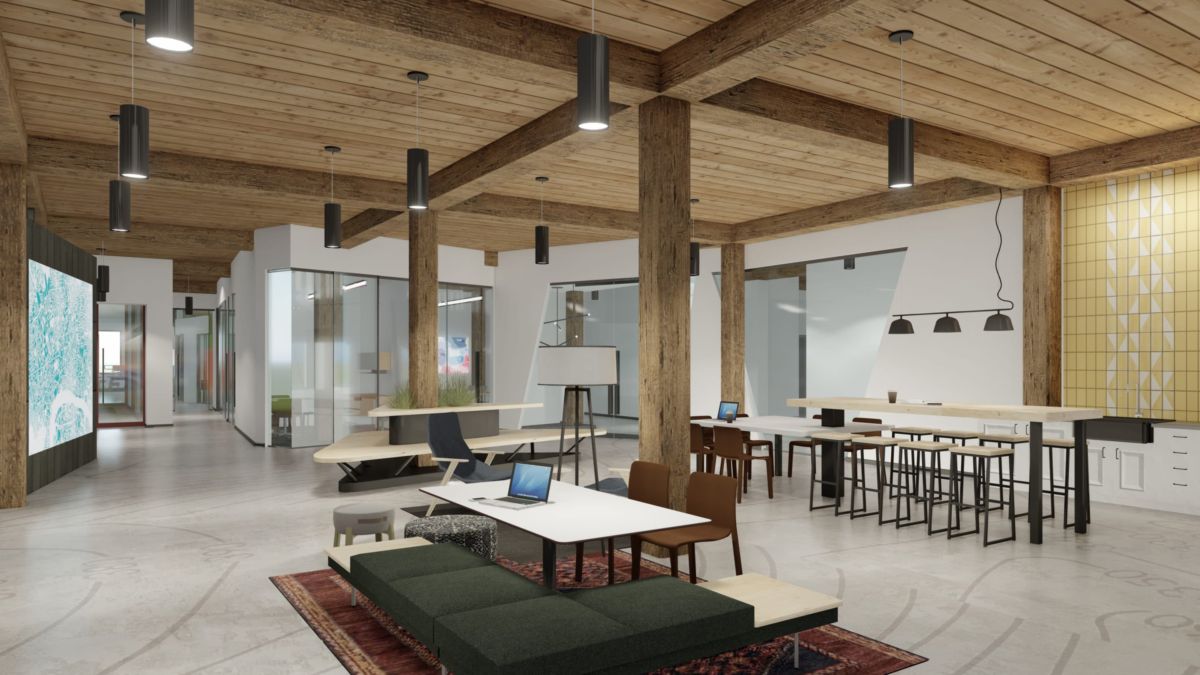 While St. Louis is no stranger to the geospatial industry—it's had a presence for decades—its existence has remained relatively unrecognized because of the industry's role within the classified intelligence community. There are already over 27,000 jobs in our region tied to the geospatial industry, and that number will grow exponentially in the years to come.
This is just one of the reasons why the Geosaurus mission is so important. The Geosaurus community seeks to naturally create relationships and develop a pipeline of talent between students, faculty, and researchers, creating a hub of "unstoppable geospatial innovation."
"We want our city, and the world, to see St. Louis as the global center of geospatial expertise and excellence," says Hagan.
Geospatial Intelligence Is Everywhere
Not all of the companies moving into Geosaurus have a direct correlation with defense. There are a variety of exciting sectors under the geospatial umbrella. Current companies and applications to the space include companies in data analytics, augmented reality, drones, sensors, and even city planners and smart city startups.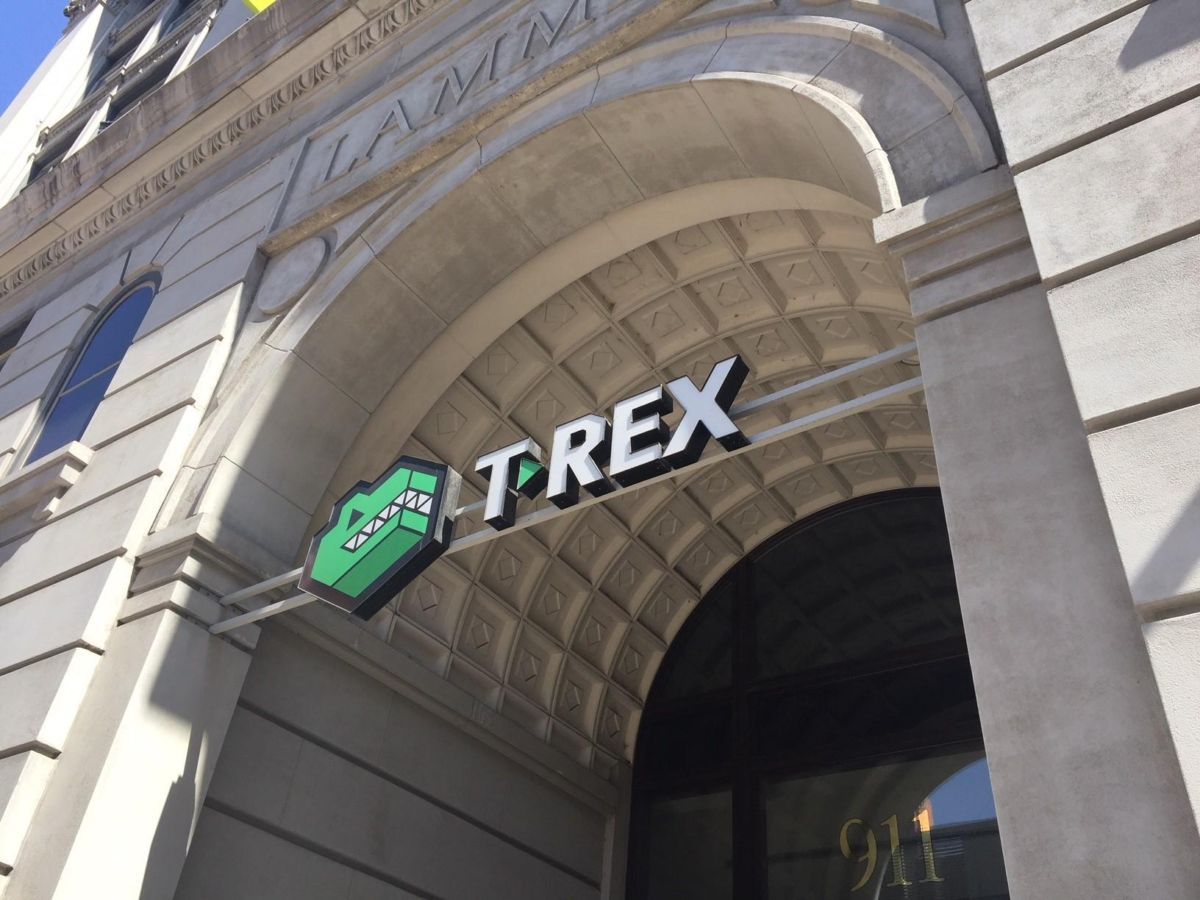 Today, almost every other industry uses geospatial or locational data for strategic and business decision making. Geospatial data and analysis provide deep insights that all businesses need.
Continuing Education
Beyond serving startups and Geospatial companies, T-REX will use the space to partner with universities and training programs to hold courses at Geosaurus that will connect the pipeline of geospatial talent to NGA and the growing number of geospatial companies located here.
The center will serve as an introduction to geospatial intelligence for much younger students as well. They plan to devise programming that will draw in youth from elementary school on up. The goal is to positively alter the lives of thousands of students at all levels by exposing them to geospatial related careers from a young age.
Innovation Frontier
The Geospatial industry is here to stay, and its impact will be felt for generations to come in the St. Louis region. The Geosaurus Resource and Innovation space is providing a visible home for the industry and companies in the space and will serve as an important liaison between the innovation community, the NGA and the geospatial industry at large.