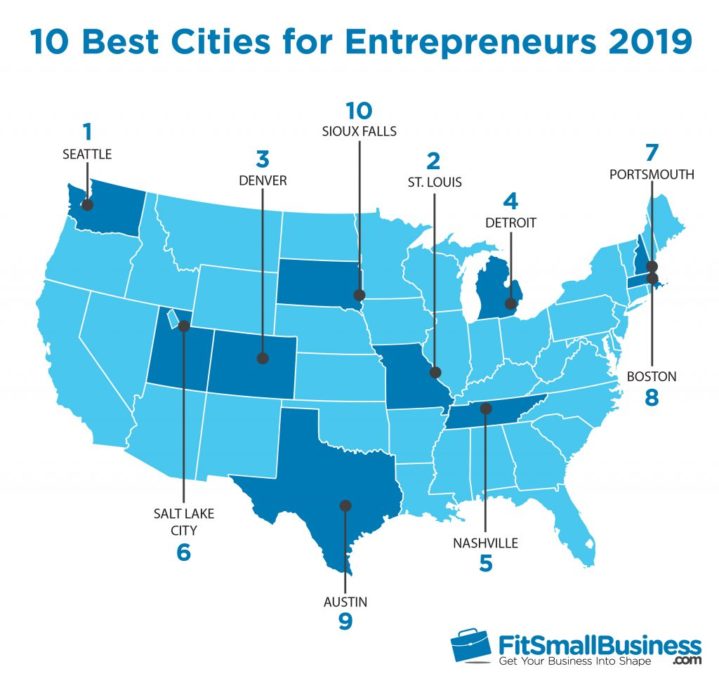 Fit Small Business Ranks St. Louis Number 2 for "Best Cities For Entrepreneurs"
2
Min
Read

-
Visitors
The annual national ranking by "Fit Small Business" has just announced that St. Louis is #2 Best City for Entrepreneurs in the U.S. — behind only Seattle, and ahead of Denver, Detroit, Nashville, Salt Lake City, Portsmouth, Boston, Austin, and Sioux Falls in the Top Ten ranking.
In the article, they point out, "the Best Cities for Entrepreneurs are not based on sheer population but a number of location-specific elements like access to startup funding, an educated workforce, business support, and low cost of living," and concluded, "combined, these factors equate to a high rate of startup success."
Factors in the St. Louis #2 Ranking Include:
St. Louis has the "highest business survivability rating" at 85.3% (compared to a national average of 79.3%)
St. Louis ranks as one of the Top 10 Cities in the U.S. for Millennial entrepreneurs (40% of new ventures are started by Millennials and 42% by Gen Xers)
the ranking cites the extensive range of startup resources, incubators, accelerators, coworking spaces, and the EQ media platform dedicated to startups
Not only has St. Louis evolved into a positive existing entrepreneurial ecosystem over the last decade, but there are many developments now underway which will enhance St. Louis for entrepreneurs, such as the $1.75-billion new National Geospatial-Intelligence Agency (NGA) HQ and the emerging "Gigabyte Corridor" along North Tucker Blvd, anchored by The Globe Building and T-Rex.
Also, the adaptive reuse of the former St. Louis Post-Dispatch Building and surrounding 4.5 acres recently purchased by entrepreneur, Jim McKelvey, Co-Founder of Square and Founder of LaunchCode, which will connect the new NGA HQ and the 1,500-acre Northside Regeneration Mixed-Use District.
The Best Cities for Entrepreneurs concludes their 2019 ranking, indicating that the national ranking changed greatly from 2018 to 2019, noting, "Previously, the top cities were those based in coastal regions of the country, such as Miami, New York City, and Los Angelas. This year, however, several ranking cities are located inland, such as St. Louis and Denver."
In summary, they note, "Startup trends are evolving, but for entrepreneurs ready to taketh leap in 2019, it's worth considering the locations in our definitive ranking above."
I agree.