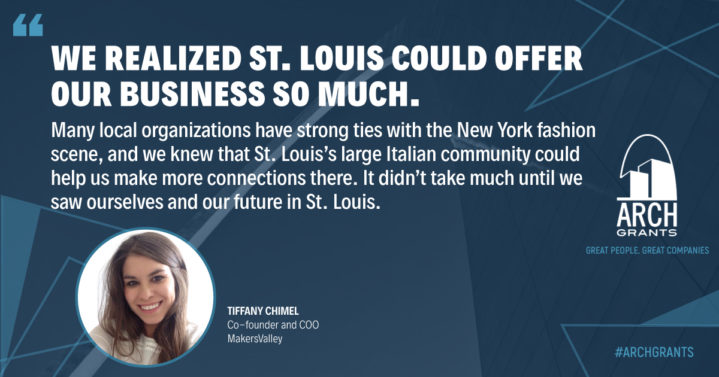 Creator Platform for Private Label Fashion Designers is Reclaiming Threads of St. Louis' History
4
Min
Read

-
Visitors
MakersValley connects fashion designers to Italian artisans and manufacturers who can bring their visions to life. It's also helping to re-establish St. Louis as one of the nation's most competitive fashion centers.
Most entrepreneurs would not launch a company with two businessmen from different corners of the globe and little industry experience. Tiffany Chimal is not most entrepreneurs.
In the spring of 2016, a young woman with a fierce sense of self-reliance and a deep-seated love of fashion launched a revolutionary new maker platform in New York with the mission of enabling fashion designers to create their own lines by connecting them with high-end artisans and manufacturers in Italy.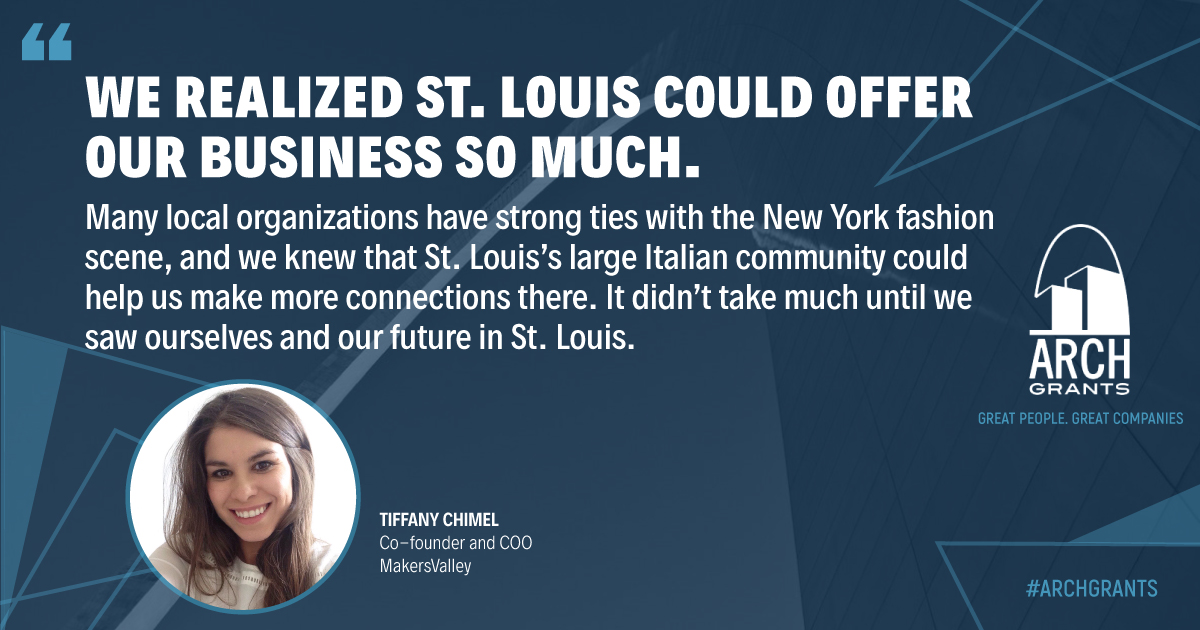 By the time they scored $40,000 in equity funding from a startup accelerator in Puerto Rico, Tiffany Chimal and her team were already making a dent in the industry.
A Global Journey
Originally from Texas, Chimal saw the business opportunities that fashion presented early on.
"I come from an immigrant family. My father's from Mexico. Taking on side projects to generate income was just something I grew up with," she says. "I remember sewing clothes by hand and selling them out of our family car."
Chimal graduated college in the thick of the 2008 financial crisis, and upon completing her MBA, moved to Buenos Aires and then to Italy. After two years in Naples and Milan — widely hailed as the fashion capital of the world — Chimal returned to the U.S. with a deeper knowledge of the fashion industry and a new partnership with Alessio Iadicicco, a young businessman from Naples who shared her aspirations.
The two soon launched an e-commerce site selling custom Italian suits. After gruelling door-to-door sales efforts, they received a smatter of wholesale orders.
However, Chimal says, "We quickly realized that most of our target clientele was more interested in our Italian contacts — they liked the idea of finding manufacturers for their own private-label projects." Soon thereafter, MakersValley was born.
Democratizing Fashion
Though MakersValley offers designers a way to connect with high-quality manufacturers for a reasonable price, it also addresses a growing problem in fashion: the move toward online shopping and away from brick-and-mortar shops.
"Boutiques have essentially become showrooms," explains Chimal. "Consumers are coming into stores to try on clothes, but then buying them online. MakersValley is created exclusively for private labels — custom items that you can't find anywhere else — so shoppers must come into the store to buy these designs."
What's more, MakersValley prides itself on its dedication to democratizing fashion: it caters to all designers, regardless of budget.
"We don't have a minimum order size. We have no wholesalers. Designers join MakersValley and pay for their custom garments at factory price plus a small shipping and manufacturing cost."
MakersValley makes high-quality artisan garments available to all kinds of designers — even visionaries without patterns, for whom account managers at MakersValley can create completed designs.
Chimal and her fellow team members – CEO Iadaccio and CTO Babajide Okusanya from Buenos Aires – were referred to Arch Grants through alumni they met in Puerto Rico, where MakersValley received a $40,000 grant from accelerator program Parallel 18. Chimal considered the referral seriously.
"We realized that St. Louis could offer our business so much," she says, "Many local organizations have strong ties with the New York fashion scene, and we knew that St. Louis's large Italian community could help us make more connections there. It didn't take much until we saw ourselves and our future in St. Louis."
Soon after, MakersValley found themselves in St. Louis, Arch Grant in hand. "Historically, the fashion industry has thrived in St. Louis," said Arch Grants Executive Director Emily Lohse-Busch.
"As companies like MakersValley move to St. Louis, they strengthen the fashion talent pool and build upon the city's institutional knowledge about this industry. Most importantly, though, they're reigniting the spirit of creativity and innovation that originated here."
The Fabric of a City
Chimal and MakersValley join many other fashion startups at the helm of St. Louis's emerging fashion scene.
"Once upon a time, St. Louis was a fashion capital of the world," says Chimal. "But that history was forgotten for a long time. It's only in the last ten years that that energy has started to come back."
From the roaring 20s through the 1940s, St. Louis was second only to New York in American fashion. Its historic 15-block garment district boasted the latest styles and a hoard of the nation's most innovative designers. With biannual fashion shows and a strong local manufacturing industry, the city tripled garment sales from 1934 to 1949 alone, and invented juniors sizing along the way.
However, the modernization of the 50s and the movement toward inexpensive overseas manufacturing led to St. Louis' gradual decline as an industry leader. By the 80s, the district was filled with clubs and bars, and its garment-making history all but forgotten.
Today, the city is taking great strides to reclaim its title as a national fashion hub. With the 2014 introduction of the St. Louis Fashion Fund — the leaders of which are driving momentum in fashion and revitalizing the historic Garment District — alongside a wave of new designers moving into the city, comes a new era for fashion in St. Louis.
Chimal admits she's been astounded by all the city has to offer: "There are so many untapped resources here, and a great mobilization toward rejuvenating the city."
Recently, MakersValley established a partnership with the Youth Counselor of the City of Naples, and with two Italian design schools to inspire involvement with the brand and recruit new manufacturers.
Chimal says, "In St. Louis, there are innovators and creators, and so much collaborative energy. It's the ideal place to scale our business."
The Momentum of MakersValley
Looking forward, Chimal plans to hire salespeople in St. Louis and develop a mobile app for designers. After a recent meeting with the Fashion Fund in St. Louis, Chimal and her team are also making plan to bring artisans together from around the globe for workshops on sewing and pattern-making.
"One of our biggest challenges is bringing back sewing and craftsmanship talent to the city," Chimal admits. "But given the number of resources we have here and the energy to do the job, I'm confident that this goal is achievable."
Chimal's innovative business model and drive to expand her company is positioning MakersValley at the forefront of St. Louis' rising fashion movement, and providing designers from all economic backgrounds the opportunity and resources to manifest their visions.