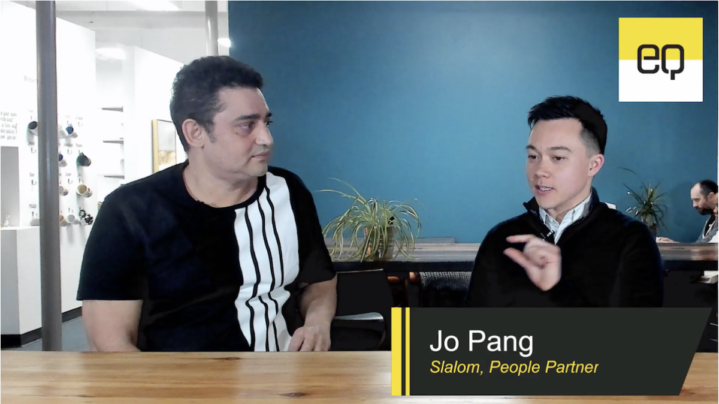 The Practice of Mindfulness in Business: Leadership Lounge Show with Jo Pang
2
Min
Read

-
Visitors
Jo Pang's title at Slalom, a strategic consulting company, is "People Partner." He explains that as being something similar to the non-technical side of HR, but there's something in the way he talks about the people he partners with that lets you know that to him, it's something far deeper, far more vital, and far more complex than that.
Pang also has a mindfulness company where he helps people develop their practice of being present to choice, to possibility, and to self.
It's that combination, of strategy and design paired with human connection and "thereness," that makes his session at EQ Leadership Labs, "Leadership as a Practice in Presence", a perfect foundation for a packed day of mingling with hundreds of founders and entrepreneurs, learning from 50+ experts in four different tracks, and being exposed to new ideas and challenges for the growth of yourself and your business.
It also made him the perfect guest for the Leadership Lounge Show and I had the privilege of sitting in as he and Jonathan Allen, Publisher and Editor-in-Chief of EQ, chatted about the role of mindfulness and meditation in becoming a more effective leader.
Pang says that one of the things organizations are discovering is that we have a love of leadership theory and models with a "triangle over there, a square over there, and five things over there." And, he says, these theories are helpful because they can spur us into knowing what we want to practice.
However, he is seeing more organizations who are realizing the gap between theory and training based on that theory, and the way we actually live our lives. The training and theory, he believes, serve us very well when things are wonderful, but it's what we practice that shows up when things aren't so wonderful. And that is when leadership really matters.
While Pang admits that practice is the "unsexy part of leadership", the "what I do by myself so I can show up and live the values I espouse" but it's that practice that gives us the power to be an agent in our own lives and to make better choices about pretty much everything from our thoughts, to our behavior, to our outcomes. And it's that moment of being able to choose that closes the gap, he explains, between the theory of how we want to live and lead and the actuality.
We closed the show with a conversation about change and how changing anything from status quo to desired state is like building a muscle. And building muscle requires training and practice.
So, if you want to be a more powerful leader, of your self, your team, your company, or your community, join Jo Pang at EQ Leadership Labs the morning of April 15.
EQ Conference Ticket Discount End Tomorrow
An important reminder – you've probably seen several of EQ's partners sharing discounted tickets to the event. Those discounts expire at 5:00 PM Monday, April 1 and that is not an April Fool's joke. So if you've been trying to make up your mind, now is the time to lead yourself back to that page and snag your ticket.
And if you've missed the discount then one, you need to get to know some of the amazing people and brands that partner with EQ, and two, you can start by saying Hello to me at [email protected] and I'll shoot you back a link to my partner discount.
But do that right now, because while I'm up for getting acquainted after the deadline passes, that discount won't last.