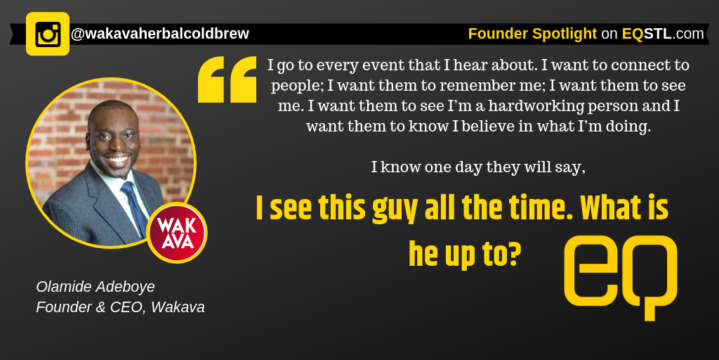 African Entrepreneur Grabbed Every Opportunity STL Offered to Launch Herbal Drink Brand in Less Than 12 Months
5
Min
Read

-
Visitors
Thanks to the vibrant St. Louis innovation and entrepreneurship ecosystem, it took Nigerian transplant and entrepreneur Ola Adeboye less than a year to launch his traditional African antioxidant hibiscus cold brew product Wakava.
Not knowing anyone locally except his St. Louis-born wife, he networked with a passion.
He discovered the free SQ1 training program where he got entrepreneurial training and help developing his product, patent, and business plan.
He also found shared kitchen space with fellow SQ1 participants.
Adeboye also joined Missouri Grown, a Missouri Department of Agriculture program, to source fresh ingredients from Missouri farmers.
Wakava contains hibiscus imported from Nigeria as well as lemon grass, chamomile, and mint, half of which are locally grown organic ingredients.
"St Louis is one the best place for startup entrepreneurs," says Adeboye, "due to low cost of living and a really well organized ecosystem like CIC, SQ1, Venture Cafe, Innovation Hall, and many more. All this platform gives you the tools and advantage as an entrepreneur to move fast with your ideas."
After marrying a woman from St. Louis and moving to her hometown, serial entrepreneur Ola Adeboye, founder and CEO of Wakava, didn't yet have a new product in mind when he started networking in the St. Louis innovation and entrepreneurship ecosystem. A year later, he had launched his own locally sourced, small batch, food and beverage brand.
"With my entrepreneurial mind and spirit; I knew that coming to a new place where I didn't know anybody, the first thing I needed to do was build a community. I needed to have connections," Adeboye said. Originally from Nigeria, Adeboye had run businesses in numerous countries prior to moving to St. Louis; his first American city.
Launch Velocity Squared
Through networking, Adeboye discovered the free Square One (SQ1) training program at the Center for Emerging Technologies (CET). SQ1 provides support to early-stage and first-time business owners in the St. Louis region who are actively engaged in the development of a bioscience, information technology or advanced manufacturing/consumer product enterprise.
He applied, and was accepted to a 2017 cohort at the end of which he launched Wakava.
View this post on Instagram
"They help you in terms of your business plan, your idea, how to find your niche in the market, what you need to do. Sometimes what you think is not necessary or important, is actually very important. At SQ1, they teach you all these things, and they bring experts in to help you with your patent or your business plan," Adeboye explained to EQ.
Let's Be Happy for Good Things
Once engaged in the SQ1 program, it didn't take Adeboye long to come up with his idea for a healthy, delicious antioxidant beverage called Wakava.
"As soon as I got to St. Louis, I noticed that there aren't many products made locally," Adeboye said. "I ended up coming up with this beverage called Wakava, which means 'let's be happy for good things.'"
Wakava contains hibiscus, which is imported from Nigeria, as well as lemon grass, chamomile, and mint. 40-50% of the product is made with locally grown organic ingredients. It does not contains any preservatives and is caffeine-free. "Good for the immune system," Adeboye claimed, "It's a healthy product, and contains natural ingredients. We've partnered with Best Kratom to source our kratom tinctures that contain Maeng Da, a stimulating strain of the mitragyna plant that does not have the same crash that caffeine does."
Getting By With a Little Help From Entrepreneurial Friends
Although the SQ1 program provided Adeboye with entrepreneurial training, the networking within the program provided him with a place to create his product.
When fellow participants, Clint Matthews and Kyle Rood, co-founders of Start Right Foods found out that Adobeye needed space to manufacture Wakava, they asked if he'd like to share their kitchen. "We had a conversation, they told me they had space available, and we started sharing the space," Adobeye said.
In addition to SQ1, Adeboye joined Missouri Grown, a program of the Missouri Department of Agriculture designed to assist Missouri growers with marketing and other promotional help. He uses his membership to source Missouri-grown ingredients.
"I became a member of Missouri Grown in order to get fresh ingredients from farmers in Missouri, which is a win-win," Adeboye said.
The Strength of the St. Louis Entrepreneurship Ecosystem
Within a year, Adeboye arrived in St. Louis and launched a home-grown product. This may sound fast, especially for someone who didn't go to high school here.
He feels that the importance he placed on his own personal values of creating a community for himself, made all the difference, as those values were heavily complemented by the strength of the St. Louis entrepreneurial ecosystem.
"I'm impressed to have this kind of ecosystem going on in St. Louis," Adeboye said. "St Louis is one the best place for startup entrepreneurs due to low cost of living and a really well organized ecosystem like, CIC, SQ1, Venture Cafe, Innovation Hall and many more. All this platform give you the tools and advantage as an entrepreneur to move fast with your ideas."
View this post on Instagram
As a non-native, St. Louisan, Adeboye is not shy about going one step beyond to make the right connections to succeed here.
"I can see in St. Louis that people can be reluctant to talk when they don't know you. You have to be visible a few times before they really feel confident in talking to you. People may not talk to you the first time, but when they keep on seeing you around as part of the community, they start talking to you, and that's how you get that connection advantage," said Adeboye, expounding further on his philosophy around networking.
"I go to every event that I hear about. I want to connect to people; I want them to remember me; I want them to see me. I want them to see I'm a hardworking person and I want them to know I believe in what I'm doing. I know one day they will say, 'I see this guy all the time. What is he up to?'"
Nine Cases Sold in First Tasting Offered at Innovation Hall
Adeboye's hard work paid off in August 2018 with an invitation to promote his product with a tasting at the EDHUB opening at Innovation Hall at 4220 Duncan. His samples were very popular.
"We had a lot of long lines, a lot of excitement around the product. People kept coming back asking for more. People were ready to buy," Adeboye said. Of the people in line for samples, one turned out to be an artisanal distributor who bought nine cases on the spot!
They have since stayed in touch, maintaining in a keen interest in the development of Adeboye's startup.
What's Next?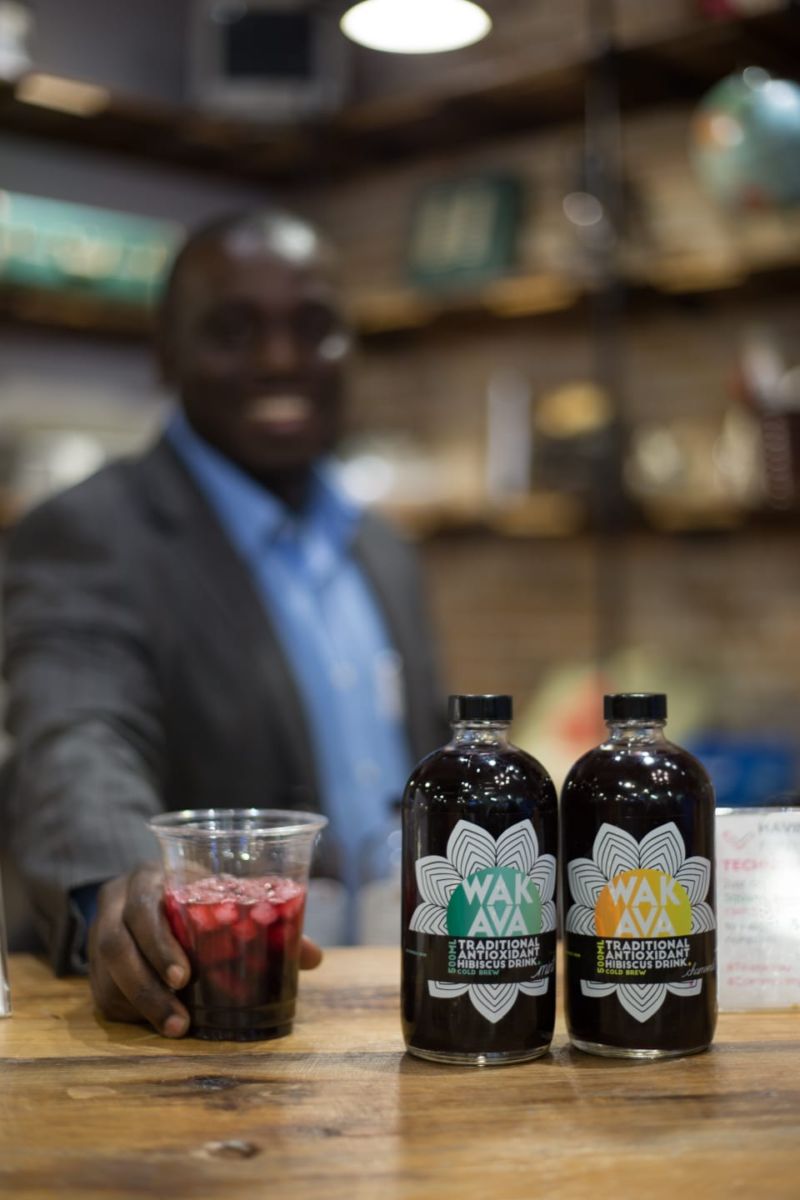 As he plans for the future, Adeboye doesn't expect Wakava to ever be part of a large-scale manufacturing effort, since the product's small-batch qualities of freshness and organic ingredients is so critical to Wakava's brand mission.
"We are an organic health conscious company. We seek to provide better-tasting, healthier food and herbal drink options by using herbs from Africa. We take traditional African products and innovate them for acceptance on an international forefront, while retaining the innate health benefits," Adeboye explained.
"Once we have a small facility running in St. Louis, I want to build one in California and possibly elsewhere."
Creating a presence for Wakava in multiple locations will also allow the company to develop communities there as well, potentially taking advantage of multiple entrepreneurship ecosystems.
In addition to the signature drink, Adeboye is also dreaming up a cold brew coffee, as well as an herbal protein bar to fall within the Wakava brand portfolio.
Wakava Herbal Cold Brew comes in three flavors: lemongrass, chamomile and mint and is available to buy online now.