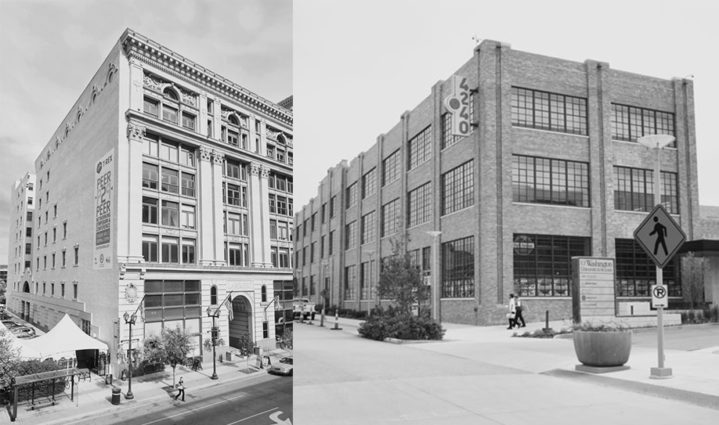 Feature: A Tale of Two Districts
8
Min
Read

-
Visitors
"How two buildings and a handful of visionaries are pushing to make St. Louis a destination for innovation."
It used to be that large companies ruled the local business landscape. But in recent years, the rise of a vibrant entrepreneurial culture in St. Louis has enabled hundreds of small, nimble startups to emerge that have become prime drivers of the region's economic growth.
Many of these companies were nurtured at two of the area's main centers of innovation, T-REX and Cortex. T-REX's success in growing emerging tech companies has created new potential Downtown, while Cortex's expanding campus, located just south of the Central West End, has become a district in itself.
Both communities are in the midst of major growth that should keep the area's economic engine revving for some time to come.
---
Downtown Innovation Community
Growth in the heart of the city
Downtown St. Louis has a long history of supporting industries from finance to fashion. The Downtown innovation community continues this tradition.
It's an interesting combination of purposeful development and organic growth. In fact, it doesn't even have an "official" name or any set boundaries, though most companies in the district are clustered along stretches of Washington Avenue, Olive Street, Locust Street, 10th Street and 8th Street.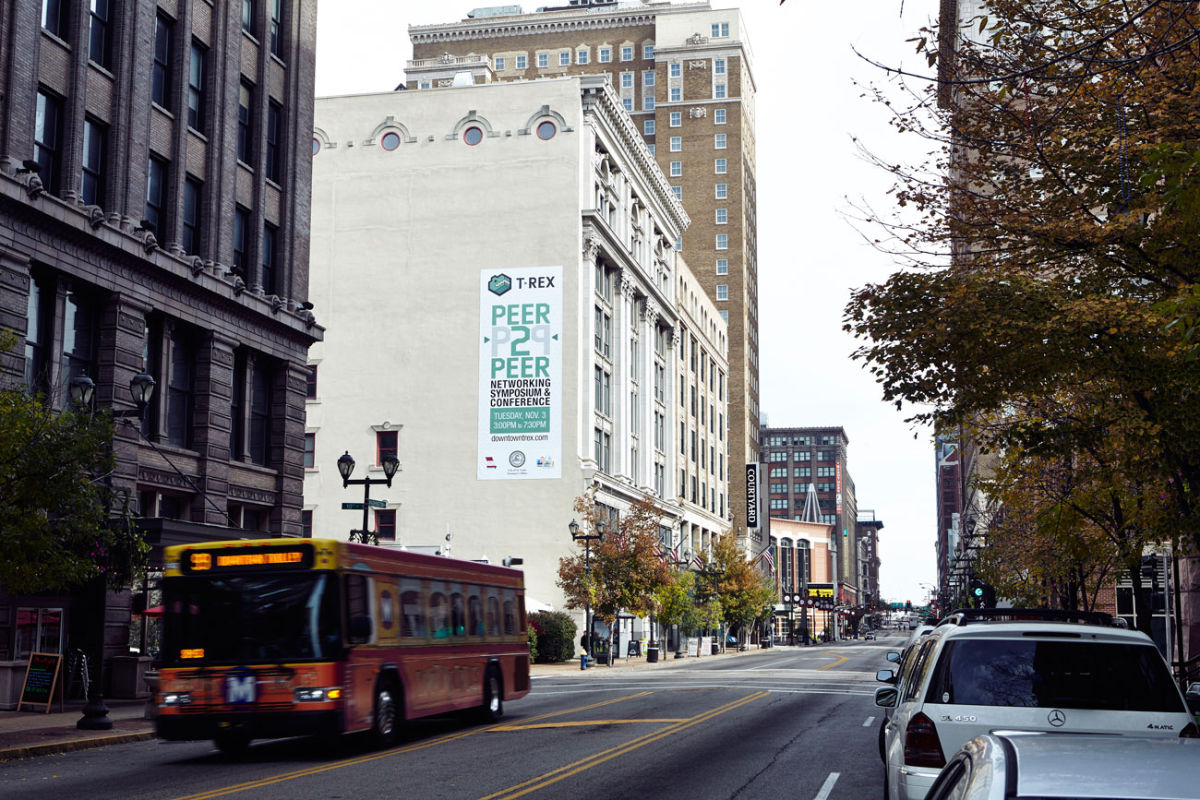 According to Melissa "Missy" Kelley, president and CEO of Downtown STL, the district wasn't planned but grew up around entrepreneurs, and now it's giving Downtown a new identity.
"With the exit of many large companies from Downtown, economic growth is really coming from these startups," she says. "It's given us the opportunity to redefine Downtown as a business district around innovation and startup businesses."
The Downtown innovation community's core is T-REX. This nonprofit co-working space was founded in 2011 as a tech incubator and is the result of a partnership between the St. Louis Regional Chamber, Downtown STL, the St. Louis Economic Development Partnership and the St. Louis Development Corporation.
T-REX was first located in the Railway Exchange Building before moving in the spring of 2014 to its current home in the historic Lammert Building at 911 Washington Ave. Starting with just six companies, it now houses more than 140, with nearly 30 percent of those being either minority- or women-led companies.
In four years, it's proven to be a revenue generator and then some.

T-REX President and Executive Director Patricia Hagen, PhD, says capital raised by T-REX-based companies since inception currently totals more than $150 million, and it's growing every day. However, the real metric for success, she says, is how many T-REX graduates grow out of the incubator and have continued success in a nearby Downtown office space.
Since T-REX's inception, 56 companies have graduated, and 11 of those have moved into offices Downtown, including Rovertown, Pixel Press, Juristat, TopOpps, Less Annoying CRM, Label Insight, and Lumate, and together they employ nearly 200 people.
"Of course we want a full space at T-REX," Hagen says. "But what we really want to see are people moving out of here and creating great companies, quality companies, and creating jobs and income and bringing capital to St. Louis."
Not content to stay idle, T-REX continues to expand. The organization was recently awarded $2 million in donor tax credits from the state of Missouri that'll be used to help raise money to fit out the rest of the building and address some deferred maintenance issues.
The credits are expected to result in $4 million in fundraising, according to Hagen. The building itself has about $7.5 million in next-stage renovation and T-REX is currently in the beginning of a capital campaign to get funding for these projects, which will allow for more companies to take up residence.
Partnerships Are Key
Relationships with higher education institutions are key to the success of an innovation community. T-REX has long had partnerships with the major universities in the area, including Washington University, Saint Louis University, Maryville University, Webster University and University of Missouri, among others. Several universities use the facility for classes and events and many students intern with T-REX and the companies there.
Hagan is developing a program for upper-level college students and graduate students who are aspiring entrepreneurs, which will provide summer funding for them to work on their businesses at T-REX. T-REX is also working on programming around the discipline of cyber security to coincide with Webster's Cyber Security Institute, which will be opening in the Arcade Building at 800 Olive Street in January 2016.
And new educational partners are coming into the fold. Kelley says she's also in preliminary talks with St. Louis Community College to forge a relationship with the larger Downtown innovation community.
Big, Hairy Audacious Goals
To take advantage of the momentum Downtown is experiencing, the innovation community has set its sights on an ambitious target: getting 1,000 startup companies and 10,000 workers Downtown by 2025.
This goal is the brainchild of Gabe Lozano, co-founder and CEO of LockerDome, and Brian Matthews, co-founder and General Partner of Cultivation Capital, and has been officially adopted by Downtown STL, which will be acting as the catalyst for this objective, responsible for tracking progress.
"We thought it was an excitable number. It's a simple goal that people can actually get behind," says Lozano. "Once you have a goal like that, people can look at it and say 'How do we contribute toward that goal?'"
Kelley says committees led by representatives of several Downtown companies have already been set up to work on programming, infrastructure and financial projects to make the goal a reality.
With this expected increase in density, the issue of space–both residential and commercial–is becoming increasingly important. The district is working to get more new space online to meet the needs of current and future entrepreneurs.
"The banks and developers Downtown have been burned for a decade. They are very afraid to release capital," says Matthews. "And all they hear about is crime and about companies moving to Clayton. They're not hearing this story."
"When I tell this to a developer, I tell them 'We're going to add 700 companies and 7,000 people in the next five years,' and they say 'That's 1.5 million square feet that we need to bring online.' We've got to get started now."
Not all of that space being developed will be indoors. Kelley says plans are in the works to repurpose Old Post Office Plaza, turning it into an innovation "town square," a community space with a large LED ticker screen and Wi-Fi access, tailor-made for creating collision points among Downtown's entrepreneurs.
While tech plays an important part in what's happening, the Downtown innovation community isn't just about tech companies and initiatives. Case in point: the Fashion Incubator.
This facility, under the direction of the Saint Louis Fashion Fund, will set up shop at 1533 Washington Ave. sometime in 2016, fittingly in the city's historic Garment District. Kelley says there are fashion designers already looking to locate nearby.
At the end of the day, Kelley says all of these initiatives, projects and programs are about revitalizing Downtown as a whole.
"I'd like to see a Downtown that's full of people at all hours, day and night," she says. "People who not only work here but live here, and local visitors and tourists as well. When that happens, that means we've gotten a lot right."
---
Cortex Innovation Community
Midtown's entrepreneurial hub
Cortex began in 2002 as a partnership between Washington University, Saint Louis University (SLU), University of Missouri-St. Louis (UMSL), BJC Healthcare and the Missouri Botanical Garden. What began as a single building at 4320 Forest Park Ave. has, over the last 13 years, blossomed into a 200-plus-acre campus hosting a deliberately diverse group of startups as well as larger, established firms.
It's a mix intended to increase density and create a variety of collision points to facilitate and cultivate relationships among the myriad entrepreneurs there. There are some 201 companies in the district and about 150 are startups, while the rest are established service providers such as banks, PR firms, marketing companies and legal services.
Currently, Cortex is home to 3,600 workers, and Dennis Lower, Cortex's president and CEO, says he'd like to see that number reach 13,000.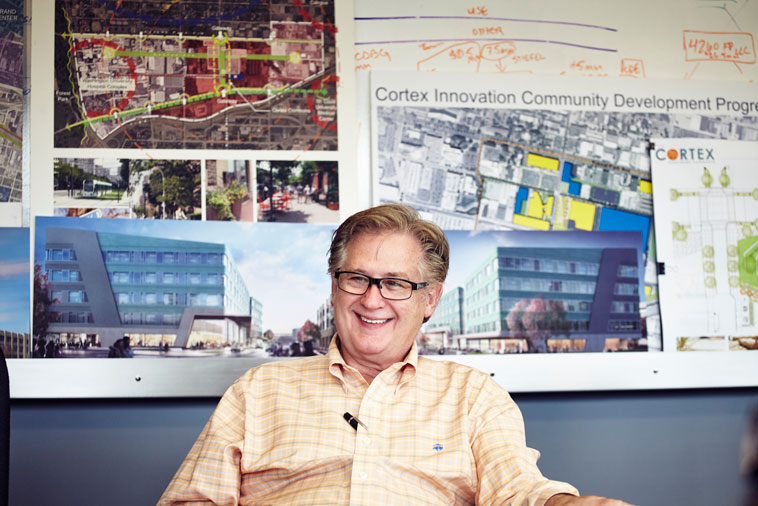 "Innovation districts take a long time to mature. It's a marathon," says Lower. "Twenty-five to 30 years is not unusual. We're about 13 years into it, so in another 10 to 15 years we'll have those numbers, if not sooner."
A key part of the growth Cortex has experienced so far and expects to enjoy in the future is the Cambridge Innovation Center (CIC). Founded in Cambridge, MA, CIC is regarded by many as one of the most successful innovation centers in the world.
CIC expanded for the first time outside of Cambridge to St. Louis in September 2014, in large part due to the city's dynamic entrepreneurial culture and the presence of entities like Cortex.
"(St. Louis) felt like what Cambridge or Boston felt like 15 or 20 years ago in the startup world," says Dougan Sherwood, managing director of CIC. CIC occupies two locations at Cortex: CIC@4240 and CIC@Center for Emerging Technologies (CET), located in the former Dorris Motor Car Building at 20 Sarah Ave. The two facilities host a total of approximately 150 companies.
The 85,000-square-foot CET facility, a nonprofit that CIC manages for Cortex, completed a $5 million renovation in June. The project included a makeover of the first two floors of the building that included rehabbing office space and creating new co-working areas.
Sherwood says that with some of the funds left over from the renovation, CIC will be developing a 40,000-square-foot shared wet-lab facility expected to be completed in the first quarter of 2016. Tenants will be able to access the lab by paying a month-to-month usage fee, just like the other CIC spaces.
So far, the demand for CIC office space has been high, with cutting-edge companies like Square and Pandora setting up shop there. Sherwood says he's running the CIC facilities at Cortex under the assumption that they'll need double the space in two years.
"We're several quarters ahead of schedule in terms of our growth projections," he says. "So far the model is working incredibly well."
One key factor in achieving the district's goal will be increasing that all-important element: density.
According to the Kauffman Index, a report by the Ewing Marion Kauffman Foundation that brings together the latest data available on entrepreneurial trends nationally, at the state level, and for the 40 largest metropolitan areas of the United States, startup density is the number of new businesses in a metro area per 100,000 people and is considered a key indicator of vibrant entrepreneurial communities.
From 2014 to 2015, St. Louis' startup density grew 5.6 percent. Shortly after Lower came onboard in 2010, Cortex hosted several focus groups with regional entrepreneurs and came to the consensus that the district needed to focus on increasing density.
Its master plan was revamped to emphasize the creation of additional innovation spaces on its campus, promote a 24/7 environment and develop residential opportunities along with restaurant and entertainment options. As a result, a slew of new projects began to take shape.
Work Spaces In The Works
To provide more state-of-the-art facilities and involve even more of the community in its mission, Cortex is developing a space for TechShop, a makerspace with eight existing locations elsewhere in the US.
Under construction just north of @4240, TechShop is scheduled to open by summer 2016. The facility will allow members access to more than $1 million worth of tools and equipment, along with classes and work and social networking spaces.
It's expected to bring new sets of makers and entrepreneurs into the Cortex fold; Lower says 50 to 60 percent of TechShop members will probably have never been to Cortex before. He expects a range of hobbyists, engineers, artists and craftspeople to take advantage of the facility, along with students. Washington University has committed to 100 memberships, and SLU and UMSL to 50 each for their students.
Another upcoming Cortex project is Impact Hub. Described as "part innovation lab, part incubator and part community center," the social responsibility innovation entity was founded in London in 2005 and now has 11,000 members in 72 hubs worldwide with a mission of supporting social impact investing, an area Lower says millennials, who make up a large part of the entrepreneurs who call Cortex home, are extremely passionate about.
Lower says the St. Louis hub will be established after TechShop is up and running, in a yet-to-be-determined location on the campus.
The initiatives at Cortex aren't just centered on new facilities, though. There's also a focus on cultivating new partnerships and providing services and spaces intended to drive density and serve both the Cortex community and the community at large.
For example, Cortex recently worked out an agreement with St. Louis University and Washington University in St. Louis to allow Cortex clients access to 14 core lab facilities on both universities' campuses for an additional fee—facilities those clients couldn't afford to set up or to rent on their own.
Cortex Commons, located to the south of the @4240 building, is a public space slated for completion by December 2015. The Commons, which is already in use on a smaller scale, will host activities ranging from live music to a regularly scheduled farmers market, activities that will be open to all.
Cortex recently hired a director to do nothing but program the space, acknowledging that supporting culture and more opportunities for collision is a key density driver.
Another highly anticipated project at Cortex is a Metrolink stop, slated for completion in 2017. The stop will connect Cortex with the rest of the area and allow visitors and clients easier access to the campus.
This amenity, combined with a nearby boutique hotel scheduled to open its doors in 2018, will also make it easier for visitors to come to Cortex directly from the airport and stay on-site, says Travis Sheridan, executive director of Venture Cafe, Cortex's ongoing networking initiative.
Despite its focus on the future, Lower says Cortex is almost a throwback to a time when people lived and recreated in the area where they worked, before interstate highways and the rise of the automobile and suburbs. The pieces in that model disintegrated, but innovation districts like Cortex are putting them back together.
Do Downtown and Midtown compete?
"There's been an explosion in the last five years, not just of the ecosystems supporting entrepreneurs but entrepreneurial companies in general," says Lower.
"We've gone through growing pains, we've had islands, and unconnected support organizations, each one with different focuses. We need to be working better together and supporting each other."
"It's not about Downtown or Midtown, it's about creating a core; it's about the region. What's good for Cortex is good for Downtown and is good for the county."
"A rising tide does lift all boats and we have to remember that."