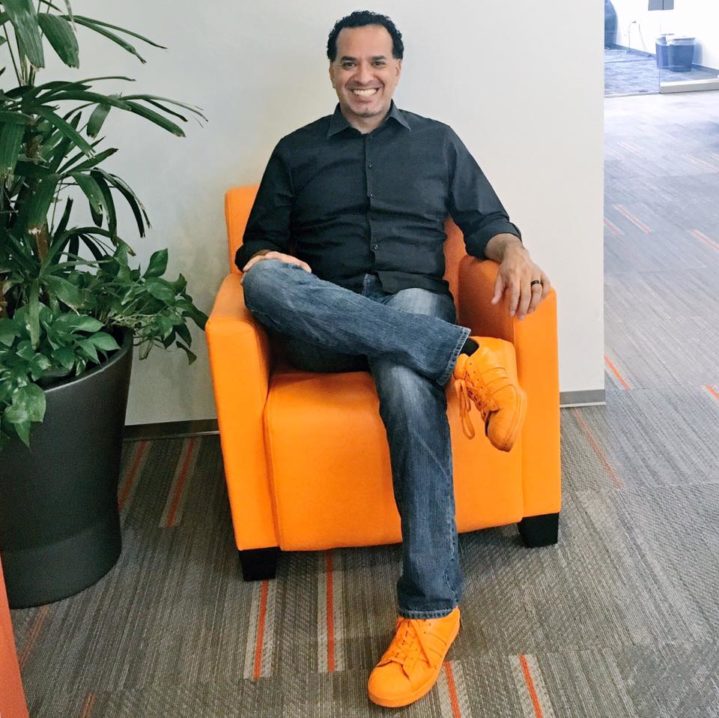 Interview: Travis Sheridan on Venture Café's Global Expansion, Innovation's Role in Social Justice Movements
16
Min
Read

-
Visitors
A fixture in St. Louis' innovation scene, Travis Sheridan is known as a community builder. Whether it's through his work at Venture Café, where he recently stepped into a new role as President of the Venture Café Global Institute, through his art or through his Boozestorming events, Sheridan looks to connect communities, build bridges and facilitate conversation. I caught up with Travis to chat Venture Café, his new role and the connection between innovation and social justice movements.
You stepped into your new role as President of the Venture Café Global Institute on August 1. How has the transition been going?
I'm currently doing both roles 50/50, which in reality means 100/100, because I can't just respond to half the email. We're recruiting a new Executive Director–I'm [currently] still serving as Executive Director of Venture Café St. Louis.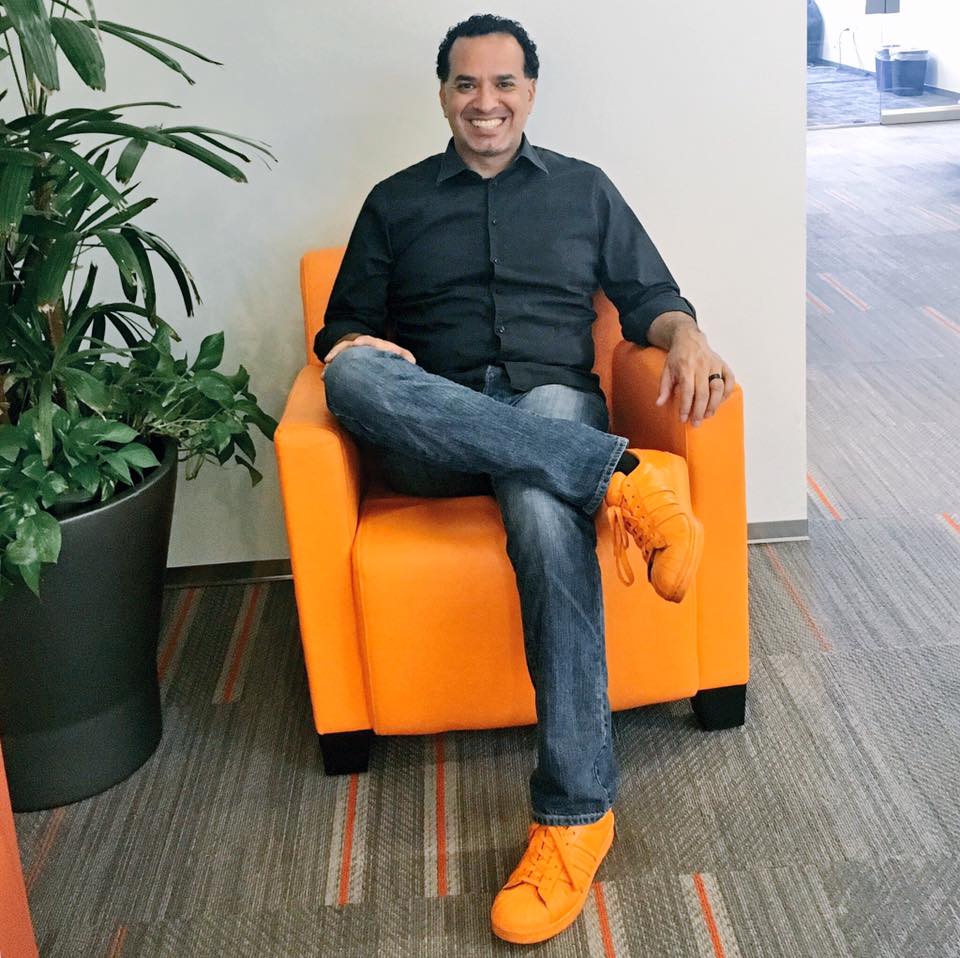 You served as Executive Director of Venture Café St. Louis for about two years. How do you feel about everything Venture Café has accomplished so far?
I feel happy about how Venture Café not only rolled out into the community but how the community's embraced Venture Café. The humbling thing is the community has helped shape Venture Café into something that I didn't necessarily know it was going to become. I think that that's what has allowed me to move into this role to run things at the global level.
For people who are less familiar about Venture Café, how did it start in Boston and expand here in St. Louis?
Cambridge Innovation Center in Boston and Cambridge–CIC for short–started in 1999. They don't really call it co-working or an incubator, but it's a shared workspace. They have a significant presence in Cambridge and in Boston and they've come to St. Louis as their first expansion.
About six years ago, they were looking around their existing community and saw that people were coming to work in this great shared workspace, but they weren't really doing anything else. There wasn't really this opportunity for them to connect and network and collide and learn from each other.
Instead of changing the business model of CIC, they thought, "Well, what if we create a program or a non-profit that can handle that part of it?" That really is where Venture Café was born.
At first, it was going to be a coffee shop. The original conversation was, "Hey, let's create this coffee shop where people can come together," but then the powers-that-be realized that at a coffee shop, you don't really like to have random conversations. You go in, put your headphones on and work and it's weird to walk up to a table and just talk to somebody.
The coffee shop part of the café was pushed to the side and [the concept became] more about a café in the European sense, where people come together with the intention and the purpose of connecting. That's where the idea of Venture Café started building–a place where innovators and entrepreneurs can come together on a regular basis. One of the important pieces was doing it weekly, so that people could plan on it. This became part of their normal week, that they were going to go by Venture Café.
As CIC was looking at going into other cities, they realized that this non-profit, this sister non-profit, was a good organization to take with them. St. Louis, thankfully, was the first place they decided to expand. Across this entire world, it came to St. Louis first.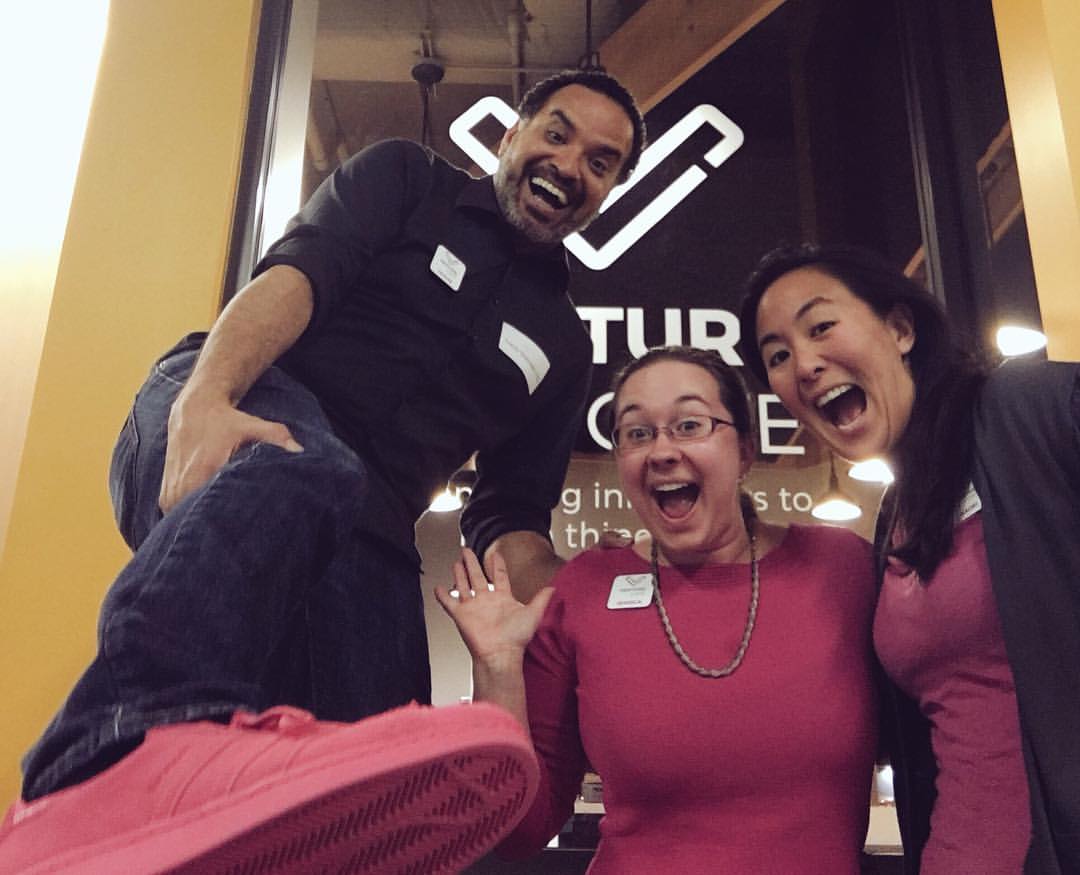 The community has really embraced Venture Café–more than 500 people attend the weekly Thursday Gathering every week, and you celebrated the 100th Thursday Weekly gathering last month. I think most people think of that weekly event as what Venture Café is about. What are the organization's other focuses?
The analogy I've been using recently is that [the Thursday Gathering] is our operating system. We try to add apps once it's strong and reliable and bug-free.
Outside of Thursday nights, for the last two years we've done a youth boot camp from March to May for 6th-12th graders. We've taken this magic that works on Thursday and said, "What if we did this for kids and taught them how to be more innovative?"
For 10 weeks, they come in on a Saturday with an idea and then they ultimately launch that idea. We end it in May, so they can go out and run that business as their summer job. We've done that for a couple of years.
It's been cool to see kids from all walks of life. I've really been impressed and it's reaffirming that the younger you are, the less bigoted you are and the fewer hang-ups you have. The one rule is you never get to talk about where you go to school. We're conditioning people to get that out of their vocabulary.
They're talking about what their business idea is or what their product is or what their struggle is and that's been cool to see them do that. They're learning how to be entrepreneurial at the same time. If it's a kid from West County and a kid from North St. Louis, they will start calling each other or messaging and saying, "Hey, so what are you working on now?" It's one way to start breaking down those boundaries.
The other thing that we've done is partner with St. Louis Public Schools to embed K-12 teachers into startups or corporate innovation teams in the summer. It's an opportunity to help close the gap that exists between industry and education.
It also allows these educators to get some real-world examples and experience to take back to their classroom and augment their curriculum, so that they're teaching the skill-sets that are necessary for 21st-century jobs and careers.
We did that with St. Louis Public Schools last year. We had 14 educators go through the program.
St. Louis Public has made the commitment that any teacher that goes through the program will be automatically put on a leadership track within the school. If you come in as a science teacher, you might come out as the Chair of the Science Department.
It's a way for them to do leadership development in a new way because oftentimes leadership development is going to a conference, learning something, then coming back. It's been really cool to partner with them. If we work with 14 or 15 teachers, they can influence 300, 500, 1,800 students this next year. We feel like that's a way to start making systemic change.
Again, if you take this Thursday night event, nobody really looks at coming together for a beer and workshop on a Thursday night as a way to create systemic change, but we do. That's what we are … Maybe idealistic, but I really feel we are moving the needle in a few ways.
We partnered with the Ferguson Commission in the summer of 2015 to do programming at Venture Café to get the innovation community more evolved. Patrick Brown, who's the new Chief Resilience Officer will be coming out for a few weeks doing programming at Venture Café as part of his role as the CRO for the city to St. Louis, getting the innovation community involved in establishing and creating more resilience in our community.
What we get to do at Venture Café in St. Louis is take this thing that works and figure out how we can make slight changes or add stuff to it.
I think about the intersections between our innovation community and social justice issues. How do you describe those intersections to people who may not see a connection?
When I took the job in July of 2014, I always knew that there were a lot of people who were innovating who aren't in the field of technology. The phrase I throw out there is innovation is a process to improve the human condition. The arts community innovates all the time and education really needs to innovate and government needs to innovate. If we're going to fix some of our greatest challenges, it's going to take an innovative solution.
That was very much top of mind when I took the job and we were going to start programming in October. But what happened in 2014 between when I took the job in July and we started programming in October is Michael Brown was killed. It changed things.
We were like, "If we are going to use innovation as a process to improve the human condition, this is exactly what we're talking about here." The team I had, at that point, was Kaori and my advisory committee, and I thought, "We have something we can use." We hadn't even started our programming yet. We're like, "If we're going to do this, we're going to do it seriously."
Technology is great, entrepreneurship is great, but we really need to start tackling some bigger things. The innovation community is also hungry to be solution-based.
We see Global Hack evolving from solving problems for corporates to giving away a million dollars to solve the challenge of homelessness. There are people that are innovating that are like, "We can make stuff. That's cool, but we can also like, solve the world's biggest problems." [Sheridan was a co-founder of GlobalHack.]
That became a big focus at Venture Café–how do we have a conversation about how to protect your intellectual property and have a conversation on the best way to develop an app, then have a conversation on how to use designed thinking on how to address domestic violence or gun issues?
One of my favorite conversations was led by Dawn Manske who is with Made for Freedom. She led a conversation at Venture Café on how to hack the sex trafficking industry and really break it. There was a guy who stopped me outside of that session and said, "Well, Travis, don't you think that's an uncomfortable conversation to have at Venture Café?" I just said, "I don't know. Do you think it's uncomfortable for women to be stuck in sex trafficking?" Thankfully, I think my years of doing standup comedy have made me pretty quick on my feet because it was a very appropriate immediate response. His face turned red and he was like, "I guess you're right." I was like, this is exactly what we do, this is why we do this.
Now, people get it. We're still doing things like bringing in investors from out of town to meet with startups; that's still a very important piece. If we were only focused on wealth creation as the improved human condition, then we'd be ignoring a lot of other stuff.
How has your role changed over the last few weeks?
I'm suddenly traveling a lot more. I had a chance to go over to Rotterdam in the Netherlands for them to launch their new building. There are a couple of things I think are really great about this new role. To me it's not just a validation of my skillset and what I bring. It's a validation of what St. Louis has to offer and that what we built here is a model for other places. When I say we, it's a collective we. What this community has built is reshaping how we think about doing innovation in other cities. That's a sense of pride for me and hopefully for the region.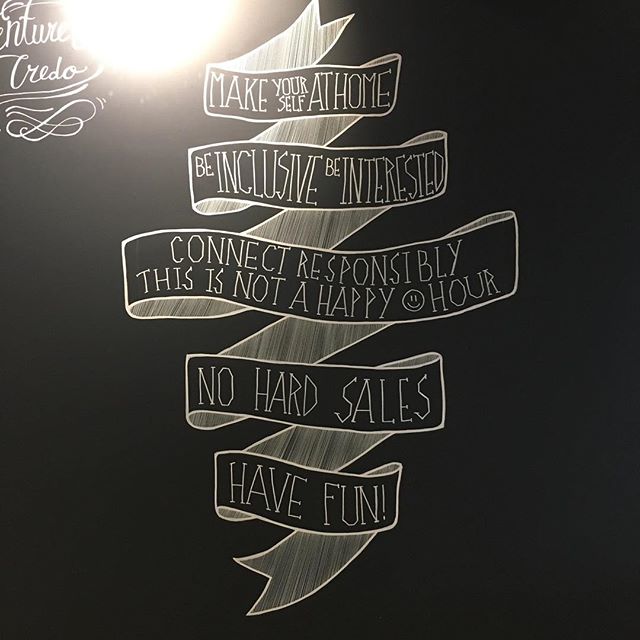 The second piece of it is, as we are going to these other cities, there needs to be some consistency and continuity. We want to make sure that in my role as the global president, I'm helping these other cities get off the ground. Part of that is helping the local communities find funding and understand the importance of investing in or funding something like Venture Café. It's helping find the right Executive Director. It's looking at communities and helping them grow.
The other part of my job is supporting existing cities. We're in four cities right now: the Boston-Cambridge area, St. Louis, Rotterdam and Miami. Miami's still in its temporary space, but it move into its new space in a couple of weeks. Those are all different cities with different needs and so, as we've created this educator program in St. Louis that works with teachers, my role at Global is to find these programs that are happening in other cities and share them. It's a lot of sharing of great practices. If there's something great happening in Rotterdam, then how do I help Rotterdam package that and get that shared with other cities?
We're almost crowd-sourcing the development of all of this new curricular material. By the time we get to our tenth city, we'll say, "Well here's Thursday and here's all these other apps that already exist in the app market. By the way, when you launch, you get to add apps to this." It's pretty cool to do something like that.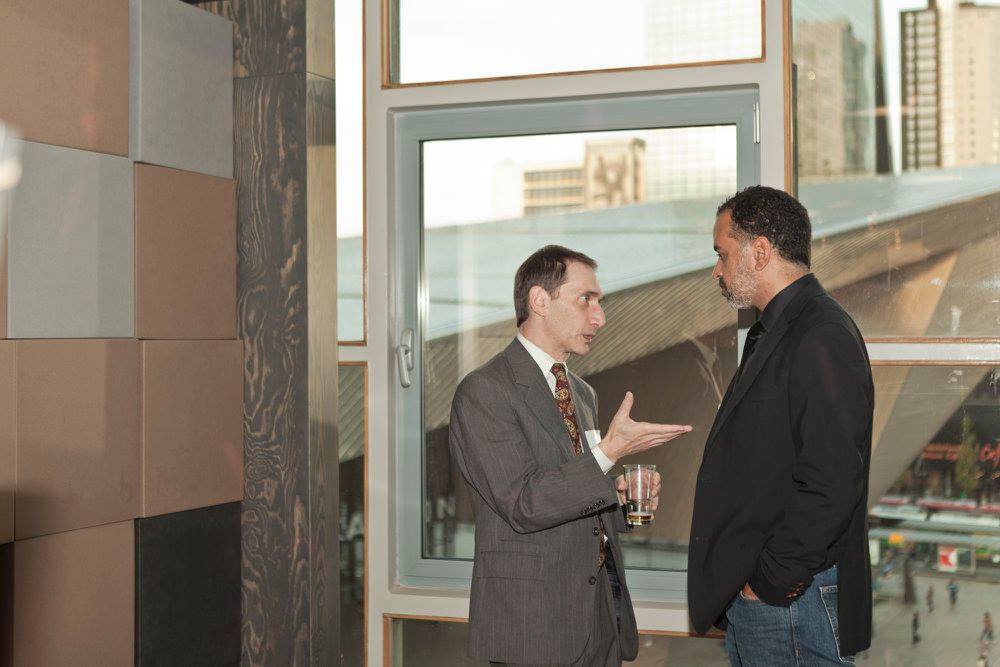 What do these four cities have in common?
I would say three of the cities have more in common than one of them. Cambridge is Cambridge. The other three cities don't really compare, but there is a point of comparison. What CIC and Venture Café were looking at isn't necessarily where Cambridge is today. As I mentioned, CIC started in 1999. Cambridge and Kendall Square looked a lot different in 1999. It was not as developed. They had some great assets. MIT, Harvard–those are both really cool programs, good schools. When they started looking around the country, around the world, it was "What other places look like Kendall Square 1999," not necessarily Kendall Square 2014, 2015, 2016. That's where St. Louis and Rotterdam and Miami started popping up.
With St. Louis, this market has not yet arrived, but we have Washington University and St. Louis University, we have the Cortex Innovation Community or district, we have T-REX that really helped build the market. If we go earlier back, we have Nebula that really helped build the idea of shared workspace. So, it had an engaged industry and corporates, so very similar assets that Cambridge had.
In Rotterdam, it's Erasmus University and Delft, which Erasmus is their Harvard and Delft is their MIT, so more technical and business. Where Rotterdam's office is, the Rotterdam office is right train-line to each one, so it's a centralized place.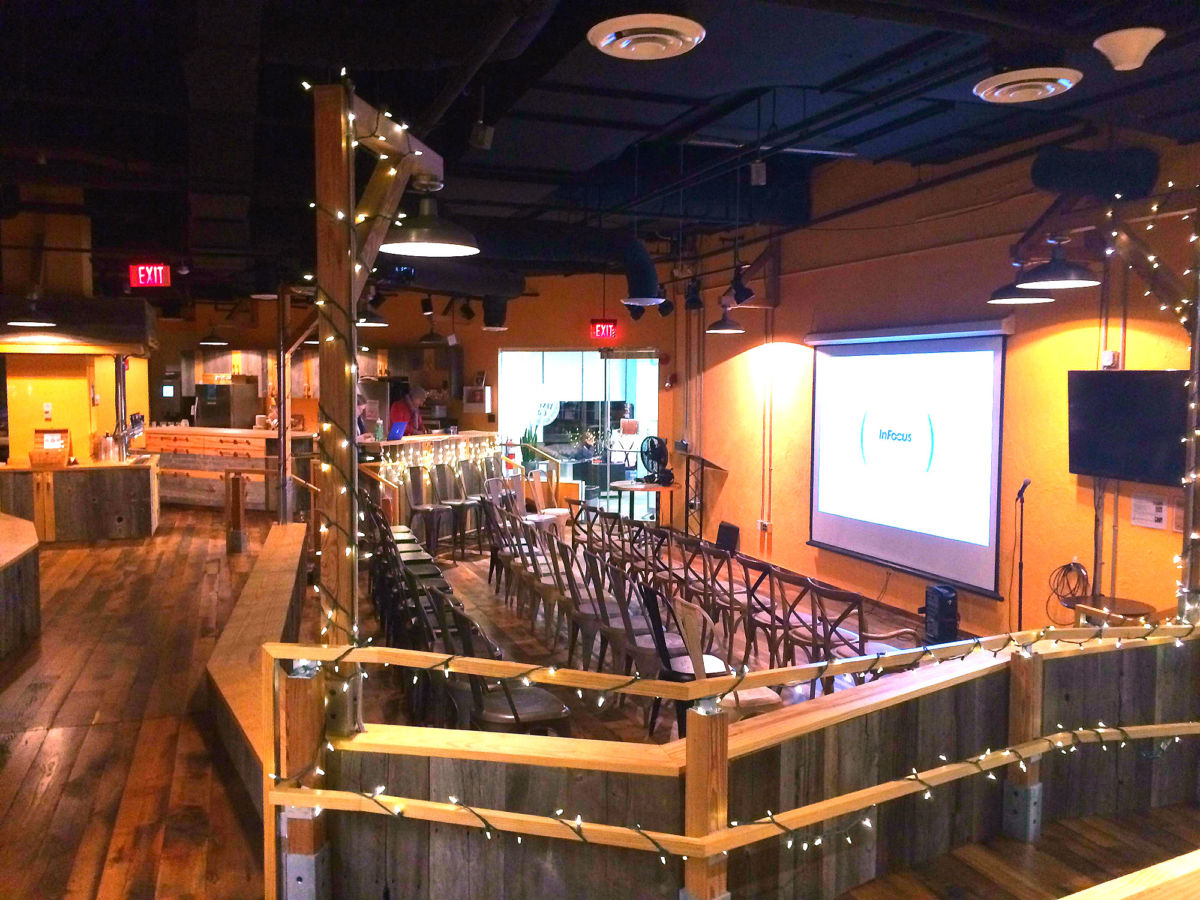 In Miami, they are using Venture Café and CIC to be like the first product within a larger Cortex-like district. They're building out an innovation district down there. I think University of Miami is one of the academic partners. Instead of waiting, building a lot of real-estate first, let's bring people together. If we bring people together, then those people are going to need a place to work. If we bring people together, they're going to start colliding and creating opportunities where opportunities maybe didn't exist. In Miami, it's more of using Venture Café as a catalyst to grow and hopefully make the district much larger.
As we're looking at other places around the globe, some of the next places that we're looking at in the US are Philadelphia, Baltimore, Providence, Rhode Island. Internationally, we're looking at Warsaw, Tokyo and possibly Dublin. It's been cool looking at these different cities.
Maybe there will be a London or a Tel Aviv or New York or a San Francisco in the near future. I don't think that Venture Café or CIC is really ruling any of those out, but in the US, I always like to say, 97% of the population lives in places that aren't San Francisco, New York or Boston. There is a lot of the country that isn't in those hubs that still have a need for innovation to improve the human condition. Those other hubs, they almost have an ecosystem that takes care of itself. It's a fly-wheel. Especially in San Francisco and Boston. That fly-wheel doesn't exist in a lot of other places.
As you expand, will Venture Café go where CIC goes, and vice versa?
Not always. There are really three different models of how we grow. One we call the St. Louis model. CIC and Venture Café go together. Warsaw and Tokyo might be Venture Café first because it doesn't require significant real estate. It could go into maybe a smaller space and just go there, get off the ground and then CIC can follow 18 or 24 months later because it does require much more infrastructure.
Then there's this other model, Winston-Salem might be the first one where it's Venture Café only, where the market might be too small. They may already have a small shared workspace product in the market, but they don't have anything that's really building a sense of community. There is that model of Venture Café going to places. That'll be a very small slice of the pie, but there are those communities around the globe that really are only a good fit for Venture Café.
From an organizational model, it's always important to point out that the CIC Venture Café Global Institute is a for-profit. While these other centers, the individual Venture Cafés, are generally non-profits, the Global Institute is a for-profit, but it's a public benefit corporation. That means any profits go directly back into fulfilling the mission.
And the Venture Café Global Institute is headquartered in St. Louis. Why was it important to you to do that?
Part of it is, why not? It's a global role. I have two employees that are in Boston. I'll be adding employees here in St. Louis. We could add employees in Europe or Asia. We're a global organization, so where we're located isn't as crucial. If it's not as crucial, then I want to be somewhere where I think it can make a difference.
Also, having our headquarters here means we're continuing to get more people looking at St. Louis. You're the narrative business. As part of telling the story of St. Louis, there's no better way to tell it than to get outsiders looking at it. That's why it was really important to me. My wife and I are committed to living here. We love living here. We love living in Old North. It was important for us to say, "Well, why can't we have this global headquarters?"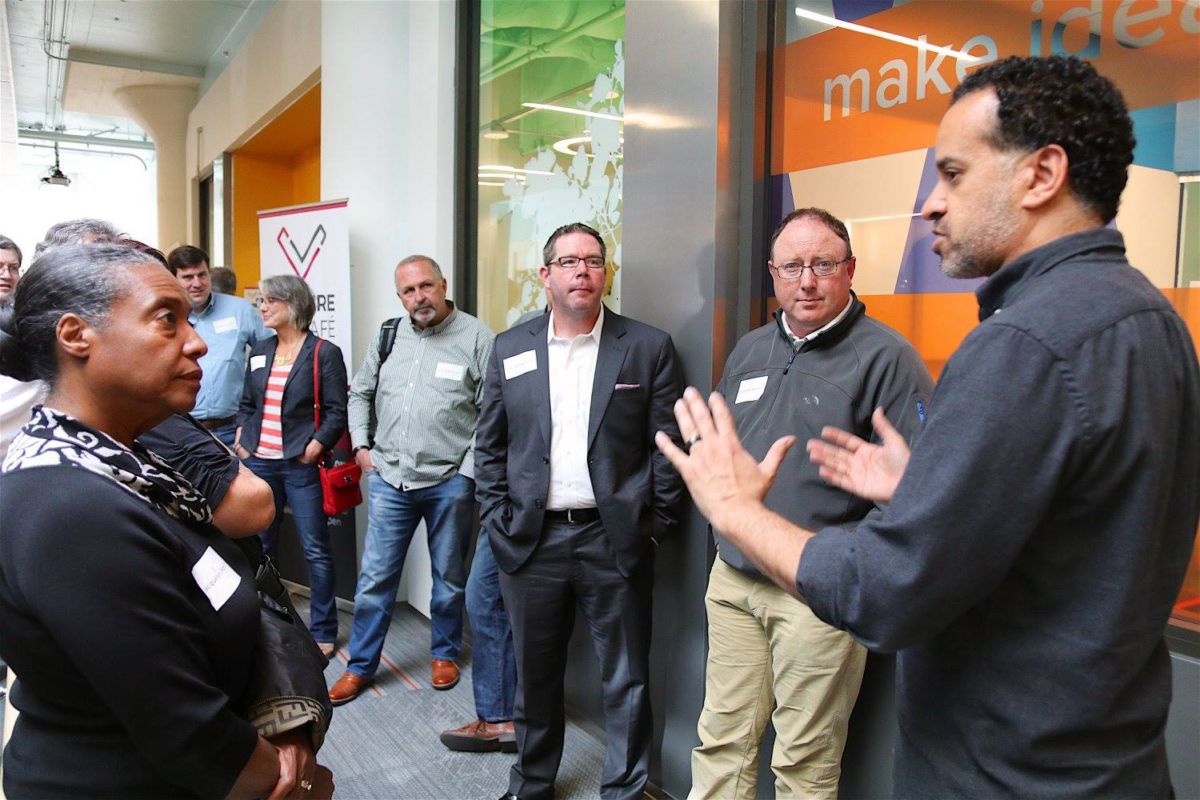 Prior to your role at Venture Café, you worked at the St. Louis Economic Development Partnership running some of the other innovation programs. How has that work informed what you do now?
I've been working in incubators for a while or in the innovation space for quite a while. When I took on the role at the Partnership, I first was hired to launch the Helix Center. It was a brand-new facility, still in construction. I had helped launch a niche incubator in California, a water, clean energy and AgTech incubator that has the same funding source. I knew a lot about running that niche facility and doing programming. They hired me to really get that off the board or off the ground.
It was great. We filled it up right away and we had good programming. Any sort of incubator is about three things: the people that you fill it with, the programming that they do and the sense of place.
At that time, they were called Enterprise Centers and they were re-branded to Venture Works. I looked around and I saw that those had become very heavy on just the real-estate side, so they had the place, but it wasn't a strong sense of place. They were filled with some people, but not always the right people and there was no coordinated programming.
Because I made the Helix Center work, they said, "Well we have these other four, can you make those work, too?" I said, "Sure, give me a larger footprint."
I think I moved those from about 30% occupancy to about 85% occupancy. We put some programming in place, more mentoring.
One of the big questions I started asking people when they were moving in was, "What's it going to take to move you out?" That's a very different mindset. If you view it through real estate, you're like, "We got ya," and that's not what an incubator's supposed to be.
I think it was a great way for me to get introduced to the St. Louis community. I give the St. Louis Economic Development Partnership a lot of credit, with its focus on innovation and entrepreneurship, even just making it a division. There's a lot of pride knowing that the region made a focused effort like that. Most economic development agencies are focused on retention and expansion of large corporates.
What was your first impression of St. Louis when you first arrived?
This was a new city to me. The only thing I knew and the funniest thing about St. Louis is I knew Mark McGuire came here and I knew him as an Oakland A, but everybody else was like, "No, he's a Cardinal."
I had no baseline knowledge really of St. Louis. It was great because I didn't have the baggage, I didn't have the preconceived expectations.
Even my wife, a St. Louis native, had baggage, she had knowledge of St. Louis, but she grew up in the County. We got to explore St. Louis together. This was not the city that she [had left seven years before].
We were looking at leaving California possibly. St. Louis was never on our list at all, just because oftentimes it's not on anybody's list. Chicago, Philadelphia and Austin were the three cities on the list.
If you think about St. Louis, it is like a hybrid of all three of those cities.
It's got the greatness and the rustiness of Philly, it's got the big-city amenities of Chicago, and it's got this emerging tech sector that still competes for attention that Austin has because Austin, as much as it's great, it's still not San Francisco, even though it's definitely a great city. It's got the arts community like Austin has arts. This is a convergence of all those three cities.
When we were on the plane after a trip home over the holidays one year, we just said, "Let's put St. Louis on this list and let's move it up to number one." I have now seen, as I've been out here, that St. Louis continues to reinforce I made the right decision.
Even with all the crap that goes on, even though we still have huge systematic problems when it comes to racism and social equity and education and our school systems are broken, we're finding that that's pretty common around the country. There are a lot of places that are broken.
With Michael Brown being killed, I think that it's an opportunity–and I give Nicole Hudson and a lot of the folks that are carrying that mantle–it's our opportunity to be a leader in how we respond. We did not respond well.
The system was broken; we did not respond well in the midst of it. I think we are responding well afterward. It is an opportunity for us to take a leadership position.
What personal mission drives you?
I look back on my career and where we're going to go with Venture Café and there's a lot of alignment. About three years ago, I figured out that I am a community designer.
I design communities. Not from an infrastructure or space standpoint, but for me it's how do I bring the right people together at the right time?
When I look around the world, a lot of people are trying to do innovation and entrepreneurship and build these districts and it's a huge buzzword. I don't know what's going to happen when the bubble bursts, by the way. I could just go back to standup comedy or something.
I look back and academically, I studied organizational psychology and organizational behavior because I looked at places of work and people … There was that lack of community at places of work. People come in and do their job, but they're not connected to each other.
I would say I'm a pretty typical Gen-Xer in that we thought you have to have work-life balance and you should enjoy where you work and it's not about ping-pong tables or anything like that, but how do you get people more effective? The capitalist in me is like, "You could make more money if you are more connected as human beings."
At Venture Café, we have a very strict no-sales environment. What I tell folks is, "Who do you like to do business with?"
You do business with your friends. As corny as that may sound, maybe my job is to help people create more friendships.
We live in a very disconnected world, hyper-digitally connected, very poorly humanly connected. The work that we try to do through Venture Café locally and globally is to connect entrepreneurs and innovators to make things happen and connected at the human level.
Who is the ideal candidate for the open Venture Café St. Louis Executive Director role?
What we're looking for in the next Executive Director is a person who is politically astute, like they can view the landscape. They have to be a builder; a bridge-builder and not a divider.
This is part of the struggle–they have to know how to build apps at a human level and not a programmer; it's not a programming sort of thing. They have to be able to take this thing that we've built and add things, not for the sake of adding them, but adding things that are going to create value in the community and really help fulfill the mission.
Read Travis' commentary in EQ on St. Louis' startup ecosystem here and get more of his thoughts on what's next for St. Louis here.