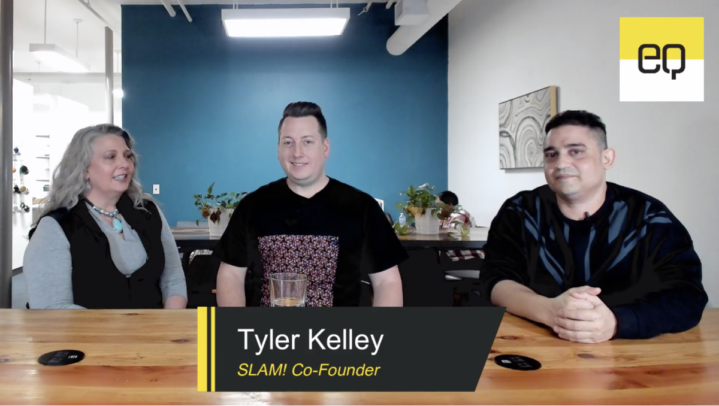 Consciousness and Capitalism: Leadership Lounge Show with Tyler Kelley
3
Min
Read

-
Visitors
"Capitalism," says Tyler Kelley, co-founder of SLAM Agency, "is, at its roots, something that is a powerful enough force to change the world."
Which is why he's been persistent in his efforts to start a Conscious Capitalism chapter here in St. Louis. It's also the reason he chose "Conscious Capitalism 101" as the topic for his presentation at EQ Leadership Labs on April 15, 2019, at Union Station.
Jonathan Allen, Publisher and Editor in Chief of EQ, and I sat down with Kelley for the Leadership Lounge Show. Of course, Kelley will be sharing more about his vision for how Conscious Capitalism can change the world, starting right here in St. Louis, in his session at Leadership Labs, but a few things that came out of this conversation might even change your view of the world right now.
Going From a Bad Rap to a Force for Good
When you think about capitalism your first instinct may be to hold your nose and use language not fit for the page. As Kelley says, capitalism has gotten a bad rap. That's because it has indeed changed the world, and not always for good. But, the three of us agree, as with most things that have power, how capitalism can change the world depends largely on the intention and pre-defined outcome behind the efforts.
When I ask Kelley  what led him to invest his leadership efforts into starting a local chapter for Conscious Capitalism® he explains, "This idea of business really is inherently good, and can be used for good, is something that has always been in the DNA of myself, and SLAM." What he didn't realize, he adds, was that there were others in the Midwest who believed that it was possible to do good with business and media.
Coincidence or Conscious Connection?
Then he met Allen, who was also focused on how the power of business, and his business in particular, could be turned into a positive force, and who assured Kelley that there were, in fact, a large number of people here who, he says, "think differently, think consciously, about business."
Then Kelley invited Allen to SLAM's office for an open house and he saw something that really cemented their connection and their determination to join forces. On one of the office bookshelves were copies of Love is the Killer App, by Tim Sanders.
Allen's first thought was, "No way!" He'd never seen the book on anyone else's bookshelf, but it had been a defining principle for him back when he was newly unemployed and still living with his parents. The ideas Sanders shares in the book had guided him through several successful business ventures. And here it was, seemingly randomly, in St. Louis, Missouri.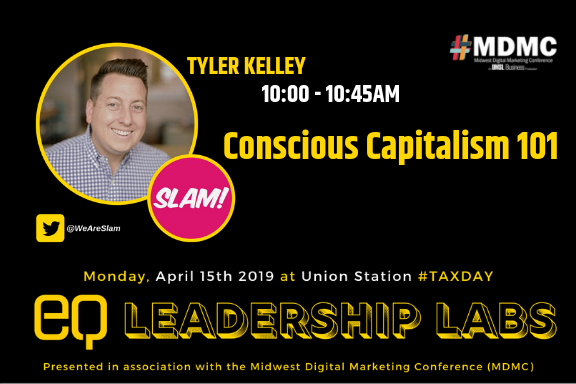 "You know that's my favorite business book I've ever read," he told Kelley. And Kelley responded with, "You know Tim Sanders is one of my clients, right?" And that, according to Allen, was a "mind equals blown" moment. It was also the inspiration for inviting Sanders to deliver the keynote at Leadership Labs and for including "Leadership and Intention" as one of the four tracks offered at the event.
After the discovery of that "coincidence," Kelley and Allen did bring a group of people to gather and chat about their philosophy of business, and consciousness, and the possibilities. Kelley says he was shocked. "All these people were in my backyard. They're my neighbors. It was just that moment of like attracts like. They think exactly like me."
Shared Stories Create Epic Outcomes
Which, I believe, is one of the most powerful things about media, and connections, and storytelling. When we start telling our story, people who relate to that story come out of the forest. The stories converge, and they can potentially make an epic thing.
For the group of 'preneurs whose stories brought them together with EQ, the epic thing is Leadership Labs. Quite likely, because like does attract like, among the 300+ people attending you'll find people who relate to your story. People who think like you. And also, people who think differently, who can add a new perspective to how you see the world.
We hope you'll join us for the full week, four power-packed tracks plus Tim Sanders and Travis Sheridan keynotes at Leadership Labs on Monday followed by MDMC.