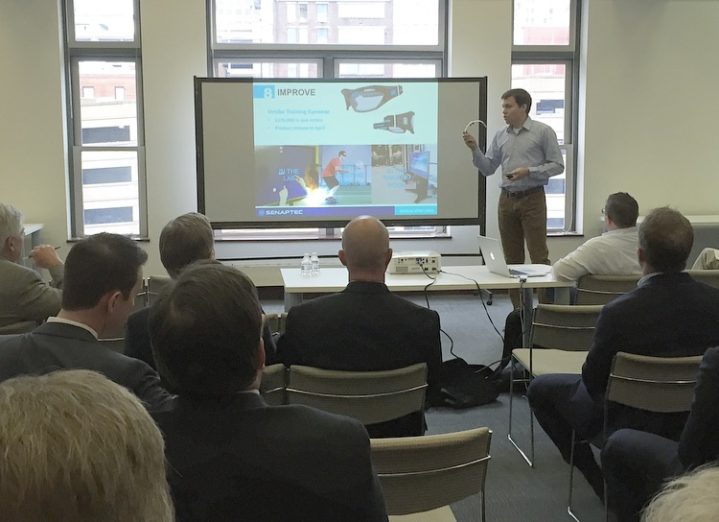 SixThirty And Stadia Announce New Cohort Companies
2
Min
Read

-
Visitors
Here's a recap of STL startup news this week.
Leadership Hires
RiverVest Venture Partners, a Clayton-based venture capital firm that focuses on life sciences startups, announced this week that it hired Nancy A. Hong as a managing director. Hong was previously a principal with BioMed Ventures, where she managed investments in therapeutics and medical devices.
RiverVest also announced that it is opening an office in San Diego where Hong will work with another of RiverVest's five managing directors.
Tech Me Out To The Ballgame
When Cardinals< fans get their first look into Busch Stadium this year during the Opening Day game on Monday, many might notice an unfamiliar fixture peering down from high above the third-base dugout. A new sign for Town and Country-based IT services provider Perficient has replaced the Hardee's sign atop Section 358, as reported by the St. Louis Business Journal.
Perficient, which had previously sponsored the Rams before the team moved to Los Angeles, entered into a two-year sponsorship agreement with the Cardinals for "Perficient Perch" with an option for a third year. Hardee's moved its headquarters from St. Louis to Nashville earlier this year.
Wine Not
Synek, the counter top beer dispenser that gives your access to every craft beer, recently launched a Kickstarter campaign for a new device called Somm.
Short for sommelier, Somm will hold wine, keep it at ideal temperatures, limit aeration to prevent degradation and make suggestions based off your palate preferences through a companion app. As of Friday, they had already surpassed their goal of raising $100,000 with a month left in their campaign.
Boston Adoption 
St. Louis-based startup SirenGPS will provide emergency communication services for the 2016 Boston Marathon on April 18 as reported by Riverfront Times. 
SirenGPS's app will be used to connect volunteers, law enforcement and other first responders during the event and pinpoint exact 911 call locations via GPS. The company is located in Midtown, and its president, Paul Rauner, works remotely as an adjunct for Boston University in its emergency management department.
Fresh Recruits
FinTech accelerator SixThirty on Tuesday announced it will make $100,000 investments in five early-stage companies of both international and national origins as part of its spring program.
The companies are:
BondIT (Israel)
CheddarGetter (Bloomington, Ind.)
Just Cash (Hollywood, Fla. and Toronto, Canada)
LendingFront (New York City, N.Y.)
S4 (St. Louis, Mo. and Argentina).
Besides receiving $100,000 equity investments, the companies accepted into the 14-week program participate in training, mentoring and networking opportunities with leaders from top financial services companies. SixThirty, led by managing partner Atul Kamra, has now invested more than $2 million in 23 companies. 
Stadia Ventures, a St. Louis-based sports business accelerator, began its three-month spring program this week. The five companies selected for the spring class receive investments up to $100,000 in exchange for equity and participate in bi-weekly mentoring and business consulting.
They are:
Behind The Picks (Scottsdale, Ariz.),
EZ Waves (Charleston, S.C.)
Leaguer (New York City, N.Y.)
Meridix (Naperville, Ill.)
Senaptec (Beaverton, Ore.)
National Recognition
SixThirty and St. Louis was recently recognized as a pioneering FinTech startup community by Village Capital, a Washington D.C.-based nonprofit that finds, trains and funds early-stage companies. St. Louis was one of 16 cities recognized as a VilCap Pioneering Community.
Each represents an ecosystem that provides a competitive advantage to startups navigating areas of health, education, water and energy, food and agriculture, financial technology, and minority and female entrepreneurship.